The football World Cup currently underway in Brazil is not only a battle between two teams on the pitch and 32 nations overall, but also a battle off the field.
Although eight different companies provide jerseys to the 32 participating teams, it's actually a war between the two biggest global sportswear companies: Nike and Adidas. And each has a different marketing strategy.
The overall numbers are impressive. Nike is the biggest sportswear company with US$25 billion revenue and 17% market share worldwide, followed by Adidas with US$20 billion revenue and 12% market share.
However, football makes up a larger part of overall revenue for Adidas than it does for Nike.
The two companies have a combined market share of 70% of the world football merchandise market, but Adidas is in the lead with US$2.4 billion compared to Nike's US$1.9 billion.
Adidas has sponsored FIFA, world football's governing body, since 1970. Since then, the official World Cup ball has been designed by Adidas and it plays a crucial role in its strategy. Adidas says:
This is where we put our stake in the ground and prove our domination in the market.
Not only did Adidas extend that agreement with FIFA until 2030 for almost US$70 million for every four-year cycle, this year's multicoloured World Cup ball – known as the Brazuca – has already surpassed sales of the 2010 World Cup ball by 30%.
In contrast, Nike is relatively new to the game, debuting with the 1994 World Cup, held in the US. While Adidas is an official sponsor of the game, Nike plays it different. Nike is only "unofficially" present through its sponsored teams, which makes it a traditional ambush marketer, implying official status through content creation.
For the first time, Nike will sponsor ten World Cup teams – more than it ever has before and one more than rival Adidas. Apart from the hosts Brazil and the Socceroos, the Nike sponsorship also includes Portugal, Croatia, England, France, Greece, Netherlands, South Korea and the United States.
Adidas's most important teams are Argentina, Germany and Spain, but its logo also appears on the jerseys from Russia, Nigeria, Mexico, Japan, Colombia and Bosnia and Herzegovina.
But it's not all only about the jerseys – it's more and more about shoes. Nike has signed six of the ten most marketable players in the world, compared to Adidas' three.
The rivalry goes to the two most valuable players in football. Nike sponsors Portugese star Cristiano Ronaldo with US$8.4 million, who took over the world's best player title from Argentina's Lionel Messi, a player sponsored with US$3.3 million from Adidas.
Most importantly, Nike sees the shoe sponsoring a part of the strategy to undermine the official status of Adidas. Take the German team as an example – while Adidas will be supplying the German kit, about nine of the country's top players wear Nike boots.
Nike's shoe statement for the World Cup is its new Magista and Mercurial boots. Cristiano Ronaldo is going to be wearing the Mercurial Superfly, a high-top version with a cool name.
Adidas introduced a black-and-white Battle Pack collection of four different cleats – the only pop of colour is the trademark three stripes in neon orange. An exception was made for Messi, who gets the star treatment with his own design and a bit of added Argentina blue on his F50s.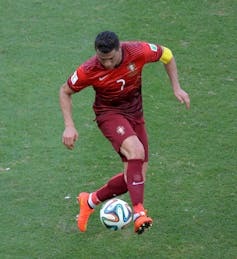 By the way – when it comes to goals by shoe – the Adidas F50 scored 761 goals in the top European four leagues last season (in England, Italy, Spain and Germany), the highest total for any shoe, while Nike's Mercurial shoe ranked second with 740 goals.
So, who's winning this marketing war? Perhaps the best way to measure success in 2014 is to look at social media outcomes. Nike leads in teams and shoes sponsoring, but is also the dominant player in social media. The US-based company has 35 million Facebook "likes", more than twice as many as Adidas.
Interestingly, Nike grew its Facebook fan base by approximately 14 million users in the last five months, mainly due to growth in emerging markets like Indonesia, Turkey and India.
Currently, it seems that Nike is making up ground in the battle for the sportswear brand of the World Cup. But as in on pitch action, this marketing battle continues until the game is over, and n the meantime, we should just enjoy great games – with Nike and Adidas.