US President Donald Trump has issued a new version of his travel ban, which will prevent citizens of six Muslim-majority countries from entering the United States for a period of 90 days.
The original order banned citizens of Syria, Iraq, Iran, Sudan, Somalia, Libya and Yemen from entering the US, halted any refugees admissions for 120 days and banned Syrian refugees indefinitely. Iraq has been left off the new list, and Syrian refugees will be banned for the same 120 days as other refugees.
The new order follows a month of confusion after the initial ban – signed on January 27 with immediate effect – caused chaos and uncertainty in the US and around the world.
While Syrians may get some relief from the fact that they are no longer banned indefinitely, their situation remains desperate. And confused US policy in the Middle East only makes things worse for those fleeing Syria's pulverising war of competing international players.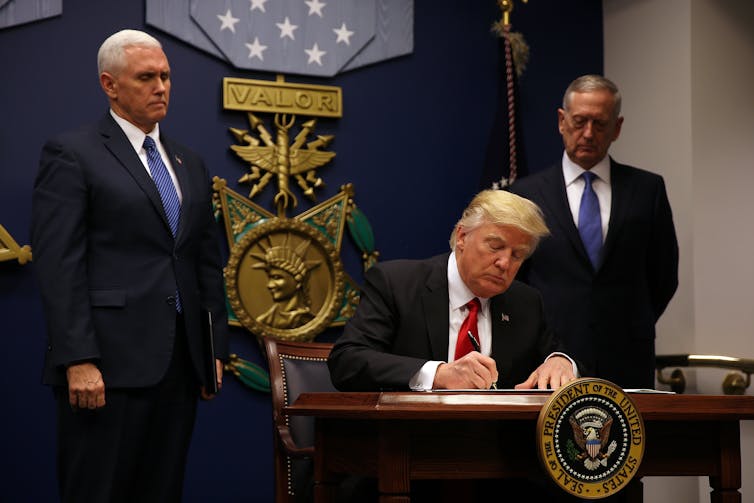 Refugees as security threats
Since the first decree was issued, scholars have warned that any such measure will be ineffective for preventing terrorism and is blind to the humanitarian plight of Syrians fleeing war. Prominent Syrian intellectuals expressed personal indignation at the way the ban supports the "war on terror" approach, which targets already vulnerable populations.
Certainly, refugees and internally displaced people who are escaping economic hardship, conflict and political persecution have been portrayed as a security threat in much of Western political discourse.
Even when not specifically and directly singled out as a threat to homeland security, the migration issue has become embedded in security debates worldwide, which has stoked hyper-politicised public concern with vetting and screening potential refugees.
In this way, the international refugee regime is yet another example of power asymmetry between rich and poor countries. Southern states, which are closest to conflict zones, bear the brunt of the refugee-hosting burden, while Northern states must be convinced that taking in refugees will serve their security, immigration and trade interests.
Iraq, Jordan, Lebanon, Turkey, Egypt and other North African countries currently host 4.9 million Syrian refugees of a total of 11 million people displaced.
The legacy of the Arab Spring
In a fractured region of dissolving social contracts and collapsing states in the wake of the Arab Spring, the political refugees and economic migrants who escape to neighbouring countries, European shores, or even the US, are symptomatic of a wider upheaval.
The latest Arab Human Development Report from the UN Development Programme notes that forced migration is among the most serious challenges facing the Middle East and North African region.
The consequences of this long-term affliction will magnify in the years to come. Children without schooling and separated families are afflictions that impede advancement and self-empowerment among populations already fleeing war zones or impending conflict.
The dire long-term prognosis for Syria's refugees is evident in the report's emphasis on the multi-dimensional nature of the refugee crisis.
Syrians forcibly displaced by the war do not appear poised to go back to Syria. For them, schooling, employment, community support, and productive interactions with NGOs and local governments of countries such as Turkey and Jordan are the best bet for now.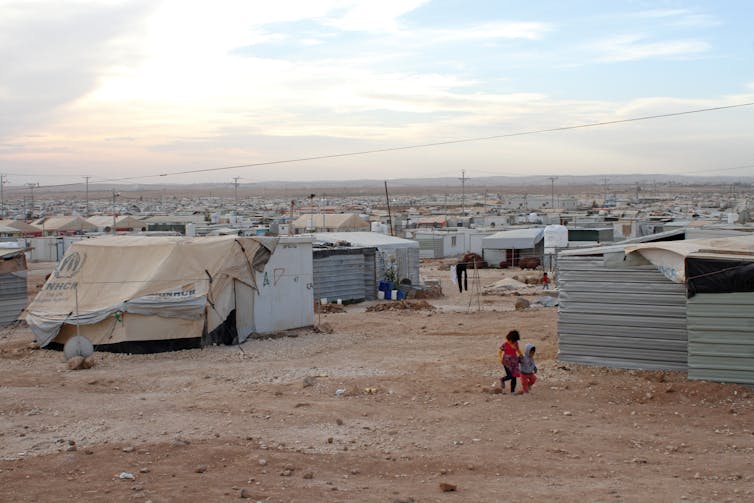 Displacement as a weapon of war
Certainly, Syria's uprising did not begin as a war. Indeed, the Syrian revolution was part of the regional wave of popular uprisings that began in Tunisia. In the city of Dar'aa in 2011, activists mobilised, intending to seize their "freedom and dignity" from the ruling Assad dynasty.
Silmiyyah (peaceful) was the catchword of these protests. The digital mobilisation of Syria's diaspora activists in particular traversed cultures to bring the revolution to Western audiences.
Of course, the years since the early phase of the uprising have seen intense militarisation and internationalisation in the face of brutal repression from President Bashar al-Assad's regime. The bloody morass has expanded to include Arab and non-Arab regional powers and militias including Russia, ISIS, and the US-led anti-ISIS coalition.
The magnitude of Syria's refugee problem can be understood as a feature of what scholars such as Mary Kaldor and Mark Duffield consider the "new" warfare of the globalised, post-Cold War era.
Forced displacement has become a strategy of war, not a mere side effect, in conflicts that span legitimate states as well as non-state actors (such as ISIS), government forces, and private militias. In this context, standard international humanitarian and peacekeeping efforts may reinforce, rather than solve, these massive human catastrophes, as we have seen in Bosnia and elsewhere.
Enter Assad's "starve or kneel" strategy, bolstered by Russian aerial bombardment and Iranian and Hezbollah militia action on the ground.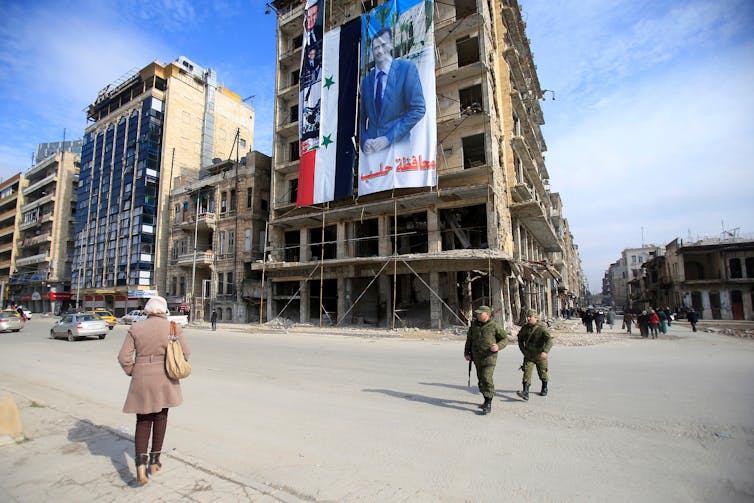 The result has been significant opposition losses and evacuations in Darayya, eastern Aleppo, and most recently, Wadi Barada.
Forced displacement, particularly along sectarian lines, has become a paramount concern for Syrians, as expressed by political bodies such as the National Coalition of Revolutionary and Opposition Forces.
In addition to violating international law, these forced evacuations threaten the potential for restoring any semblance of national unity, in a failed state whose territorial control is already divided among the Assad regime, the Kurds, ISIS, and various opposition fighting groups.
The US and Syria's uprising
Forced displacement doles out not just politicised humanitarian strife but also lengthens the odds of maintaining Syria's territorial integrity and any remnants of cohesion or harmony — let alone any institutionalised "freedom and dignity".
In this conflict, it is unclear whether the US is facilitating or harming a just political solution. The political negotiating game, after Russian aerial bombardment allowed Assad to regain territorial footing in the country and in which Syrians themselves have little say, is now in full swing. There can be no doubt that Moscow has taken the lead on the international diplomacy of Syria's war.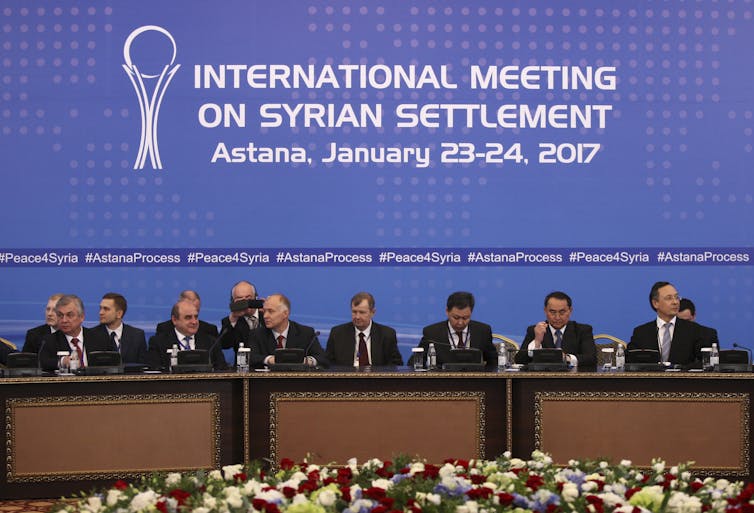 Russia negotiates alongside Turkey and Iran, seeks to reconfigure the opposition, and has even attempted a draft constitution — strongly opposed by the opposition, and encroaching on the "Syrian-led" designation stipulated by the UN Security Council.
In-fighting among factions of the armed opposition further exacerbates the opposition's relative weakness. The ambiguous "safe zone" avoided by Obama and now bandied about by Trump may never see the light of day.
Whether or not the US decides to re-open the door to refugees from Middle East and North African region, their numbers will continue to swell as wars rage on.
Wherever refugees struggle to make their home – probably not the US – they appear unlikely to return to Syria any time soon.