The upcoming first ever Global Forum on Youth Policies has put the spotlight on the position of young people who, the United Nations says, are our "greatest resource".
Australia is among a minority of countries that does not have a National Youth Policy. So how successful are we at enfranchising the next generation? The results are mixed.
The internationally recognised Commonwealth Youth Development Index (YDI) reveals a glowing story of the position of Australia's young people, but there are some disturbing disconnects.
Australia stands at number one in this global index, which positions every country against five key benchmarks: education, health and well-being, employment, political participation and civic participation. However, these opportunities are not evenly spread throughout the country.
A growing number of young Australians are disconnected from family and community – disenfranchised from the country's disproportionately divided wealth and resources. Is it any wonder a growing minority of Australian youth - 17-year-old Abdullah Elmir is the latest to make the news - have become attracted to the fertile ground of radical groups with views that do not align with community values?
Australian Bureau of Statistics data, which measure disadvantage, economic resources and education, identify distinct pockets of hardship. Unsurprisingly, these are in remote and rural areas, but also in urban areas such as Brimbank and Dandenong in Melbourne or Fairfield in Sydney.
These areas are notable for their very high rates of youth unemployment, school drop-outs and families living in poverty. They also feature large proportions of minority communities who have suffered in various degrees from racism fuelled by a moral panic about how young people from these backgrounds do not sufficiently demonstrate their allegiance to Australia, its laws or values – even if they are born here. This is a very toxic mix.
No minister, no policy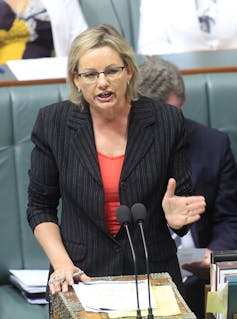 The seriousness of the issues surely raises questions about why Australia does not have a national youth policy (only a youth strategy) and the Abbott government no longer has a minister for youth.
While outwardly Australia could applaud its position at the top of the YDI ladder, it is ignoring small groups of socially frustrated young people who see no choice but to revolt against their community and country.
Australia's lack of a formalised framework that deals with youth needs and aspirations means its response to this problem is disjointed, inconsistent or counter-productive.
A dangerous disconnect
Regardless of where they find it, young people seek out friendships that satisfy their sense of community and group solidarity. If they feel little or no connection to mainstream Australian society nor see any opportunities to succeed within it, they will find and identify with other marginalised groups.
Some Australians have become shocked bystanders when they see certain young Australians exposed as potential violent extremists. They shake their heads at how a peace-loving country like ours could breed radicalised individuals. Organisations such as Islamic State can reach out to disenfranchised Muslim youth and provide them with not only a clear purpose, but a sense of acceptance, belonging and identity.
Researchers have long understood that the surge in anti-Muslim racism around the world and the increase of young people from Muslim backgrounds engaging in militant extremist activities is not about a clash of cultures or religion.
Australia needs to realise that as a country, it has failed these young people. They believe they have no prospects for a prosperous and meaningful future, no seat at the table, no chance for active participation in the governance of their community or their country.
Give youth a voice and a stake in the future
Many countries' youth policies mandate a youth voice at every level of government. This guarantees that young people have a role in the governance of their country, a voice in deciding their futures, and feel valued in their communities.
Young people who are connected to their community and family are in education or employment and have built their own social capital with peers. They see a future for themselves and are not leaving the lucky country for battlefields abroad.
It is time for some inward reflection and to ask the hard questions of why some young people feel connected to mainstream Australian society and others want to commit acts of violence here or overseas.
There is not one solution, but perhaps a suite of actions would certainly help bring about change. Australians need vision and leadership from their governments at all levels – not fashionable discussions.
Australians need policy that enables education and aspiration – not legislation that removes educational benefits, income support, employment opportunities and health services from the poorest young people in its communities. Australia needs to ensure that all young people feel safe, confident and respected. And Australians need to build inclusive communities that intrinsically involve Australia's youth, especially those trying to break out of relentless cycles of disadvantage.
Or, Australia could do nothing and continue salacious cultural stereotyping while more disenfranchised young people leave our shores or simply take action here. Worst of all, Australians could watch on while Australian soldiers enter a civil war in another country and kill their Australian compatriots who actually needed their assistance and could have become active and engaged citizens.