The New York Times' (NYT) entry into the Chinese media market is off to a seemingly rocky start. Two days ago, the company launched its Chinese website – cn.nytimes.com – and a corresponding Sina Weibo microblogging account (China's domestic version of Twitter).
But just hours later, the paper's nytchinese Weibo account was suspended. The first things to disappear were the accounts "forward" and "comment" functions – which were disabled for several hours before vanishing.
The missing account resurfaced four hours later, with several new posts and a new page design; and no explanation for the suspension has yet been provided by the NYT, China Weibo or the Chinese Government.
False start
Before it was suspended, the nytchinese account had more than 12,000 followers and was growing rapidly. The following message gives a flavour of many of the initial messages from fans:
"First, welcome; second, looking forward to your true news."
But new followers were already wondering about the longevity of the account:
"Hope you will not be blocked."
"How do you climb over the Great Firewall of China?"
"You will be labeled as 'imperialist cultural invasion' sooner or later."
"I wonder whether you can survive in mainland if you don't follow Chinese authorities' orders to sing the praises of China."
Many Chinese users were concerned about the famed masthead becoming a mere figurehead, a representation of acceptable Western journalism but lacking real journalistic teeth:
"I am afraid you cannot report what we want to see, and what you can report can be seen everywhere in our media."
"Can you report Chinese negative news neutrally? Save it if you cannot."
"Only one request: tell the truth! Don't fool readers like China's media do, which make themselves the biggest fool in the world."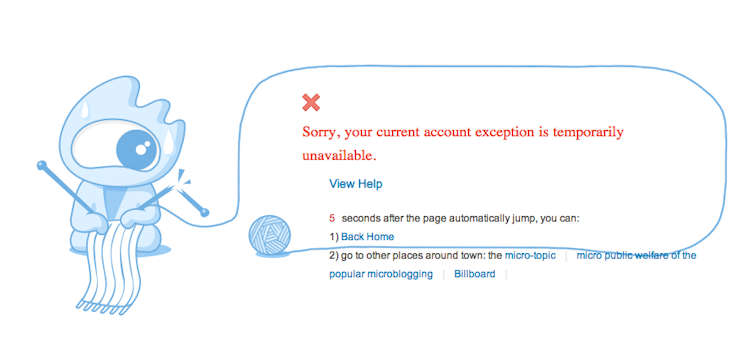 Weibo usually suspends accounts that violate the rules in Weibo's New User Contract. But nytchinese was newly established and contained only one welcome post from the company itself. By the end of the day there were more than 1,400 posts to Weibo speculating about the situation:
"If people cannot forward or comment, can we still call it Weibo?"
"The content can cater to the taste of Chinese government, seems censored, but still a good start. It can give new impetus to the competition of quality in Chinese media market."
History repeating?
Before the NYT, other major news portals such as the Wall Street Journal and the Financial Times launched Chinese editions and linked Weibo accounts, which now have millions of followers.
As the NYT observed a year ago, Weibo is considered by many to be "a real-time polling system to find out what's going on in China".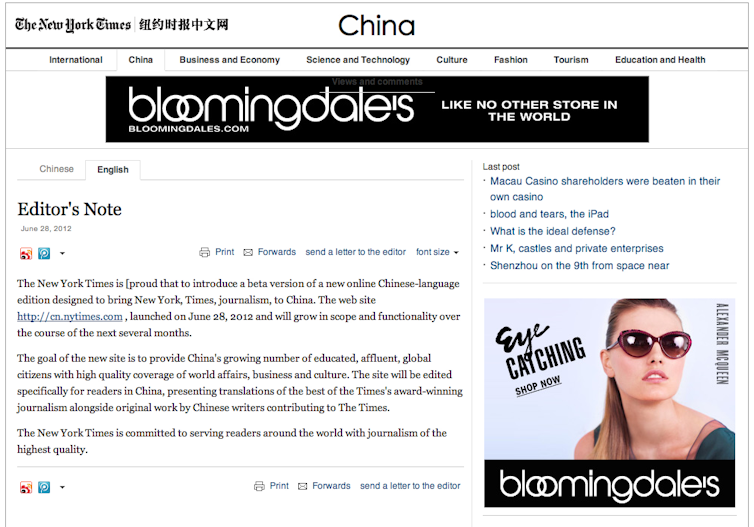 Despite regular government censorship, Weibo is still considered the freest space for public opinion and even political dissidence in mainland China. It has also accommodated overseas users, media groups and organisations, which is highly unusual for a mainland Chinese media company.
Tight government control
The primary challenge for the NYT will be how to deal with ubiquitous internet censorship in China. One of Google's Chinese lessons was that, in an encounter with a politically vengeful authoritarian government, direct confrontational tactics are unwise because the Chinese government will impose tighter restrictions on the flow of information.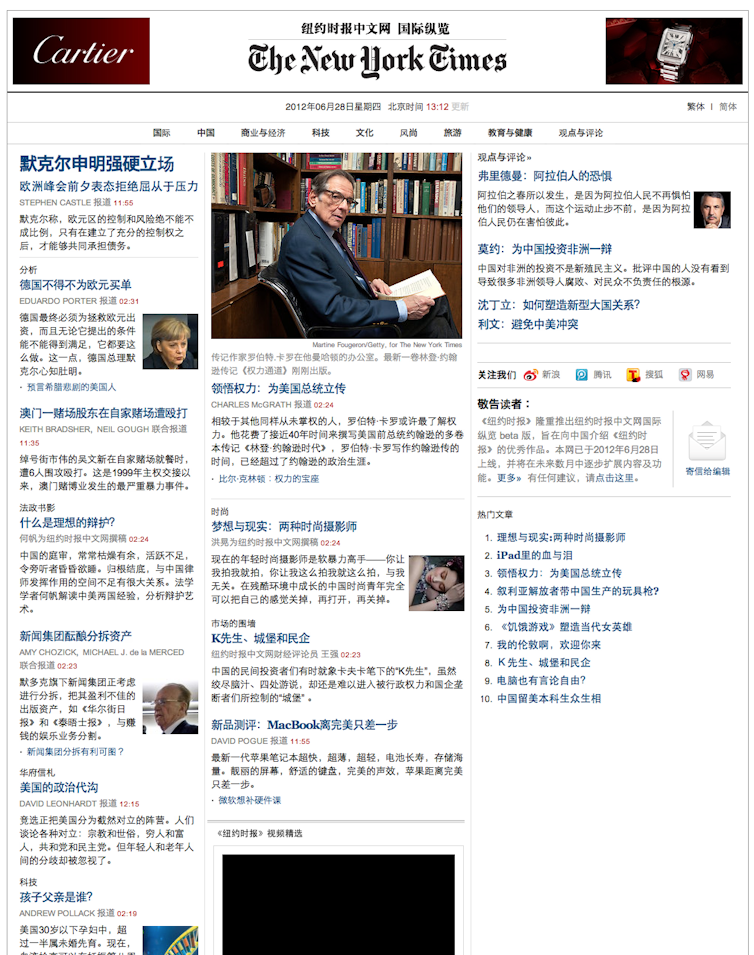 The current Chinese editions of Western mastheads are cautious when reporting Chinese political affairs, deploying domestic editors to deal with sensitive reports that might invite scrutiny.
Even so, they are often caught off-guard. On October 15 2010, posts on cn.WSJ.com and FTchinese Weibo accounts were among those censored for an article about senior Communist Party members signing a letter calling for freedom of speech.
Western or local content?
The second challenge is that of Western versus local Chinese content. At first glance NYT China ushers in a specifically Chinese content section. But some of the reports are borrowed from the company's English website and are outdated.
One article – In China, Human Costs Are Built into an iPad – was listed at the top of the Chinese content section of NYT China, and was seemingly up-to-date. But that article was first published six months ago on the company's main website.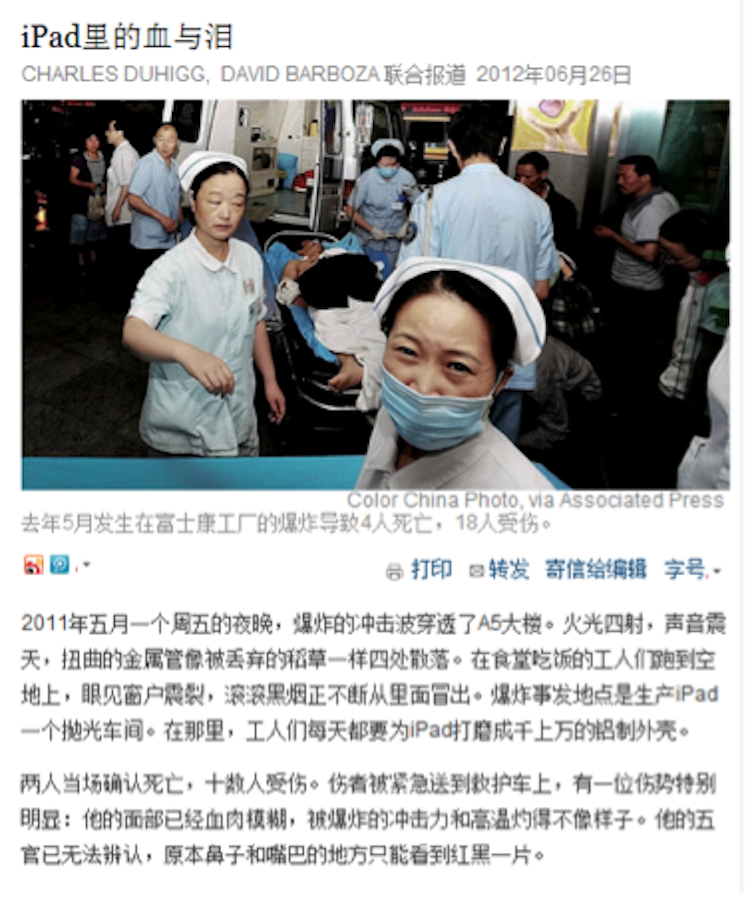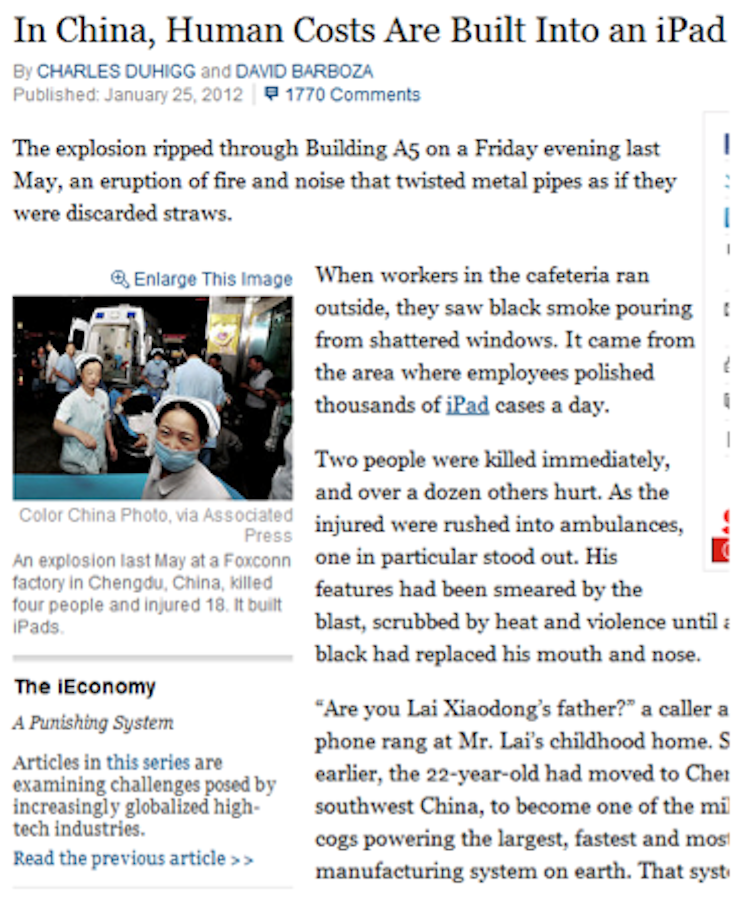 If this practice is simply part of bootstrapping the Chinese edition, Chinese users may consider NYT China not as an archive of quality but of outdated reports from the company's English website. The NYT will need to learn from cn.WSJ.com and FTchinese, both of which now have a series of attractive Chinese sections, as well as well-known local columnists and business experts.
That being said, in contrast to the WSJ and FT pay-for-content strategies in Western countries, the WSJ and FT Chinese services still remain free for registered users. Chinese users still feel there's not enough local content, and thus while readership is increasing, revenue feasibility is still weak.
The NYT has entered China in a period of more openness. But to survive, it may need to learn how to discreetly express its own values and interests.
What do you think of the New York Times' chances in China? Have your say in the comments section below.