What do we expect from Oscar "Best Picture" nominations? A star-studded cast and breathtaking performances? Action sequences and special effects that blow our minds? Or a story so big we'll remember it forever?
I deliberately use clichés here to get us thinking – what should make a film worthy of an Oscar? And where Philomena is concerned, what does make a film worthy of an Oscar?
When I saw Philomena, before any Oscar nominations were announced, I was blown away. I'm an ex-pat so I admit bias, but whenever I go to see a British film I have high expectations. (Exception to the rule – anything involving Richard Curtis.)
I just know that even with a small budget and toned down action, the story is likely to be strong, powerful and real. And, as is the case with Philomena, the performances are likely to blow those of any A-rate Hollywood star out of the water.
Based on Martin Sixmith's book The Lost Child of Philomena Lee, the film is technically an adaptation. In fact, it's also picked up an Oscar nomination for "Best Adapted Screenplay". But unlike many adaptations that come from well-known, often fictional source texts, Philomena is more concerned with theme and meaning than it is premise and/or franchise.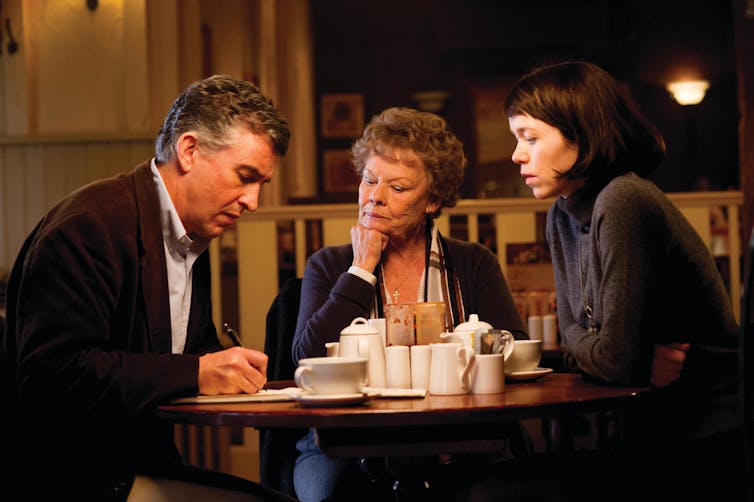 Clearly the situation is pretty amazing – an ageing Irish woman enlists a well-known journalist to help find her adopted son, who was taken away from her when she was 18 by Catholic nuns and "sold" to Americans – but it's never pushed in our faces. Instead, the film concentrates on universal themes of loss, grief and, ultimately, acceptance, orchestrating them beautifully through the challenging-yet-funny journey of two unique and unlikely protagonists.
When Martin and Philomena first meet, Philomena insists they go to a Harvester. British viewers will get this reference – it's a cheap and cheerful pub-restaurant chain, with the unique selling point of diners being able to choose as much salad as they want. This is even used as the basis of one of the film's scenes, symbolising the different worlds of the two protagonists and the awkward-but-funny journey they'll take together.
As the plot develops and we realise the awful truth of Philomena's past – and that of thousands of other girls – we feel a strong sense of social and moral injustice. Like Martin himself, some of us might even feel that the Church committed horrendous, "disgusting" crimes. But where this film succeeds is in its thematic balance. It is never "preachy" and in-your-face.
Philomena is, arguably, the casualty of a horrible crime – but she never plays the victim. Martin struggles against her forgiving attitude towards the nuns from Roscrea, especially when it's revealed that her adopted son came to find her and they lied about Philomena's whereabouts. But as Philomena keeps reminding everyone, they did what they thought was best and her son had a better life without her.
This thematic struggle of denial versus acceptance is what makes the film so powerful. It challenges us to think about our beliefs and confronts us with an awkward, often unspoken, truth of adoption – that for a variety of reasons, the child is often better off with an adopted family. This is a raw and unnerving topic, and like much other British drama, Philomena isn't afraid to tackle it.
It goes without saying that a film's success can be enhanced by its actors. I'm forever advocating the importance of the screenwriter and the screenplay – without them, there's nothing – but audiences rely on performers to bring out the essence and the pleasure of what they're watching.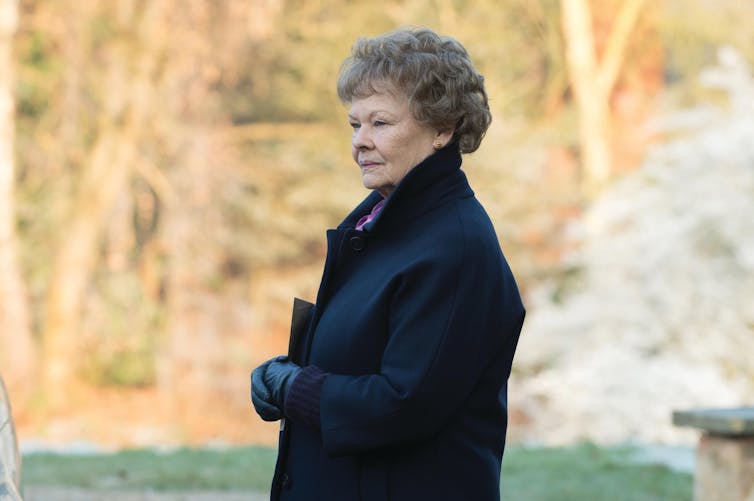 I don't think I need to say anything about Judi Dench – her name says it all. Like other British actresses such as Maggie Smith, Julie Walters and Brenda Blethyn, she can play any part given to her and steal the screen. She puts so much emotion into her voice and her face (if you haven't already, watch the film Notes on a Scandal) that not being nominated for "Best Actress in a Leading Role" isn't really an option.
Steve Coogan, who also co-wrote the film, gives a somewhat surprise performance. Best known for comedy roles such as Alan Partridge and Pauline Calf, I was nervous about what he would offer, especially starring alongside Dench. But he gave a rich and believable interpretation of Martin Sixsmith, a once well-respected journalist and government advisor who fell out of favour and had to slum it in the world of "people's interest stories".
It's perhaps the scene in the breakfast room, when he finds out who Philomena's son is – or, was – that he begins to truly demonstrate his acting range.
Coogan co-wrote Philomena with Jeff Pope, an experienced screenwriter and producer who specialises in feel-good fiction (The Fattest Man in Britain, Come Rain Come Shine) but who also isn't afraid to tackle real-life stories (See No Evil: The Moors Murders, Murder in the Outback).
Co-produced by Coogan's company, Baby Cow, and BBC Films, and with financial support from the British Film Institute, Coogan and Pope have mastered the art of telling a story based on real people in an emotionally authentic way.
It never feels cheap, hollow, or as is the case with many Hollywood films, thematically forced. In this way, it sits alongside other recent quality British films such as Broken, Song for Marion and The Angel's Share as an example of storytelling at its best – powerful, willing to "go there", and not reliant on action and special effects to draw in an audience.
I'd like to end by going back to a question I posed at the start – what should make a film worthy of an Oscar? For me, it's all about story – story that has to be executed well, but story nonetheless. And it's this that speaks to a concern of mine here in Australia – script development.
Whether it's through a lack of training, lack of money or a lack of time, there seems to be a problem with how scripts are developed. With the exception of a few films (Wish You Were Here, Lore, These Final Hours) and some TV (Wentworth, House Husbands), I find most Australian drama tepid and emotionally hollow. There's a lack of substance and not much meaningful conflict. This is problematic.
Are Australian screenwriters being challenged enough? Are Australian actors given enough good material to develop their talents? From what I've experienced in my two years here, I actually don't think so.
If more and better work is undertaken at script development stage, Australia too might be proud to have a film like Philomena flying the flag at the Oscars.

See further Oscars 2014 coverage on The Conversation.