How would you feel if dentists did not measure up to scrutiny as they were about to turn on the drill? Or if doctors did not have the skills to diagnose as they walked on the ward? We need to feel confident that people in positions of trust are knowledgeable and can provide proficient services. One way that this happens is through mentors, who nurture and teach new members of staff and students on the job.
Yet there is evidence of a culture of "failing to fail" – where students are allowed to pass despite not meeting the required standard – across several professions for a number of years. And our newly published research has found that the nursing profession is no less prone to it.
In the UK, nursing students work in clinical practice where they are assessed by nurse mentors. In total, students must spend 2,300 hours in a hospital, surgery or other practice before they can qualify. However, some students – particularly those on the borderline of achievement – are not meeting the expected standards on these placements. Despite this there is still the potential for them to be passed by their mentors, and then for them to register and work.
Given the alarming number of nursing vacancies across the country, it is paramount that safe staffing is not just about the number of nurses employed, but about ensuring their skills and competence.
Competence and controversy
The nurse mentor role is essential to gate-keeping professional standards, but we found that some mentors' assessments can be compromised by a number of personal, professional and organisational pressures. A sense of lone accountability, the emotional burden of failing someone, resource limitations, and lack of recognition of their assessing role, can all influence their decisions.
Interestingly, nurse mentors often have to still be encouraging to student mentees even when there is not much chance of them passing. They invest time and effort in nurturing students' development to the point where it is difficult for them to know when to let students down.
The mentors feel personally responsible for a failing student's lack of progress, and find it extremely difficult to explain their reservations about failing students, particularly in writing. These concerns mean that they may be tempted to give a student the benefit of the doubt. As Fay, one of the nurse mentors in our study, said: "You need the student to be there with you – especially when they are not up to the mark – but you don't always have the time or the staffing levels to be able to do that."
Supporting mentors
Our findings show how failing nursing students raise the stakes of mentorship to extraordinary levels of emotion and commitment. This is quite different from usual educational relationships where students and mentors/teachers equally contribute to a shared learning experience.
However, we discovered that the emotional turmoil of mentors could be reduced where assessment decisions are not viewed as a lone responsibility, and teams agree on a level of competence needed for a student to pass. There also needs to be recognition of the mentor's emotional effort in any difficult circumstances, and an acknowledgement of the work that was put into failing mentor/mentee relationships.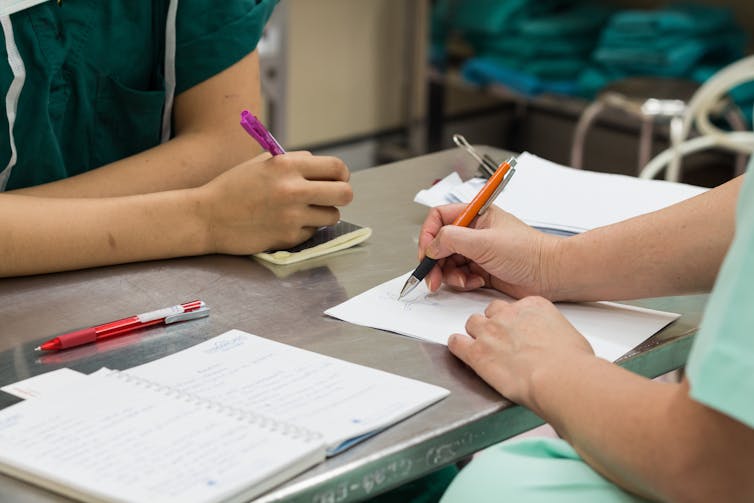 In addition, nurse mentors are more likely to trust their own assessments of failing students when their decisions were listened to and acted on by others involved in the student's education. When mentors feel there is a wider acknowledgement of their role in assessing failing students, they feel more authorised to act, and so there is less potential for the student to pass when they should not have.
Likewise, the way failing students are supported by their educational institution and the healthcare organisation they are training with has a crucial connection to mentors' perceptions about professional standards. Ideally the mentor role should be made more official, and seen as central to gate-keeping professions, rather than potentially as a tick-box exercise. As another nurse mentor, Mary, said:
It's about thinking of the greater good. I mean if you don't bring concerns to the fore the student won't ever change.
High quality learning and assessment is fundamental to maintaining professional nursing standards, not least because there is evidence that reduced mortality occurs in services with more graduate nurses.
The UK Nursing and Midwifery Council is currently consulting on a new mentorship framework with final standards to be published early in 2018. This model will separate the supervising and assessing roles of a mentor, and there will be more of a practice team approach to assessing students. Already there have been some promising signs that a whole team approach to assessment will help to alleviate the issue.
Ultimately, the credibility of mentor assessments is pivotal to public confidence in the nursing profession, and in the way that nurses are taught under the degree system. There is extensive evidence that working towards a degree and being a competent, compassionate nurse is entirely possible. Now, we just need to make sure that the mentor system supports both teachers and students to achieve the high standards required.