The government's decision that all pupils will now have to study a language GCSE as part of the English Baccalureate (EBacc) could be the moment when languages are restored to their rightful esteem in England – but there is still work to be done to ensure that.
For those who have fought to promote languages in the long years since 2004, when they were made optional for children aged 14-16, the decision should start a welcome reversal of the situation in which fewer than 25% of pupils in some schools have been studying for a GCSE in a language.
The change comes with the government's announcement that all children will now be expected to study five core academic subjects at GCSE through the EBacc: English, maths, science and history or geography, and a language. The new policy will apply to all children who start Year 7 in September 2015 and who will take their GCSEs in 2020. In place as a performance measure since 2010, the EBacc has already been having a modest impact on the take-up of languages at GCSE in some schools and is also creating opportunities for students to take a qualification in their home language.
Any ensuing growth in language GCSEs will see the devastating effects of the past 11 years reversed. Today, increasingly fewer schools have a compulsory language at GCSE and there is an unequal state of affairs in terms of access to language literacy and a multicultural perspective – 18% of state schools and 76% of independent schools make a GCSE language compulsory for all pupils.
Language GCSEs, A-levels and university admissions to language degrees could now begin to flourish again. Hopefully this will not be just in a few languages but across the many languages that A-level boards and universities currently struggle to have the resources to deliver.
Challenges ahead
Yet there are some real challenges ahead as teachers and language experts await the details of the government's new policy, which it plans to consult upon in autumn 2015.
After years of decline and the introduction of compulsory languages at primary level in September 2014 which is already stretching the sector, there may not be enough language specialists to deliver these new compulsory subjects. For many schools the new EBacc seems one demand too many.
Secondary school teachers face pupils every day who have a perception that languages are too hard. Some might agree. In a culture where higher standards are expected and performance rankings loom over teachers, present assessment criteria can make it difficult for a candidate to obtain the higher grades in languages.
The news about the Ebacc comes amid other curriculum reforms. The revised GCSE – to be taught from September 2016 – looks to be more demanding, more "academic" and more focused on the transition to A-level and higher education. There is still work to be done on smoothing out the significant gaps in language provision between primary and secondary education, between GCSE and A-level, and again between school and university.
It's also worth remembering the experience before languages were made optional in 2004: it is difficult to motivate young learners to study languages when it is a matter of compulsion, not choice. There is also an issue about the breadth of the curriculum and a worry that the Ebacc does not leave space for other subjects.
New landscape for languages
Language learning exists in a very different landscape than it did back in 2004 – and that will help us work on these challenges. Materials in target languages are now more accessible on the internet – this gives immediate relevance to communications in another language about a myriad of subjects. Language teachers (especially at secondary level) have taken on board the many flexible modes in which new technologies allow us to engage and enthuse young language learners to express opinions about the culture of another country through its language.
We have seen that changes at one part of the language chain reverberate across the whole of the discipline. As a beleaguered group of subjects, there has been a need for much thinking, for example, about the methods of teaching and assessment and about qualifications. At universities, the knock-on effect of the decline in languages at GCSE and A-level has given rise to an urgent need to develop a new identity for language study and cultural learning that would meet national needs.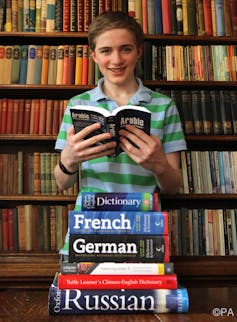 Across the board, it has been important to articulate the value of learning languages. The past 11 years is also full of the work of different campaigns for languages – such as Speak to the Future, Going Global, Routes into Languages – that have honed the identity of language learning and set up lines of collaboration.
We have made new friends, some of them powerful. The new language A-levels have been instituted with input from university practitioners. In this venture, language teachers have talked to others across the school/higher education/teacher-training divide, while the CBI and the British Council have worked to strengthen the message that language study is important to internationalisation.
To ensure that the inclusion of languages in the EBacc is successfully implemented, language professionals will have to continue to campaign together for these issues to be addressed so as to give all students in this country the opportunities for global citizenship that they deserve.