I clearly remember the BBC news on February 23, 1981. The second item concerned an attempted coup in Spain in which armed soldiers marched into the Cortes (parliament) and took its members hostage. Their leader was a colonel who emptied part of his clip into the ceiling to show he meant business.
King Juan Carlos, who announced his abdication on Monday, took immediate and decisive action on that day 33 years ago. He got on the phone to the ringleaders and his senior generals and made it clear that despite the coup makers' claim that they were acting to support the monarchy, as Supreme Commander he did not approve of their actions and ordered them to desist. As Juan Carlos said on TV, he could not:
…accept any acts or deeds that aimed to impede the constitutional process that the Spanish people had approved through a referendum.
The then-British prime minister, Margaret Thatcher, is reported to have called the coup makers terrorists. While the term can be overused, those who hijack a parliament to demand control of a state are at least as much terrorists as those who hijack an airliner containing a similar number of people and demand mere money or the release of fellow criminals.
Coups are a form of organised crime
Coups involve many acts of serious criminality – from trespass, to kidnapping, to theft of any government assets they put their hands on to threatening to kill anyone who does their constitutional duty.
A special obloquy is reserved for those whose crimes involve doing the various opposite of the sworn duty for which they are given pay and privilege. We especially condemn doctors who kill their patients; preachers who abuse children entrusted to their care; lawyers who pervert justice. We should do the same with coup leaders.
It is the duty of the military to protect the state and its people from external threats. That is why its leaders are given control over deadly weapons, command over those who use them and the commitment of very considerable sums of money and prestige. If they use that power against the state and its people they are sworn to protect, they earn that very special obloquy.
Coups are a form of highly organised crime. And it is corrupt. In the case of Thai coup leader Prayuth Chan-ocha, this starts with a continuation of his income after the September date for his retirement.
It also appears to be in flagrant breach of sections 2, 3, 6, 10, 26, 27, 29, 32, 36, 39, 40, 45, 46, 63, 74, 81 and 87 of the Thai Constitution.
The proper role of the monarch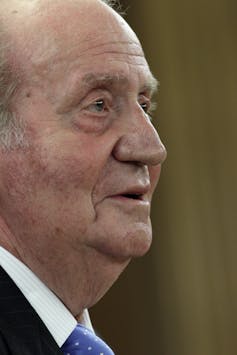 Some have claimed that Juan Carlos was sympathetic to the coup makers. Such doubts are moot as his actions were decisive and exemplary – that is, an example for how other monarchs should deal with coups, especially in fragile democracies with new constitutions.
Monarchs enjoy exceptionally fortunate lives: wealth, palaces, jewels, servants and the modern accoutrements of planes, trains, automobiles and adulation – leavened with some public relations and constitutional duties. It is still "good to be da king".
It is not too much to expect that those constitutional duties include protecting the constitution. It is particularly useful in fending off coups by those who claim to be monarchists. A king can quickly cut the ground from under their feet with little risk to themselves.
Even if there are risks, should not the commander in chief be prepared to take them? Those risks are not nearly as great as the risks to a demonstrator or a cabinet minister speaking out in favour of the constitution that has been stolen from them.
The Thai king has not followed that path. It is not clear whether this is because of inability, incapacity or choice; the uncertainty is underlined by Prayuth's changing narrative.
Initially Prayuth was going to have an audience with the king. Then he was going to write to the king and then the king was going to endorse his rule. In the end, Prayuth just called a press conference and stated that the king had authorised his regime.
Until the king announces that he has sought independent legal advice as to his powers and has freely chosen to exercise those in favour of Prayuth, we are entitled to read the Thai Constitution ourselves. We would, of course, prefer to hear the views of an independent uncoerced Thai judiciary. As the military has already indicated that it would intervene in judicial processes, that path is not open.
What does not seem to be in doubt is that Prayuth, by his own admission, had no prior authorisation by the king. This means that he was not only clearly in breach of a score of constitutional provisions but apparently guilty of lese majeste for usurping the role of ihs king/commander in chief. A declaration of martial law can only be authorised by the king under Section 2 of the Martial Law Act of 1914.
What is to be done?
It is commonly thought that little can be done to prevent coups. Governments may hide behind claims that "we only recognise states, not governments" – although they still have to decide which claimant to government gets to nominate ambassadors and who is given the keys to the embassy and the seat in the UN.
They may say that they recognise the regime that is "by and large effective". They may quote Sir John Harrington:
Treason never prospers,

what's the reason?

For when treason prospers

none dare call it treason.
Many things can be done to reverse coups – and even more to prevent them. Some are contained in the report of the Council of Foreign Relations Task Force co-chaired by Madeleine Albright on which I had the privilege to serve. More can be found in my academic writings summarised in Making Coups History and Who will rid us of these meddlesome generals?.
First, it should be recognised that, in a globalising world, governments cannot be effective until they are recognised by others. While we recognise the Harringtonian constraints on those within Thailand, the rest of the world should certainly "dare to call it treason" and treat its perpetrators accordingly.
Other governments could secure independent advice from expat Thai constitutional lawyers beyond the reach of Prayuth's intimidation and say that even if the junta does not recognise the Thai constitution, we do. Accordingly, we still recognise the legitimate government and seek its advice on who should occupy the embassies and seats in international bodies.
We should freeze Thai government assets and refuse to allow any loans on the sovereign credit of Thailand on the basis that it would be unconscionable to lend to the coup plotters and later expect to be repaid by the Thai people whose sovereignty they had stolen. This would be the natural response to security guards who had taken over the store they were supposed to protect and then sought a bank loan secured by a mortgage on the store.
Some may be concerned about a minority of countries seeking geopolitical advantage. However, I do not see the Chinese being particularly well disposed towards either coups or monarchies.
And we should emphasise that this is about protecting democracy, not imposing democracy. Democracy can never be given. It must be taken by a people. But once taken, other democracies have a right to help that people defend it.
Postscript: Oh, and the news that relegated this truly remarkable story to second place on the BBC news? It was another royal story that did not end nearly as well – the engagement of Prince Charles and Diana Spencer.