The British Horse Racing Authority has revealed a total of seven racehorses have now tested positive for morphine in post-race samples. Unremarkable perhaps to a public jaded by reports of human athletes failing drugs tests, or even seeing drug abuse as a way of sporting life.
We in equestrianism and its bigger brother, horse racing, have a similarly jaundiced view, especially since the 2013 winner of both Badminton and Burghley – two of eventing's three "Grand Slams" – Jonathan "Jock" Paget was suspended along with his mentor Kevin McNab following positive test results on their horses.
Sheikh Mohammed of Dubai, a keen endurance rider and racehorse owner, was embarrassed by a series of doping revelations at his stables last year. We barely raised a scandal–wearied eyebrow.
The most recent case is different however, as one of the horses is Estimate, a five-year-old mare owned by the Queen. Estimate is one of the world's top racehorses; last year she became the first horse owned by a reigning monarch to win the Royal Ascot Gold Cup, Britain's premier long distance horse race.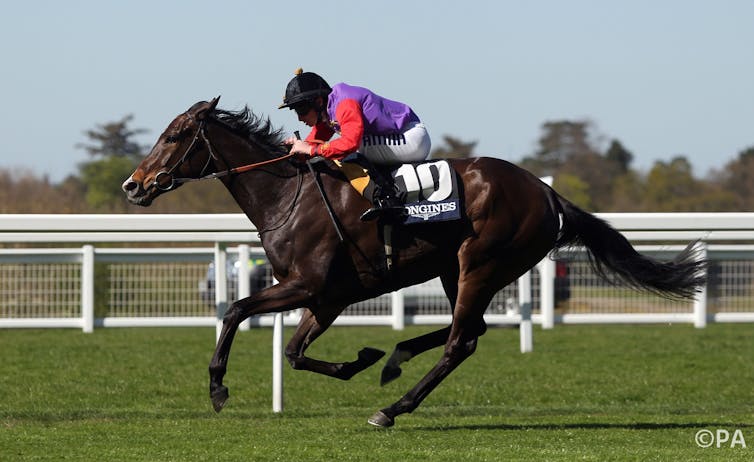 Fingers were quickly pointed at contaminated feed products and this will save Her Majesty's blushes. However, there is a pattern emerging. Is the problem perhaps not with the trainers, owners and riders but with the way doping is regulated in these sports?
The blame game
The concept of "strict liability" is common to anti-doping regulations across all equine sports, whether they be governed by the BHA or international body the Fédération Équestre Internationale (FEI), which covers endurance racing, dressage, showjumping and eventing.
Strict liability essentially means no moral fault is necessary to be found guilty of an offence. Take speeding tickets, for instance: ignorance is no defence. Likewise in athletics, if a competitor is found to have banned drugs in their system they are considered guilty, even if they merely took the wrong type of cough medicine.
Contaminated feed has been the culprit before in equine doping cases. London 2012 was a comparatively drug-free Olympics but prior to it two top Saudi Arabian riders received eight-month bans after the drug "Bute" was found in their horses at events earlier that year. On appeal the bans were reduced, allowing the riders to compete at the games, but the point is that when issuing the initial ban the FEI accepted the riders were not present when the infraction occurred.
In this case, the most likely culprit was stables that had not been properly cleaned out before the arrival of the horses. Unlike a human athlete who always asserts a degree of control over their actions, it is hard for riders or owners to stay on top of what their horses are up to, and what they are being fed; competition horses routinely make transcontinental air flights quite separately from their owners.
Similarly nobody seriously asserts malicious intent on behalf of Jock Paget, Kevin McNab, Sheikh Mohammed or the Queen. This makes the bans, suspensions, forfeiture of prize money (in excess of £80,000 in the case of the Queen) and ineligibility for the Olympics harder to justify.
Desperate measures
Of course, there need to be rules in place to guard against the desperate to win. Research conducted initially in 1984 found that over 50% of elite human athletes would take a performance enhancing drug which was undetectable and guaranteed success in their sport even if it ultimately resulted in their death within five years. If this is the case for humans, then imagine the price placed on the life of a horse.
This is a Faustian bargain indeed and the reasons are of course largely financial; winning means fame and prosperity. Technological and social changes over the past century or so have drastically changed the horse's status. They have gone from machines and engines of war (as epitomised in Michael Morpurgo's "War Horse") fairly rapidly to "athletes", or even "celebrities" in the cases of Red Rum, Desert Orchid and others.
Horses might not plough our fields anymore, but they are still at the centre of a racing and recreational riding industry worth £7 billion annually in the UK alone. That is even before we consider horse-related gambling and is more than the whole farming sector. That figure represents a lot of riding apparel and horse rugs signed by equestrians and is mostly bought by the estimated 4.3m leisure horse riders in the UK.
This is the equivalent of course of Manchester United replica shirts and the like. Without success there are no such merchandising and sponsorship deals, just as with humans.
We are talking uniquely here though about a team that contains one human athlete, the equestrian or jockey, and one non-human athlete, the horse. The latter is not autonomous and here is the central problem.
The doping rules for horses, whether BHA or FEI have very much in common with the World Anti-Doping Agency (WADA)'s code, which was developed for human athletes, especially self-directing, victory-fixated, greedy human athletes.
London 2012 boss Lord Coe, himself a former Olympian, once said: "we cannot, without blinding reason and cause, move one millimetre from strict liability". That might be at least arguable with human athletes but perhaps it is a step too far to apply strict liability to human/horse combinations. There are too many ways that third party human incompetence can contaminate a horse, and the horse itself has no say in the matter whatsoever.
Perhaps now the Queen has at least brushed with a doping scandal it is possible to open a debate about the appropriateness of strict liability in doping cases like these. Horses are not humans, and they deserve their own drug code.