By David Holmes and Anna Matwijiw
More than 50% of young Australians have seriously considered shutting down their Facebook accounts, even while many of them check the site compulsively through the day.
While Facebook grew exponentially since launching in 2004, especially in its first three years, recent research has found many users fatigued and wanting a break.
And this trend has only been exacerbated by the appearance of articles and blogs including a list of reasons to leave Facebook, why leaving Facebook improves life, why teenagers no longer care for Facebook, and how Facebook makes you feel bad about yourself.
A recent Pew Research survey found that 61% of Facebook users in the US have taken a voluntary break from using the site and 27% plan to spend less time on the site this coming year.
Notably, young adults aged 19 to 29 were the most likely anticipators of decreased engagement, with 38% expecting to spend less time on Facebook this year.
The Pew study did not try to determine how many users actually deactivated accounts as opposed to "taking breaks," nor did it examine non-American user trends. It is unclear whether the incidence of deactivation is a growing trend in Australia as, up until now, no conclusive research has been conducted on the topic and Facebook refuses to release the data.
But a new study of 19 to 29 year old Facebook users in Australia gives us a much clearer picture of Facebook attachment in Australia. The survey was divided into a student sample and a non-student sample.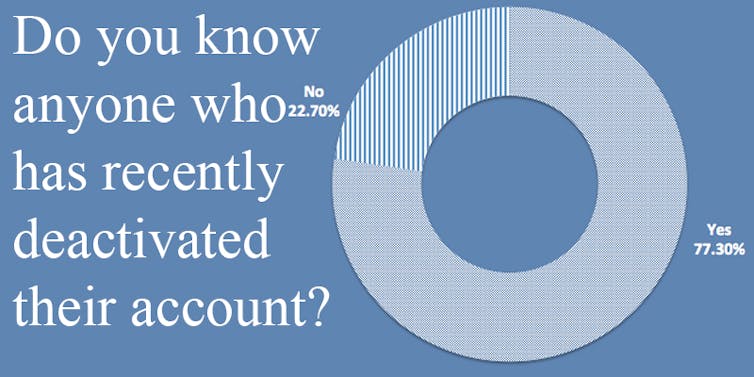 In the non-student sample, 69.9% responded yes to this question.
Whilst 75.5% of respondents reported checking their Facebook feed over five times per day, indicating a substantial attachment to Facebook, 56.3% reported having seriously considered deactivating their accounts.
And 25.9% had deactivated their account at some point in the last twelve months. Nearly 40% had deactivated their account at least once in the last seven years.
In the non-students sample, 44% responded yes to this question.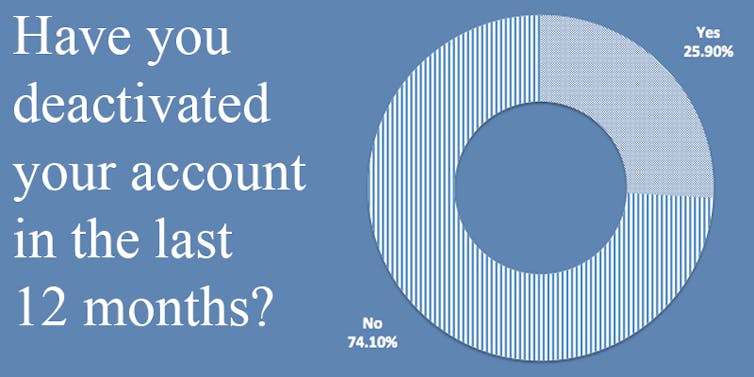 In the non-students sample, 8.6% responded yes to this question
Why deactivate?
Fifteen students were also asked to give longer answers on their views on deactivation.
Of these, 5 had deactivated in the past 12 months, 5 were seriously considering deactivating and 5 had never seriously considered deactivating.
The study showed a consistent trend across all three of these interviewees, that users started off with active status posting but increasingly became silent lurkers. In fact, the usage of facebook actually increased in terms of how often they logged in to the point where many felt it to be an unhealthy addiction. One respondent reported checking their facebook account: "10 x an hour, 18 hours a day, so like 175 – 190 [time a day]". The more addictive behaviour was attributed to having Facebook as a mobile app, where there was no log in and it enabled continual short bursts of updates all day.
Interviewees also reported the ambient nature of facebook, the sense of always needing to be connected to it on their phone or computer. This constant pressure that users felt from facebook had negative consequences on mood: summed up by one participant who said:
I think interacting with people on a platform like that is so performative that it's almost like being in one of the worst social situations but constantly being there, like you can't leave. Like a terrible club where you can't talk to anyone and they're all there and they all look fantastic and they're all really drunk but no-one is really saying anything to one another.
Time-wasting was another source of frustration leading to thoughts of deactivation:
[People deactivate because] it's actually sucking life out of them, in the sense that they don't get anything from Facebook. It's not a social media that enriched your life. You just realise that your reading all this stuff about people who you don't care about and I think a lot of people, when they realise that they don't actually care about any of those people and that it's a waste of their time, then they deactivate.
But while there is pressure to deactivate, there is the validation that some users get out of Facebook, and a high level of FoMo: fear of missing out.
Every time I deactivate there are things I don't get invited to and people are like, why didn't you come to that or whatever, which is kinda bad because people are so fully reliant on it.
The study has revealed a paradox in current Facebook use. Although people are checking it more frequently, they are simultaneously becoming more passive in their use. The more passive the use, the more intense are the feelings of isolation, and the more the user will agonise over whether to deactivate.
---
You can read the analysis piece on this study here.