Reports that Pakistan has launched an offensive against militants in North Waziristan come after years of pressure from the West for Islamabad to deal with the wild border region which has for many years been a haven for terrorist activity between Pakistan and Afghanistan.
Some 30,000 troops are said to have been mobilised for Operation Zarb-e-Azb supported by air strikes which reportedly killed 50 insurgents at the weekend.
In a statement, the Pakistani military said: "Using North Waziristan as a base, these terrorists had waged a war against the state of Pakistan and had been disrupting our national life in all its dimensions, stunting our economic growth and causing enormous loss of life and property."
The decision to launch the operation has been seen as a significant victory for the military over prime minister Nawaz Sharif, who had been trying to come to terms with Taliban leaders. He fears that any offensive against the region would lead to a backlash in terms of terror attacks in Pakistan's big cities.
This fear, highlighted by last week's Taliban-led attacks on Karachi airport, in which 38 were killed, is an indication of the tenuous hold Pakistan's central government has over national security. Many have begun to question Pakistan's survival as a state – pointing to the failure of the country's democratic institutions, the lack of authority of its central government and the serious threat it represents to international security.
Turbulent history of terror
In 2010 world, the US set out its strategy for Pakistan in the Council for Foreign Relations Task Force report, writing that "the US objective in Pakistan is to degrade and defeat terrorist groups that threaten American interests from its territory and to prevent turmoil that would imperil Pakistan state and risk the security of Pakistan's nuclear programme". The goal was to "prevail on Pakistan to stop providing support to the Afghan Taliban and Pakistani terrorist organisations."
But this goal is far from achievable. Pakistan continues to be the hub of Islamist terrorist organisations and faces many social and economic challenges – such as illiteracy, gender inequality and poverty, which only serve to exacerbate the possibility of breeding further terrorist activity.
Pakistan has appeared for many consecutive years on the Failed State Index. It tops the list of bomb blasts per year. It is consistently among the worst offenders in terms of its human rights record, its record on women's rights and the rights of its religious minorities, including Shia Muslims, Christians, Hindus and Sikhs.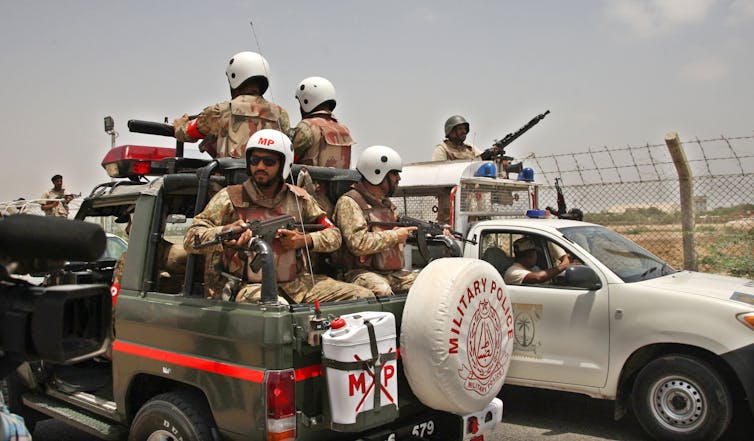 Prime minister Nawaz Sharif has been faced with both economic and security crises. While Pakistan's economy is showing some signs it might be turning the corner after years of crisis and deficit, corruption is rampant and systemic and the security of women, religious minorities and, increasingly, everyone else, cannot be guaranteed.
Problems, problems …
Despite US military and economic aid to Pakistan, anti-US feeling is very strong in Pakistan, especially after 9/11. The killing of Osama Bin Laden by American forces, incursions into Pakistan by Afghanistan-based US military and the growing number of drone strikes which have killed numerous civilians have fuelled this sentiment.
However the US is strongly aware of the perils of allowing Pakistan's nuclear capability to fall into the wrong hands. While the track record on this has so far been adequate, the successful penetration of security in attacks such as last week's at Karachi airport highlight the dangers inherent in a politically unstable state with a nuclear capability.
Washington has continually pushed for an increased role for civil society in Pakistan's polity – the transfer of power away from the army and the intelligence service (the ISI) has been a major priority, but it remains to be seen whether adding "Aawam" (people) to the traditional "three A's" of Allah, Army, and America, will work out.
Under Sharif, the priorities seem to have been strengthening democratic institutions, fixing the parlous economy, mending the country's traditionally turbulent relationship with India and solving what is perhaps the most intractable problem between the two countries: Kashmir. The economy is showing positive signs, according to a recent World Bank report, which identified steady growth, a recovery in manufacturing and stabilising unemployment as big positives but warned of a lack of investment from overseas capital spooked by an insecure political environment and a continuing trade deficit.
So far, though, so positive. And Sharif was the first Pakistani prime minister to attend the inauguration of an Indian head of government when he visited Delhi last month to witness the swearing in of Narendra Modi. But the development of cordial relations between the two leaders will depend on both sides' restraint over Kashmir and increased shelling of the Line of Control last weekend won't have helped matters.
Continuing problems with Pakistan's powerful and seemingly unaccountable Inter-Services Intelligence (ISI) which is said to play both end off against the middle while pursuing an agenda which appears to opaque even to the highest levels of politics, are perhaps best expressed by the tale of the broadcaster whose licence was suspended last week after it dared to criticise the ISI. Geo News had reported a claim that the ISI's chief, General Zaheer-ul-Islam had ordered the shooting of investigative journalist Hamid Mir which left the reporter seriously wounded in hospital. Amnesty International reported that at least 34 journalists had been killed in Pakistan since 2008 and that "no state actor is more feared by journalists than the ISI".
Meanwhile the public stoning to death of a pregnant woman outside the High Court in Lahore for defying her family's wishes about who she should marry is another chilling indication of the fragility of the rule of law in Pakistan.
Whether Sharif – or any democratic leader in a country beset by such challenges – can establish a strong enough political base to wrest power from the military and intelligence services will be key, not just to his survival, but to the very survival of Pakistan as a viable state. Events in Karachi last week are a suggestion of just how hard this will be.