When counsel assisting the Royal Commission into Institutional Responses to Child Sex Abuse put it to Cardinal George Pell last week that his lawyers weren't his moral advisors, she was implying that he shouldn't blame his lawyers for his pursuit of a morally bankrupt legal strategy. Pell was the client. He gave the instructions.
But lawyers can and should play an important role in helping a client step back and reflect. Lawyers owe clients a duty to act in the client's best interests. This may necessarily involve helping the client ascertain what their best interests are.
It is the lawyer's role (especially in litigation, where costs – psychological, financial and, in this case, "spiritual", can be so high) to put options to the client and ask whether a "no holds barred" approach is in fact in the client's best interests.
The Ellis case
John Ellis was a victim of sexual abuse by a Catholic priest. Michael Eccleston, the church's investigator, thoroughly examined Ellis' allegations of abuse. Eccleston accepted, and reported to the church, that serious abuse had occurred.
Despite this, in defending the claim Ellis made against the church, Pell adopted an "attack dog" strategy against Ellis. It appears from evidence given to the Royal Commission that Pell's lawyers, Corrs Chambers Westgarth, advised this strategy and then prosecuted it with gusto.
In doing so, the lawyers lost sight of their duty to act in their client's best interests. The lawyers had a duty to counsel Pell to consider the cost to himself and to the church of pursuing such a strategy. They had a duty to suggest to Pell other options he might consider, including settlement.
If the lawyers had turned their mind to the client's best interests, they cannot have believed that Pell and the church would come out of the litigation unscathed, reputation intact. What value the church's unassailed coffers, if its reputation for integrity, moral leadership and pastoral care lies in tatters?
Lawyers' duty to court
All lawyers, even those who see themselves as hired guns, owe duties to the court. They must not mislead the court. This is why Commissioner Peter McClellan was so taken aback by the actions of Pell's lawyers.
Despite the fact that the church had accepted the Eccleston report validating Ellis' claim of abuse, Corrs instructed barristers to contest Ellis' claim and put Ellis through days of cross-examination suggesting he was fabricating his allegations.
That cross-examination was, in McClellan's words, "not necessary" and "extremely hurtful" to Ellis. It gave the court the mistaken impression that the issue of whether or not the abuse had occurred was in serious contest.
The lawyers explained to McClellan that they were "acting on instructions" and that the cross-examination was done by senior counsel and they were not responsible for it. But McClellan would have none of that. They had misled the court, McClellan implied, and in doing so had breached their duty to it.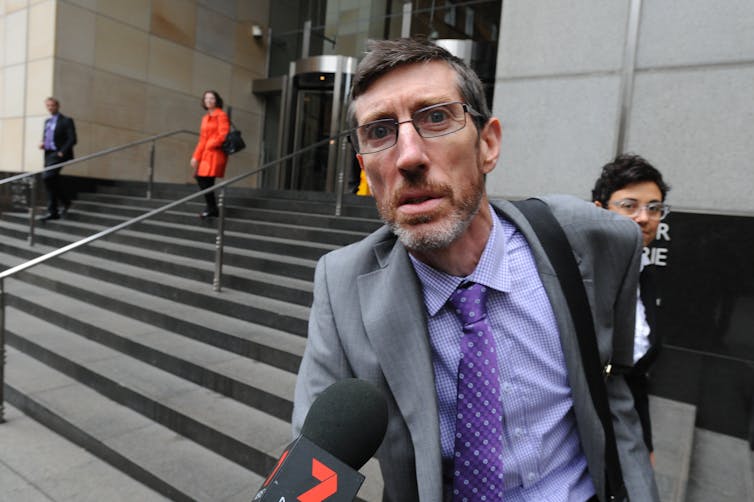 A merry-go-round of rationalisations
Pell explained his actions to the Royal Commission by saying he was relying on legal advice. The lawyers explained their actions as "acting on the client's instructions" and relying on senior counsel.
In doing so, both parties were using rationalisations – psychological processes that find the most rational and convincing reason for our behaviour, often with the goal of making it look better than it actually is. Rationalisations are self-serving explanations that can reduce or neutralise the impact of the ethical issues involved in a decision.
Psychology tells us that the processes of rationalisation are highly seductive. And that once a rationalisation has been used to support questionable behaviour, it can become deeply entrenched in our thinking.
It is easy to see with hindsight the rationalisations going on in the Ellis case. It was a merry-go-round of rationalisations. Pell was "acting on legal advice" and protecting the church's assets. The lawyers were "acting on client's instructions" and holding senior counsel responsible for how the case was prosecuted in court.
And once they had started down that track, it seems neither party was able to pull back and take a broader view of what was happening.
Take home lessons for lawyers
For lawyers, the message from all this is salutary. The proper duty to "act on instructions" can cause lawyers to lose sight of other important and overarching duties. Lawyers need to question their judgements, to step back and consider things from different points of view.
Importantly, lawyers need to ask themselves whether "I'm just acting on instructions" is excusing them from the necessary ethical reflection that might otherwise occur after strong questioning from a Royal Commissioner.