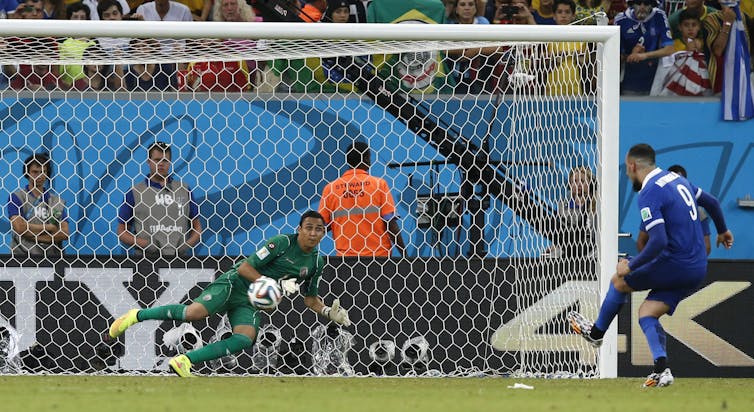 There have been two penalty shootouts – between Brazil and Chile, and Costa Rica and Greece – in the Round of 16 at the 2014 World Cup after just four games. The team that took the first penalty (and scored the first goal) won both shootouts (Brazil and Costa Rica).
Does it matter who takes the first penalty? Do penalty takers favour a particular type of shot? Do goalkeepers have a preferred side to dive? There is a growing amount of research and analysis about penalty taking, inspired in part by Jens Lehmann's efforts in a World Cup game eight years ago.
Jens and his list
In the 2006 World Cup, German goalkeeper Jens Lehmann saved two penalty kicks in the quarter-final shootout with Argentina. At the time, he appeared to be checking a piece of paper between penalties. Subsequently, it was reported that he was looking at a record of each Argentinian penalty taker's preferred part of the goal target.
Lehmann faced four penalties and chose the correct way to dive for each penalty. His save of Esteban Cambiasso's penalty came after a very clear look at his piece of paper and secured Germany's victory.
The note was sold at auction some months later for one million euros. It contained no mention of Cambiasso and his penalty preference. He was not on the list. The list was written in pencil and Lehmann had great difficulty reading it.
It is likely that the presence of the list rather than its contents gave Lehmann some measure of control over the penalty shoot out.
There was no such list in evidence when Brazil defeated Chile in the first penalty shootout of this World Cup. But it is probable that both teams would have prepared in some detail for the shoot out with the digital relational database resources available to them.
Penalty research
It is not surprising that there is a great deal of research interest in penalty taking in football.
One group of researchers has looked at whether penalty takers are goalkeeper independent or goalkeeper dependent. Goalkeeper independent penalty takers decide on a target area to kick the ball and do so irrespective of the goalkeeper's actions. Goalkeeper-dependent penalty takers anticipate the movement of the goalkeeper and aim for the opposite side of the goal.
A study of 303 penalty kicks taken in World Cup and European Championship shootouts between 1984 and 2012 revealed that 86% of the penalties taken were goalkeeper independent (with 73.8% success rate) and 14% were goalkeeper dependent (with a success rate of 70.6%).
Another group of researchers has looked at goalkeepers' anticipation and the information they use to enhance the probability of saving penalties. Amongst these, Greg Wood and Mark Wilson note that:
[…] goalkeepers tend to gaze at the penalty takers head and then more or less immediately shift fixation toward the ball.
The dilemma for goalkeepers is that the most accurate information about the trajectory of the ball comes too late for action. They must make a decision about where and when to dive and tread a fine line between moving too early or too late. Michael Bar-Eli and his colleagues have suggested that:
[…] goalkeepers feel worse about a goal being scored when it follows from inaction (staying in the centre) than from action (jumping).
Game theoretic researchers have been attracted to penalty taking as an excellent empirical focus for the investigation of zero sum activities. Luigi Buzzacchi and Stefano Pedrini have looked at penalty shootouts in World Cup and European Championship games between 1994 and 2012.
Buzzacchi and Pedrini's particular interest is in the role of specialist penalty takers. In their analysis of 237 penalties, they note specialist penalty takers have a success rate of 76.5% compared to non-specialists at 66.1%. But they question whether specialists are more successful in shootouts as they tend be allocated the early kicks in the shootout.
Roger Berger has looked at penalty taking behaviour in the German Bundesliga. His interest was in how penalty takers and goalkeepers managed uncertainty about the placement of the ball in three areas of the goal: right, centre and left.
Berger's analysis of 1,043 penalties yielded success rates of 91.8% for right-footed players kicking to their left of the goal and 96% for left-footed players kicking to their right of the goal. Goalkeepers anticipated the actions of penalty takers and dived more to the anticipated dominant side than the number of penalties that were placed there.
Who is in control?
Daniel Memmert and his colleagues have looked closely at penalty duels. In their discussion of how penalty takers and goalkeepers can control the outcome, they identify four important issues for penalty takers:
order of penalty takers
public appraisal
temporal preparation
celebration.
They have some excellent advice to share about controlling the penalty moment. Similarly, they share insights to goalkeeping success too:
previous penalties
anticipating
penalty taker's kicking leg
tricks.
The last of these items takes us back to Lehmann. His save of Cambiasso's penalty employs a number of these tricks: raising his arms above his head, standing away from the centre of the goal, and drawing attention to himself "through conspicuous behaviour".
If all this fails, then Lehmann and goalkeepers like him can follow their coach's advice: "save two penalties."