A gun is a dangerous weapon for obvious reasons. But there are less obvious risks to those who use them. New research shows people who shoot, for work or leisure, risk lead poisoning.
Our just published review shows how exposure to lead from bullets, airborne particles in shooting ranges and other sources shows up in shooters' blood at levels we believe pose a health risk.
Who's at risk?
Security personnel, police officers and members of the military who fire guns at shooting ranges for work, and members of the public who shoot at firing ranges for recreation, are at risk.
Large numbers of shooters are involved, particularly in the US, where there are about 16,000-18,000 indoor firing ranges. In the US, about one million law enforcement officers train regularly at indoor firing ranges each year and 20 million people practice target shooting as a leisure activity.
The Geological Survey calculated that in 2012 about 60,100 metric tonnes of lead were used in ammunition and bullets in the US. Given that lead is the dominant metal in bullets and primers (which initiates the combustion of gunpowder in the bullet cartridge), there are large numbers of people exposed by firing bullets.
It's difficult to estimate how many Australians shoot at ranges and are exposed to lead. While the Sporting Shooters Association of Australia says it has 180,000 members, not all use shooting ranges.
How are shooters exposed to lead?
Shooters are exposed to lead when firing lead bullets. The bullet primer is about 35% lead styphnate and lead dioxide (also known as lead peroxide). When a shooter fires a bullet, lead particles and fumes originating from the primer discharge at high pressures from the gun barrel, very close to the shooter.
Shooters are also exposed to lead from the bullet itself as some parts disintegrate into fragments due to misalignments in the gun barrel. The extreme heat during the firing of a bullet results in some vapourisation of these lead fragments.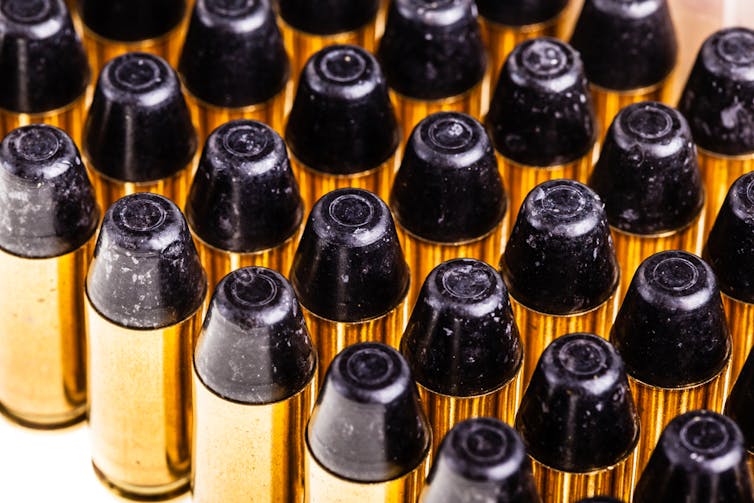 Shooters inhale lead particles emitted during the firing of a gun, whether that's from the primer or the bullet itself. Once deposited in the lower respiratory tract, lead particles (and different chemical forms of lead) are almost completely absorbed into the bloodstream.
Lead dust from the shooting range also sticks to shooters' clothes and can potentially contaminate vehicles and homes. Shooters can also ingest lead particles by transferring them from their hands into their mouths when they smoke, eat or drink.
Shooters' blood lead levels tend to be higher the more bullets shot, the more lead in the air at shooting ranges and the increased calibre of weapon.
What our review found
We reviewed 36 studies that measured blood lead levels at shooting ranges. The studies were from 15 countries, but most were from the US. About two-thirds of the studies looked at people who used shooting ranges for work.
We found blood lead levels of at least one of the participants in 31 of 36 studies had an elevated blood lead level. This means more than the current adult blood lead reference level of 5µg/dL, or 5 micrograms of lead per decilitre of blood, as recommended by the US Centers for Disease Control and Prevention and National Institute of Occupational Safety and Health.
Importantly, we found elevated blood lead levels (greater than 5µg/dL) in shooters using both indoor and outdoor shooting ranges, consistent with the release of the fine grained primer-based lead close to the shooter's face and body.
How does lead affect the body?
The US National Toxicology Program reviewed the evidence for health effects associated with chronic lead exposure in adults and children at levels identified in our literature review.
They found such blood lead levels were associated with a range of neurological, psychiatric, fertility and heart problems.
While studies have not specifically investigated all these outcomes in shooters, it is biologically plausible these conditions are associated with raised blood levels resulting from exposure to lead at shooting ranges. But few studies have been conducted on the shooting population to be sure.
There is a particular risk to women of child-bearing age exposed to lead at firing ranges because of the uptake and storage of lead in the mother's bones where it substitutes for calcium.
This is a particular problem for pregnant women, because the foetus requires calcium from her bones. So the foetus could be exposed to the mother's lead stores during critical times in development. This could cause serious neurological disorders when born.
Female shooters can also pass on the lead exposure to their children through breast milk. Additionally, multiple studies have shown raised blood lead levels in children shooting guns at firing ranges due to direct exposure. Studies show raised blood levels in children are linked with range of health problems. These range from being inattentive, hyperactive and irritable, to delayed growth, decreased intelligence, and short-term memory loss.
How do we limit lead exposure?
The ultimate solution to protect the health of shooters is to replace all primers and bullets with lead–free substitutes, which are already available.
We recommend measures such as ensuring adequate exhaust ventilation and wet-cleaning of surfaces at firing ranges, requiring people who work at firing ranges to have their blood lead levels checked, and for similar testing for frequent shooters.
We also recommend shooters be aware of the risks of lead exposure and follow guidelines recommended by health organisations such as the Council of State and Territorial Epidemiologists or Safe Work Australia.