Tate Liverpool's latest exhibition, of which I am a co-curator, is of the work of Piet Mondrian, the Dutch painter and pioneer of modern abstract art who is probably best known today for his iconic grids of black lines and primary colours. The show concentrates on the spaces in which his work was envisioned and produced.
Such a focus may seem unusual. What can Mondrian's studios tell us, and why reconstruct them for an exhibition? After all, we live in an era when art is supposedly "post-medium", no longer tied to particular forms of material practice, even though some artists still paint and sculpt in the time-honoured tradition.
The corollary to this is that the place where an artist works no longer needs to be as fixed as it once was. It can be anywhere necessary to produce the work – and the work itself may in fact involve the creation of situations and events, rather than objects. Even when objects are involved, they may be produced by people other than the artist and in different locations.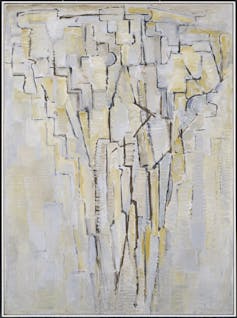 Yet, in this "post-studio" moment, the idea of the artist's workspace still remains alive in the public imagination. And, it has become an increasing feature of the historical accounts of art making. Numerous artists' studios have now become museum sites. Think of Pollock's barn on Long Island, Hepworth's studio and garden in St Ives, and Bacon's filthy hovel transported in toto from London to Dublin, complete with its dust, to be forever preserved.
But the case of Mondrian is immediately different. We are not talking about one, single hallowed site that stands in for the artist, like a relic, as the remaining physical connection to the person. Here we're in the plural.
That is not to say that Mondrian's studio was never a particular place and had never been a site of pilgrimage. In fact, the studio he occupied on the rue du Départ from 1921-36 became one of the most talked about artistic locations of interwar Paris. It featured regularly in newspaper articles and photographs of it circulated in magazines.
But it disappeared completely from view when the building was demolished to make way for the expansion of the Gare Montparnasse. Mondrian had been forced to vacate it, and from that point until his death eight years later in 1944, he occupied four more studios in three different countries. One could almost say he became a "post-studio" artist before his time: very much against his wishes as he transited through London to New York as part of the flight of the avant-garde from the advance of Nazism.
In his two years in London from 1938-40, Mondrian completed only two paintings. Even in New York, where it is often considered he had a late burst of creativity, he spent most of his time reworking canvasses he had begun in Paris. These are now known as the "transatlantic paintings". What occupied a large amount of his time was arranging and rearranging panels of coloured card across all surfaces – walls, fittings and furniture - of his studio apartment, a practice he had begun in Paris two decades previously.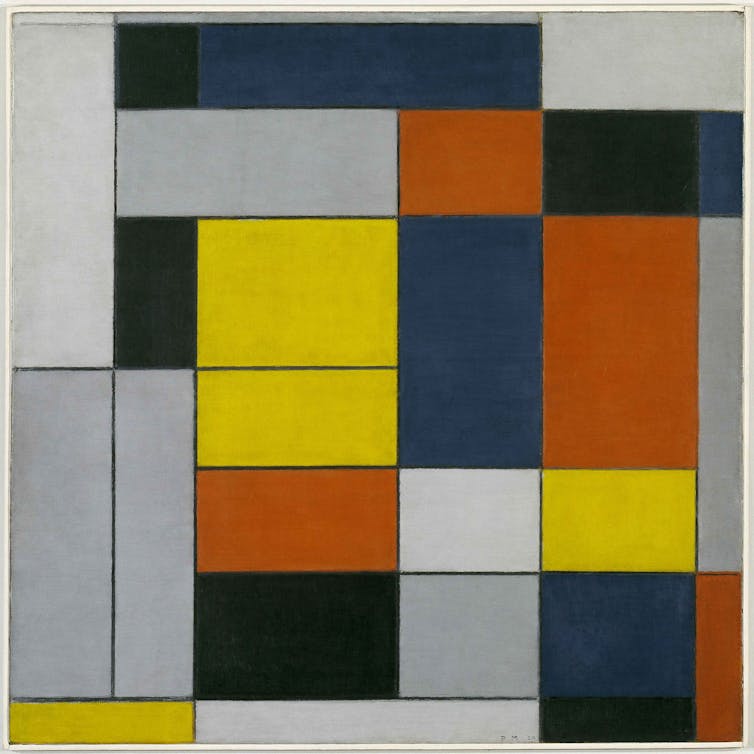 By the time of his death, so strongly was Mondrian's art associated with his immediate working environment that his heir Harry Holtzman briefly kept his last studio, on 59th Street New York open for visitors. He had only occupied it for five months. When no longer able to afford to keep it going in this form, Holtzman meticulously documented it. He photographed and filmed it, took measurements and preserved some of its items, including some of the cardboard panels.
The haphazard nature of these studios means their reconstruction is especially interesting. So the exhibition presents three of Mondrian's studios in several different ways. The exhibition features life-size and digital reconstruction, period photographs, film and rare surviving materials. This diversity of modes is driven by the different contexts of and survivals from each studio.
Each provides its own insight into his practice as an artist. Some help us understand the visual dynamics of his paintings, which have a powerful connection to the spaces around them and interact with the architectural environment in surprising ways.
Others help interpret the manner in which he used his studio – as a device to communicate his utopian ideas to visitors and the wider audiences he could reach with images of it.
What has become apparent to me in the process of curating this exhibition is that, while none of the reconstructions can fully recreate the intense experience of visiting Mondrian's studios, their partiality evokes the work of imagination Mondrian required of his visitors – the imagination to connect wherever they were to a place yet to be. Mondrian's studios were actual spaces. But they were also part of an idea that was never realised.
Mondrian and his Studios is at Tate Liverpool from June 6 to October 5 2014.