Australian academics will soon have a new incentive to get off campus and into the community to engage with the people who ultimately fund their research – the taxpayers.
The Australian Research Council (ARC) is currently piloting a new scheme to quantify impact and engagement by academics. It's part of proposed funding changes under the National Innovation and Science Agenda.
Only ten discipline areas are being looked at as part of the pilot. But when the full scheme is launched in 2018, all disciplines at all Australian universities will be measured, not only for research performance but also for how well connected their research is to community and stakeholders.
The results of this assessment will be used, in part, to determine how big a slice of the A$1.89 billion in annual research infrastructure funding will end up at each university. These are high stakes for institutions and researchers alike.
Defining engagement
What is engagement, and why is it important?
In the academic context, engagement is about giving non-academic stakeholders the chance to have a say in what research is done, and how and why. This includes dealing with governments, communities and industry.
The ARC has recognised that this is about much more than just telling the public what you are doing. It has put forward a range of criteria that emphasises the need for proper two-way collaboration and conversation.
Handing over the reins on research projects is challenging to most academics. But in doing so, we can ensure that we are responsive to the needs of communities, and make our research inclusive and relevant.
Further, public engagement can actually enhance research projects. It provides access to knowledge, experience and resources that can help us to deliver better outcomes.
Getting people involved
One of the discipline areas that's part of the ARC pilot is my own, archaeology.
Archaeologists are well placed in the engagement context, as we regularly work with non-academic stakeholders who play an important role in guiding, funding and contributing to our research. This includes groups such as indigenous communities, historical societies, governments and local councils.
My own experience working in collaboration with communities to map the location of unmarked graves using geophysical techniques has shown the benefits of effective community engagement for my own research outcomes, and also for the communities I have worked with.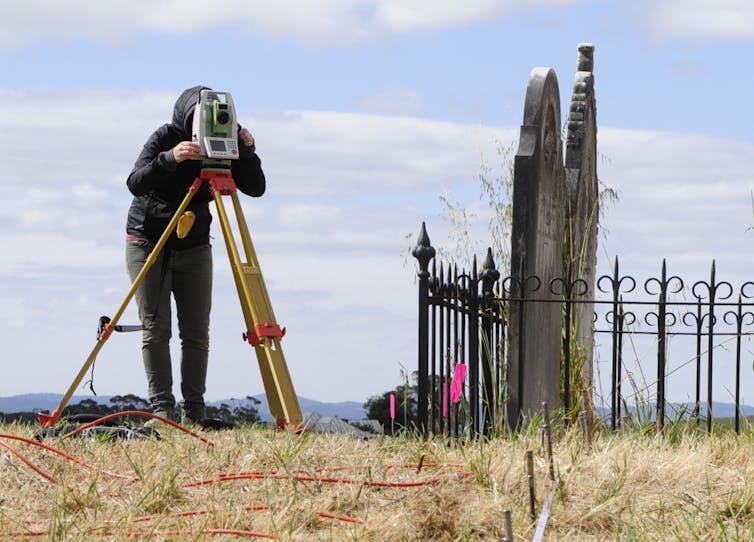 These projects typically involve the community in the design, development and interpretation of research, and evolve as a true collaborative effort.
Together we try and make sense of older cemeteries that contain large numbers of unmarked graves. This helps to fill in the pages of history, protect Aboriginal burial sites from destruction during development, and locate appropriate places for the repatriation of skeletal material on country.
Detecting graves with invasive techniques such as excavation is slow, expensive and distressing when graves are disturbed. So the non-invasive, rapid and inexpensive nature of geophysical techniques (such as ground penetrating radar) makes these an attractive alternative.
Community benefit
The community groups I work with on these projects benefit from this type of engagement. They are typically involved from the very start, approaching me with a request to undertake the survey. They also define the extent of the study, and help interpret the results based on their knowledge of the site.
The research also adds significant value to their understanding of local history in a way that would be impossible without the expertise and equipment that we as a university can provide.
I recently worked with Lorraine Pomery, president of the local branch of the National Trust in Port Elliot, South Australia, to locate up to 69 unmarked graves in the Little Glory Cemetery. She told me:
This work has completely changed our understanding of this important historic site and has generated significant community interest.
Lessons from engagement
Clearly not all academic disciplines engage as extensively with non-academic stakeholders as archaeologists. There is certainly no "one size fits all" approach that will work for everyone.
Nonetheless, my experience provides some lessons that may be applicable more widely in academia.
Communities are usually far more interested and engaged in the big picture of my research (such as "where are the graves?") rather than the physics of how radar waves behave in the soil.
Communities can provide important site specific information ("there used to be headstones over there") without which I would be unable to do this research effectively. This is typical of the "mutually beneficial exchange of knowledge" the ARC pilot is looking for in engagement.
Communities can also provide financial support to fund travel expenses, in-kind support such as volunteer field assistance (as well as, on occasion, delicious home baked cakes) and collaborate on the interpretation of the data to ensure an effective outcome.
There are lots of opportunities for other researchers across all disciplines to invite the public in.
Anyone can start this conversation with things like social media engagement or public forums. Greater two-way engagement can be achieved by the co-design and interpretation of research projects.
All contribute to making sure the people who ultimately fund our research have a meaningful say in what we do. Now surely that's something that should be rewarded by the ARC.
---
Anika Johnstone, a senior exhibitions manager at MOD. at the University of South Australia, contributed to this article.