Wallace & Gromit and Friends: the Magic of Aardman, now showing at the Australian Centre for Moving Image (ACMI) in Melbourne, is an astonishing exhibition 45 years in the making. Aardman, the British animation studio that gave the world some of the finest animated films of the past three decades have delved deep into their archives and come up with a veritable treasure trove of creative genius.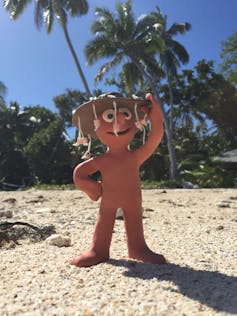 A vast array of design drawings, storyboards, characters and props has been brought out for display. The exhibition includes more than 350 objects, including some classic pieces from the short films A Grand Day Out, where the characters of Wallace and Gromit were first introduced, and Creature Comforts. And alongside them is the original Academy Award the studio received in 1990 for Creature Comforts.
My personal Aardman experience began with The Amazing Adventures of Morph, which aired on weekday afternoons on the ABC. I credit Morph as one of the earliest influences that inspired my own experimentation with claymation on Super 8 film, and eventually led to a career in animation and visual effects. I am certainly not unique in that regard, local animator and filmmaker Darcy Prendergast also began experimenting with claymation while in high school:
I'd freeze frame my way through entire VHS tapes of Wallace and Gromit – hoping to understand the dark magic their plasticine creations were under. Little did I know that it was right there and then that I fell in love with film, and the reason I'm a filmmaker today. Now you think about that impact the world over, and you start to realise just how influential these guys have been.
Prendergast later founded Oh Yeah Wow which has gone on to forge a reputation as one of Australia's most exciting young animation studios. Now the wheel has turned full circle as the Aardman super-fan has been invited to host a discussion with Aardman founders Peter Lord and David Proxton at ACMI in honour of the new exhibition.
Founded in Bristol, UK, in 1972, Aardman's first professional sale to the BBC was a simple 2D hand-drawn animated cartoon of a somewhat down-on-his-luck superhero character, dubbed Aardman (Hard-Man).
However the fledgling studio really came to prominence with a series of claymation shorts featuring Morph. Claymation involves manipulating modelling clay or plasticene, changing the shape of the model a little at a time and taking an image of each iteration. When all the images are played back at 24 frames per second the model appears to move and change shape of its own accord.
Morph was a small, brown plasticene man with the ability to transform into any shape he could imagine. He first appeared as a support act on childrens' TV show Take Hart in 1977, but by 1980 Morph had his own show.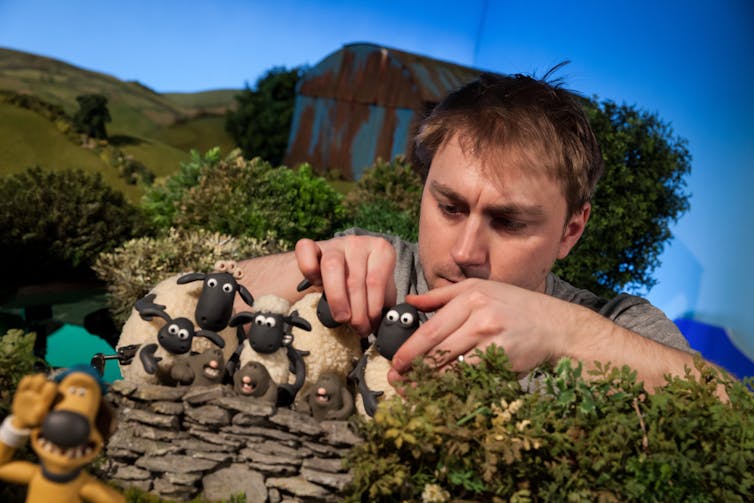 By the mid-1980s, Aardman was successfully producing a variety of spots for British television and some high profile music videos, most notably Peter Gabriel's Sledgehammer. However when recent National Film & Television School graduate Nick Park came on board in 1985, things began changing very rapidly. Park brought with him an unfinished student film featuring a couple of charmingly eccentric and very British characters, Wallace and Gromit.
At Aardman, Park finally completed his student film A Grand Day Out and while that film was in post-production he also directed a short called Creature Comforts. In 1990, both of Park's films were nominated for an Academy Award for best animated short, with Creature Comforts taking the Oscar. Since then, Aardman have consistently been at the forefront of the international animation scene, winning a swag of international awards including three more Oscars for Wallace & Gromit films.
Wallace and Gromit are undoubtedly the superstars of the Aardman stable of characters, however their standing has been challenged in recent years by Shaun the Sheep. Shaun first appeared as a supporting character in the Oscar-winning Wallace & Gromit: A Close Shave, but, like Morph before him, he couldn't be contained and now has his own TV series (five seasons so far), a feature film and a half-hour Christmas special. Shaun is well represented in both the exhibition and the ubiquitous gift shop merchandise.
The items on display run the gamut from relatively simple but instantly recognisable plasticine puppets, such as nefarious penguin in disguise Feathers McGraw from Wallace & Gromit: The Wrong Trousers, to intricately detailed sets from Aardman's more recent feature films. The level of detail in the props and set pieces are truly astonishing, particularly those from The Pirates! Band of Misfits. The world inhabited by the Victorian era pirates is lush and opulent, every inch covered in gloriously intricate textures.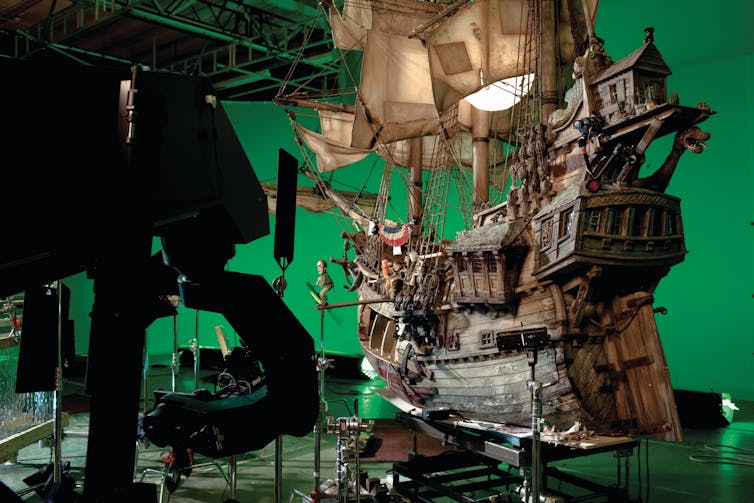 Detailed sets, beautifully crafted puppets and replicated studio spaces displaying the Aardman working process are all joys to behold, however the capstone to the entire exhibition is an astonishing and truly massive pirate ship. The size of the piece is incredible, one can't even imagine how torturous the packing and handling process must have been to safely transport such an item across continents. But there it is, looking for all the world as if it could sail back to Bristol on its own once the exhibition is done.
ACMI have added one more bonus feature in the exhibition space: there is a workshop area where visitors can build their own characters using tubs of plasticine and then animate their models with one of the Ipad-based animation sets.
---
Wallace & Gromit and Friends: the Magic of Aardman will be showing at ACMI until October 29.