"Blade Runner" Oscar Pistorius is no stranger to controversy.
This morning in London (AEST) the South African athlete was involved in a remarkable race at the Paralympics, the men's 200m – T44 final, in which he was defeated by Brazilian sprinter Alan Oliveira. Both athletes are double amputees who run with J-shaped, prosthetic running blades with carbon-fibre feet.
Immediately after the race Pistorius raised his concerns about unfair advantage, questioning the legitimacy of the prostheses worn by the race winner Alan Oliveira and the third-placed athlete Blake Leeper. Pistorius was quoted as saying:
We are not running in a fair race here. I'm not taking away from Alan's performance but I can't compete with Alan's stride length. The International Paralympic Committee have their regulations and their regulations mean that some athletes can make themselves unbelievably high - his knee heights are four inches higher than they should be.
Pistorius has been subjected to the long-term assertion that he has benefited from his prosthetic advantage. In 2007, a report on his running action observed that:
fast running with the dedicated Cheetah prosthesis is a different kind of locomotion than sprinting with natural human legs. The "bouncing" locomotion is related to lower metabolic costs.
In an article for the British Journal of Sports Medicine former Australian Paralympian (and now University of Sunshine Coast researcher) Brendan Burkett pointed out that:
athletes depend on their prostheses in order to run, and so the prostheses are essential for performance; however, based on the mechanical analysis alone, these same aids could be considered performance enhancement.
Pistorius broke the world record for the 200m – T44 in the heats and set a time of 21.30 seconds. Oliveira ran 21.88 seconds to win his heat and Leeper 22.23 seconds in his heat win.
Oliveira was the only athlete of the three to run faster in the final, winning in a time of 21.45 to beat Pistorius by 0.07s.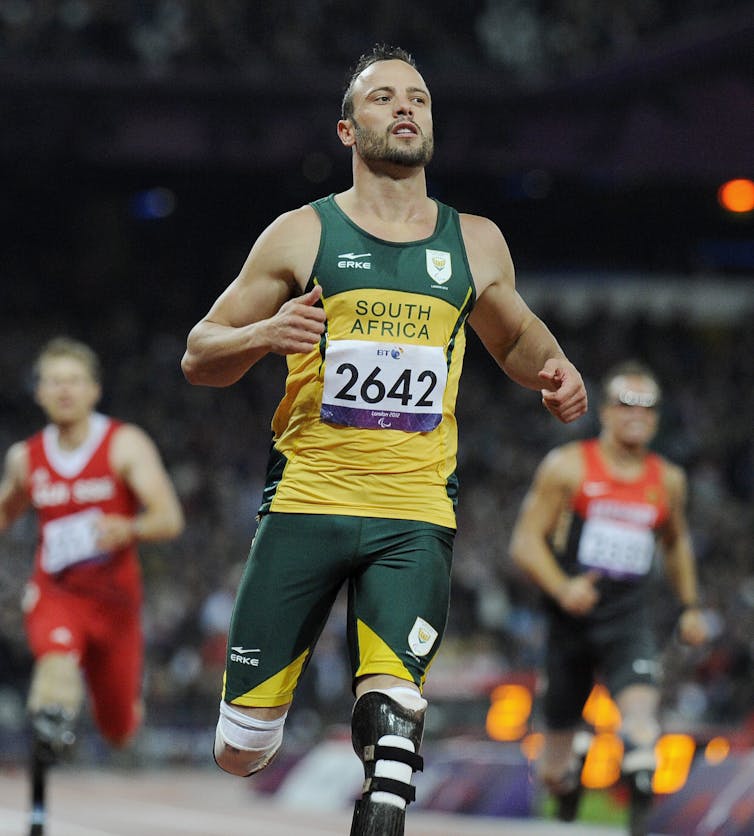 What is fascinating about this discussion is the role the prosthetics played in the result. As in the case of Richard Whitehead, who won gold and broke the world record in the men's 200m – T42 over the weekend, Oliveira finished strongly to take the win.
I am left wondering if there were other co-acting variables in his performance. For instance, given the expectation of a Pistorius win, there was little or no pressure on Oliveira to come away with victory. This may, conceivably, have influenced his performance.
Pistorius' comments about the stride length and foot length of the prostheses worn by his opponents will likely lead to research about stride length, "bouncing" running styles and any evidence of ergonomic advantage.
Earlier this year, in a discussion of inclusion in sport, US researcher Sarah Wild observed:
If the rules must change or if society's view of acceptable sports practices must be altered, so be it. For if change is not forthcoming, then it is possible that there will be no place for athletes like Oscar Pistorius.

Indeed, if Pistorius is banned from able-bodied events, but is too competitive for disabled events, he is effectively left without a forum to display his athletic talent.
There is a sense in which Pistorius' prostheses have been a disruptive technology in Paralympic running. Within a year of Sarah Wild's observation, Pistorius has found a competitor within Paralympic sport.
As this story comes to a close perhaps the next debate will be about the growing trend for long jumpers to take off on their prosthetic limbs.
There is, it seems, no shortage of points for debate.
Further reading:
Beaten by a length? Pistorius, Oliveira and Paralympic fairness