An innovative project designed to house people at risk of homelessness will soon deliver 57 transportable homes across nine sites in Melbourne's inner west. Victorian Planning Minister Richard Wynne approved the social housing project on Ballarat Road last week. The proponent is Launch Housing, a Victoria-based community organisation that provides housing and homelessness support services.
The addition of 57 dwellings for vulnerable Melburnians is valuable in its own right, particularly given the rapid increase in the numbers of people sleeping rough in Melbourne. However, it is the potential for expanding the concept that makes the project so exciting.
I started researching this project and interviewing the key stakeholders earlier this year. Several elements embedded in the Ballarat Road project represent both innovative and scalable responses to Australia's urgent social and affordable housing needs.
Elements of an innovative solution
Innovation rarely results in an entirely unprecedented idea, product or service. More often it recombines existing elements in novel ways to create a new solution.
In the Ballarat Road case, all the elements of the project already existed. It is the interaction between the involved partners, the design and construction techniques and the land leasing arrangements that make it so interesting.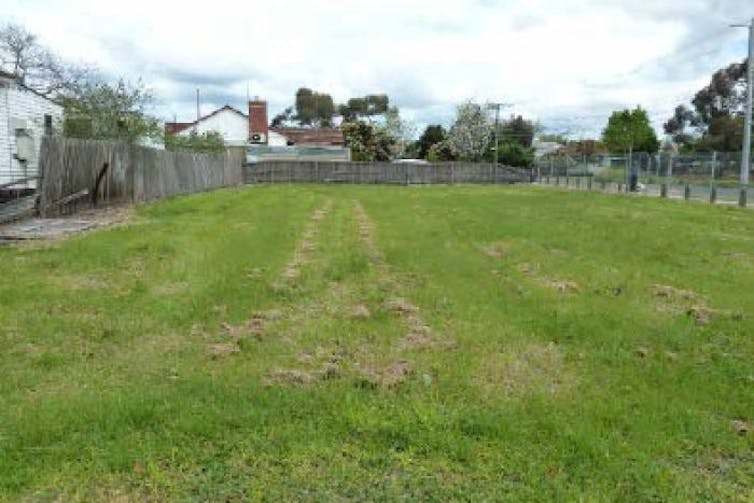 The construction
Schored Architects designed the homes to a six star green rating. The units, designed for singles or couples, will be built in a factory before being transported to the sites.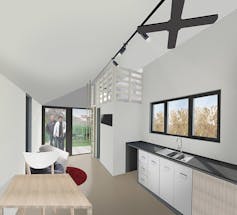 Temporary transportable units are not new. In Amsterdam, the Keetwonnen project was developed in 2005 to provide 1,000 affordable, transportable units for students.
However, prefabrication and modular design is still embryonic in Australia. It accounts for about 3-5% of all new construction and housing.
The size of the industry constrains innovation, competition and variety. It also presents challenges in terms of managing projects. As one participant I spoke to explained;
The pre-fab world and modular design world is very much in its infancy … to the point where the prefab – there are no standards around documentation when you purchase a pre-fab home. So what you are using is existing architectural builder's contracts rather than using something specific …

It has the complications of 'How is it transported? How is it stored? Does it meet Australian Building Code standards?' It opens up that myriad of questions which the pre-fab world hasn't answered yet.
The partnership
The project is the product of a collaboration between a community organisation, a government transport department (VicRoads) and a philanthropic donor. The connection, born of a series of serendipitous meetings and events, pulls together different resources and skill sets.
This kind of partnership is increasingly common as social housing moves towards a multi-provider system. Instead of a focus on government funded public housing, there is a greater reliance on partnerships between government, philanthropy, the not-for-profit sector and private industry. This requires commercial know-how and networking on the part of housing providers - the capacity to be a "pivot point". As one participant from Launch Housing explained:
Once people have locked in and engaged with an idea, they bring their own ideas. You don't need to know what to ask for … And then it is about being an agency that has some kind of position or authority being a kind of pivot point for these offers and allowing things to happen. We are that.
The project is also significant because it attracted substantial philanthropic support. The Harris family contributed A$4 million and continue to advise on and support the project. For them, the capacity for scaling up the project is a significant factor in supporting it.
The land leasing
This project is an interesting case study because it leases VicRoads land. It is financially viable because the land is being leased at a "peppercorn rate" – a nominal fee to meet legal requirements.
VicRoads is willing to do this because the units are transportable. This means they can be moved to a new site when the land is eventually required for road expansion.
As one of the largest landowners in the state, VicRoads owns thousands of properties and vacant land parcels that have been acquired for future road widening.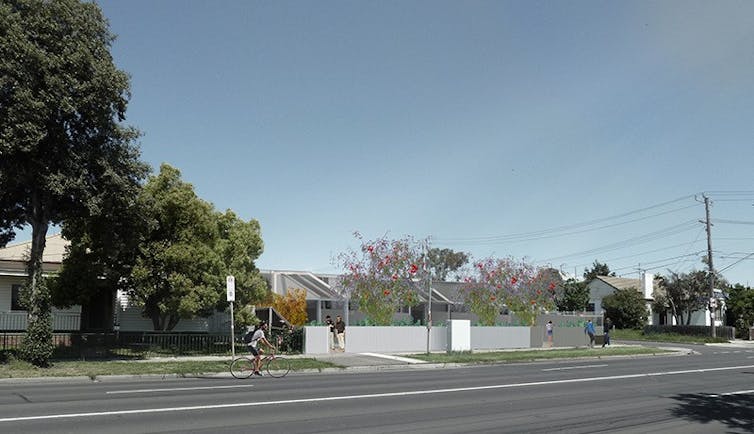 A scalable solution
The project is scalable if key elements are assembled effectively: constructed dwellings, funding mechanisms, planning permissions and land.
The capacity to bolster existing factories or create new factories to build pre-fabricated homes exists. Evidence of demand and the success of this pilot project could help support that goal.
Housing projects designed to be affordable for very low-income individuals or households are not financially viable without significant subsidy. To scale up this solution would require government funding, another tranche of philanthropic donation, or a hybrid commercial and not-for-profit structure.
This project has undergone a fraught planning process. Maribyrnong City councillors unanimously supported the plan. But many members of the local community opposed the project, which the planning minister eventually "called in" for assessment.
Ongoing implementation of projects like this one may be supported by either better community engagement or fast-tracked planning processes for underutilised government land and social housing, as highlighted in the state government strategy, Homes for Victorians.
Various government departments, religious groups, philanthropic organisations and individuals manage significant land resources. Land is held vacant in anticipation of future needs, often sitting unused for decades.
Temporary dwellings could be an interim solution to urgent housing need and can be removed when land is required for other uses. This approach goes a long way to removing the barriers to use and could challenge how we think about vacant land in Australia.