The birth of a new baby is usually an exciting and joyous experience for parents. But it can also be a busy and exhausting time as they struggle with the demands of baby care, disruptions to sleep, and changes to family life, relationships, and employment.
While all this is normal and expected, some parents experience difficulties adjusting. Much is known about mothers' postnatal well-being, but our understanding of new fathers' mental health is still growing.
Now an analysis of over 3000 fathers participating in the Growing Up in Australia: Longitudinal Study of Australian Children (LSAC) has found that approximately one in ten report high levels of distress in the first year after having a baby.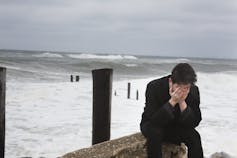 Distress among fathers was 1.5 times higher than men in the general population, and comparable to rates of postnatal depression for mothers (13%). While consistent with estimates from previous research, this is the first time we've had data from a large, nationally representative sample of fathers in Australia.
Risk factors
We also identified risk factors associated with the postnatal mental health of the fathers participating in the study. Our key finding was that men who don't have access to flexible working hours and family-friendly leave, and have low job security and little control over their workload, are five times more likely to report psychological distress.
Access to favourable employment conditions is likely to make it easier for men to manage the balance between work, parenting and family responsibilities, enabling them to be available to their family during the first year of fatherhood.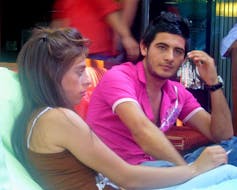 Other risk factors include low satisfaction in their relationship, low confidence in their parenting role and having a partner who is also experiencing distress. After having a baby, couples often experience significant changes in their relationship, in both the time spent together and in their communication. This can contribute to relationship dissatisfaction, stress and depression among couples. It's also a time when confidence in parenting may be low as couples adjust to the often demanding and challenging nature of caring for a baby.
We also found that men whose partners were employed in a more prestigious occupation were also more likely to report distress. Family income can drop considerably in the postnatal period, as one parent usually remains out of paid work for some months to care for the baby. For men whose partners provided a higher portion of the household income, the pressure to provide financially for the family is particularly high and, unsurprisingly, associated with more distress and worry.
Coping strategies
Our research findings highlight the importance of raising awareness of fathers' mental health issues during the postnatal period. Infant and early childhood services typically focus on supporting mothers and babies; but fathers are also at heightened risk of stress, anxiety and depression. Ensuring they have access to information and support to promote their well-being is very important.
In particular, fathers are likely to benefit from access to flexible working arrangements and time off to help them respond to the changing needs of their family and to balance work and home life. Information about how fathers and families can look after their health and well-being is also important.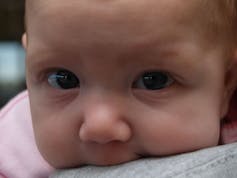 It's normal for both mothers and fathers to experience stress, depression or difficulty coping from time to time as they adjust to the changes and demands of a new baby in the family. Men may benefit from specific information about and support for negotiating changes in the relationship and how to manage if she is experiencing difficulties after having a baby.
We encourage fathers who are concerned about their well-being to talk to someone about their experiences. This might be their partner, a family member or a friend. Making an appointment to see a doctor is a good idea too.
Previous research has shown that fathers' distress is associated with difficulties in the couple relationship, parenting difficulties, and poorer well-being outcomes for their children. Studies have also shown that fathers with good mental health can buffer the potential effects of mothers' well-being difficulties on their children. Ensuring that fathers are well supported during the postnatal period is not only important for fathers, but also for promoting the well-being of their whole family.