Composing music usually involves so many small conceptual decisions that it is often impossible to pinpoint a true "eureka" moment of inspiration.
However, as a composer, I have occasionally stumbled upon an instance when the spark of an idea burns so brightly that it becomes permanently etched in my mind. The brilliance with which these moments flash can even become so pronounced that, despite the endless hours overcoming the work's technical and editing challenges, I still find myself vividly returning to this initial vision.
I had been searching for an idea with sufficient Canadian heft to help recognize Canada's 150th anniversary of Confederation when I experienced such a moment on Feb. 11, 2015. I opened the Globe and Mail newspaper to see a photograph of a one-day installation that artist Maxwell Newhouse had presented in B.C. in honour of the 50th anniversary of the Canadian flag. Titled Four Seasons of the Canadian Flag, it is a simple but resonatingly profound concept. Maxwell Newhouse painted four large canvases to present the flag's maple leaf in a state to match each season.
I immediately felt that these four canvasses demanded a musical interpretation. Certainly Vivaldi has done well with his four concertos modelled on the seasons.
In Newhouse's interpretation of the seasons, summer has the familiar full-sized maple leaf; the autumn leaf is withered; winter abandons the leaf entirely and spring sprouts a sprig. Newhouse created this work 42 years ago in 1975 to recognize the 10th anniversary of the Canadian flag. He holds the patent on the images.
Within an hour of seeing Newhouse's work, we had the first of many phone conversations. He not only provided his blessing for my vision of rendering his artwork in music, he even painted for me the single canvas version of all four flags (pictured above).
The National Youth Orchestra of Canada (NYOC) embraced the idea as well and commissioned the work to be premiered during their 2017 national tour. The NYOC is a large, 100-player orchestra and much larger than many other orchestras that lack such instrumental forces. For this reason, we decided to make a smaller orchestra version at the same time to help the work more readily gain a place in the Canadian orchestral repertoire. Soon, both the Saskatoon and Kingston Symphony Orchestras joined in as co-commissioners and the Ontario Arts Council provided the funding.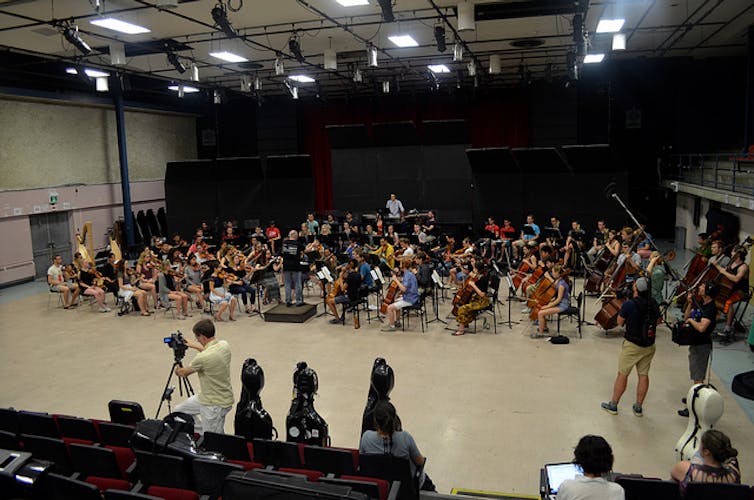 Music for our Canadian seasons
With the creative luxury of having more than two years to compose this work, I spent much of 2015 thinking about the representational aspects of the four canvases. How could my music capture this profound and beautiful imagery?
Eventually I decided to emphasize the circular nature of the seasons. The music for the opening movement, "Summer," would feature a prominent melody to be broken down into fragments that would form the building blocks of "Spring."
Very much like our own Canadian experience of what can sometimes seem like an endless spring — the orchestral "Spring" becomes one long crescendo that ends triumphantly with the "Summer" melody waiting to break forth.
"Fall" finds its shape in a slow movement that stresses descending lines and "Winter" features brutal brass chordal gestures and other stark contrasts.
In Newhouse's "Winter" flag the space is empty between the red sidebars. Another viewpoint of this would be to see the middle space covered entirely by white paint, which is close to what most Canadians see outside their windows at that time of year. This kind of focused emotional stasis is often captured in this movement with the crystal-like clarity of metallic percussion instruments.
Embracing the constraint of time
Over the years, experience has taught me that beyond finding the right notes and instrumental shadings, one of the most important compositional constraints is the work's overall duration. It is so easy to write too much music. Even more importantly, the NYOC's programming demands required that my composition not exceed 20 minutes.
Still, it only occurred to me late in the writing process that I had made an initial error in trying to keep each of the four movements within the same five-minute range. All the movements wanted to be a bit longer and the prospect of making a number of little surgical cuts was beginning to compromise the vision seen in that initial spark.
Finally, I realized that the best solution was to recognize what all Canadians already know — with very few exceptions — summer always feels like the shortest season in Canada. As a result, "Summer" bore all the cuts and in a fashion that all Canadians can relate to, this movement flies by far too quickly.
Canadians all experience four seasons
I feel blessed to live in a wonderful country and although I spend a great deal of time admiring our artists, musicians, writers and landscape, it was only very recently that I myself figured out the subtle inferences that are tied up in the artwork that first inspired me back in February 2015.
Canada has one of the most recognizable flags in the the world and, while Canadians may not collectively agree on too many things as a nation, many view the flag as a beautiful emblem of our country's hopes and promises. As well, having such a varied and formidable climate means that the weather, and our changing seasons, preoccupy our thoughts.
Max Newhouse wrapped both of these iconic aspects of our Canadian identity into his Four Seasons of the Canadian Flag. To have the opportunity to musically reflect on his creativity is a privilege and I will always remember the moment when I first knew there was music in these paintings.
The Saskatoon Symphony premiered the small orchestra version of "Four Seasons of the Canadian Flag" on May 13, 2017 and the Kingston Symphony has programmed their performance for October 22, 2017. The NYOC presents the large orchestra version in Stratford (July 20), Montreal (July 23) and Nanaimo (August 13). The 4:00 pm July 23 Montreal performance at Maison Symphonique will be streamed live and later archived on CBC.
There is no recorded audio yet of "Four Seasons of the Canadian Flag," but you can listen to a movement from John Burge's 2009 Juno-winning composition, "Flanders Fields Reflections" as recorded by Sinfonia Toronto on Marquis Classics: