MILES FRANKLIN REVIEW: The winner of the 2012 Miles Franklin Award will be announced this week. In preparation, The Conversation brings you academic reviews of the five novels shortlisted for Australia's biggest literary prize.
"When Hitler came to power I was in the bath." The sentence shocks with its indulgence - the bather's husband is in the kitchen crushing limes for mojitos - as it conjures the vulnerability of naked flesh against the army of jackboots that are about to descend upon Europe.
It also happens to be the first sentence of Anna Funder's debut novel, All That I Am, which has had a busy time of late garnering literary awards and accolades. In addition to winning the Indie Book of the Year award, the Australian Book Industry Book of the Year, and the $35,000 Barbara Jefferis Award, it has been shortlisted for the $80,000 Prime Minister's Literary Awards for fiction.
All of which has fuelled speculation that All That I Am is a front-runner for this year's Miles Franklin Award, which will be announced on Wednesday night in Brisbane.
Funder's novel follows her impressive non-fiction title, Stasiland: Stories Behind the Berlin War, which presented first-hand accounts of life in the former German Democratic Republic. Whereas in Stasiland, Funder focused on post-war Germany, in All That I Am she has turned her attention to the decade preceding the war when Europe resolved - as left-wing German playwright Ernst Toller put it - "to hurl herself into the abyss of suicide".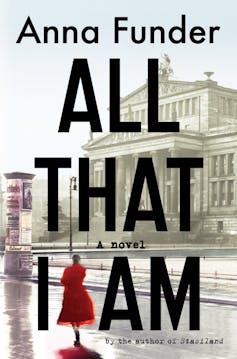 The narrative centres on a coterie of German dissidents - cousins, Ruth Becker and Dora Fabian, and their respective lovers, Hans Wesemann and Ernst Toller - whose political agitating against Hitler and his Third Reich necessitated their hasty departure from Germany and their subsequent resettlement in London as refugees.
The persecution the exiles suffer unfortunately doesn't stop at the Channel, and their story builds to a harrowing - and tragic - denouement.
Funder came to the story through her friendship with Ruth Blatt, the novel's dedicatee whose extraordinary life inspired the character of Ruth Becker.
Ruth - the sole survivor of the group - spent five years in solitary confinement in a German prison before securing her passage to Australia (via Shanghai) in 1947. She lived the next fifty years of her life alone in a flat in Bondi Junction.
Funder has said, "In conversation, Ruth would move from criticising Hitler to criticising our own government at the time, in a way that made it clear that when you are living through something, there are some people who can see things for what they are (whether that's dire, or just moderately unpalatable), and will always speak out. It is this kind of courage that fascinated me, along with the moral compass that underlies it."
All That I Am is a novel that questions the ubiquity of the human conscience, yet it insists on its cultivation. We ignore our conscience - or allow its distortion - at our peril. History shows that the consequences can be mighty.
As W.H. Auden (who makes a cameo appearance in Funder's novel) writes in his poem, "In Memory of Ernst Toller":
We are lived by powers we pretend to understand:
They arrange our lives; it is they who direct us at the end
The enemy bullet, the sickness, or even our own hand.
It's true All That I Am is a dark novel, but as history and a warning there aren't many more important.