As stranded Air Australia customers continued to scramble to get home over the weekend, many may well be asking themselves: who'd run an airline?
On Friday, just a day after Qantas announced 500 job cuts, news broke that the Brisbane-based budget airline, had entered into voluntary administration after just four months of operation.
Administrator Mark Korda has suspended Air Australia's ticket sales and called for immediate expressions of interest in the sale of the business.
He said it was "too early to predict the ultimate position of Air Australia or to be precise about the reasons for the Group's problems".
But there have been suggestions that Air Australia may have suffered some self-inflicted losses, with media reports suggesting the airline spent large on sporting endorsements and lavish parties.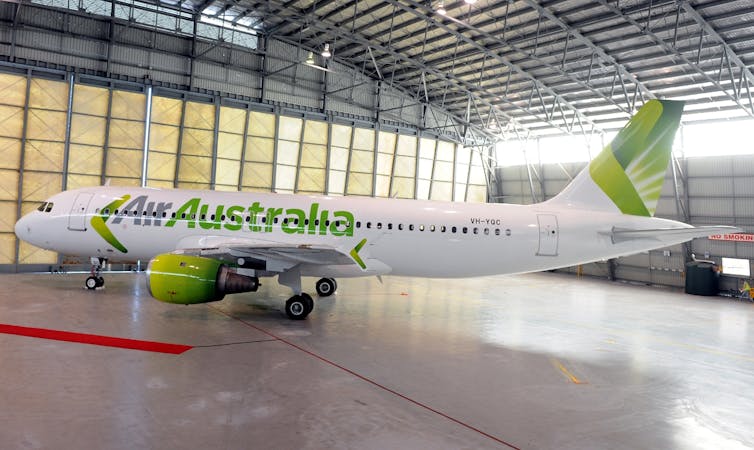 Previously known as Air Charter Logistics, Air Australia at first specialised in oversize cargo and charters back in the 1990s. It then turned its operations to Defence Force contracts before launching its commercial airline arm in 2009, Strategic Airlines - which would then become Air Australia.
Management spent large, with offices in Melbourne, London and Paris. It built its brand associating itself with the 2009 Australian Masters Golf, the Brisbane Broncos, and a few racing events, as well as large celebrity-studded parties and trips to Bali and Hawaii.
Reports are now emerging that people in the industry knew the company wasn't going to survive.
In the same week, Qantas chief executive Alan Joyce announced Qantas would a review of its catering and maintenance operations, amid a staggering 83% fall in profits in first-half net profit.
Qantas announced losses of $194 million over the year-long industrial battle, including $70 million lost over the well-documented debacle when it grounded its entire fleet.
But Australian airlines are hardly the only ones facing challenges around the world. The recent collapses of long-established carriers such as the 66-year old Hungarian carrier Malev, the 24-year old Spain's Spanair, and venerable, 78-year old American Airlines underscore the grim financial reality the industry faces.
In India, Kingfisher Airlines (India's third-largest airline) has not been profitable for a single quarter since it started operations in 2005, reporting a $90 million loss in the December 2011 quarter.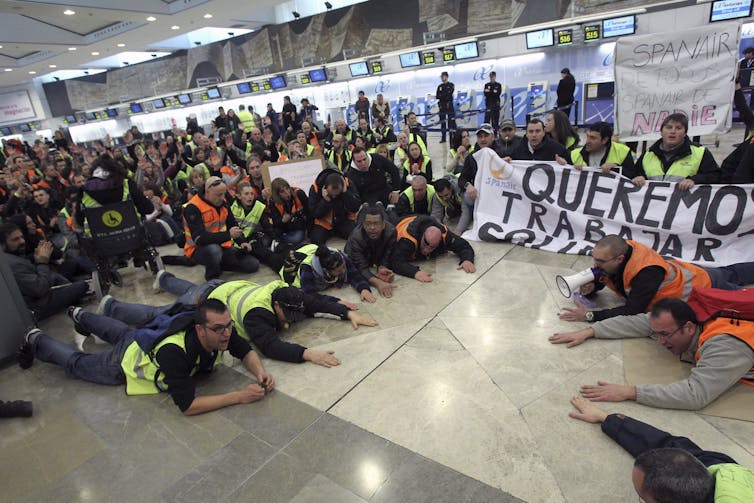 Are airlines a lousy investment?
The aviation industry is notoriously difficult with large capital and operating costs, high fuel costs and faces increasing competition at a global scale. In Australia, it is also particularly exposed to the rising dollar, despite having the world's fourth busiest air route (Sydney-Melbourne).
Yet, there seems to be no conventional explanation for an industry that seems to perpetually lose money.
According the International Air Transport Association (IATA), the global aviation industry has finished in the red for six of the past nine years. Following the GFC and record-high oil prices in 2008, it showed a return of -4.6%.
Given the weak global economy, IATA is forecasting a return of -1.4% for 2012. In the United States, passenger airlines reported aggregate net losses of $14 billion in 2008-09.
To sum it up, in the past nine years, airlines as a whole suffered an aggregate loss of US$47.9 billion.
Berkeley economist and commercial aviation expert Severin Borenstein points out in a paper released last year that high taxes and fuel costs play a minor role in airline operations.
The major drivers are actually related to fluctuations in demand and the large cost differential between what he refers to as "legacy airlines" (old, well established airlines) and new low-cost carriers (LCCs).
LCCs have been gradually chipping away market share from legacy carriers that have much higher costs. Legacy carriers responded with mergers and alliances in an effort to expand their network and services. However, unless legacy carriers find a way to close the gap, it is likely they will have difficulty earning consistent profits over the long term.
Qantas has positioned itself in the LCC market by creating Jetstar in Australia and Japan to capitalise on the growing Asian airline market, but it may not be enough to rescue its bottom line.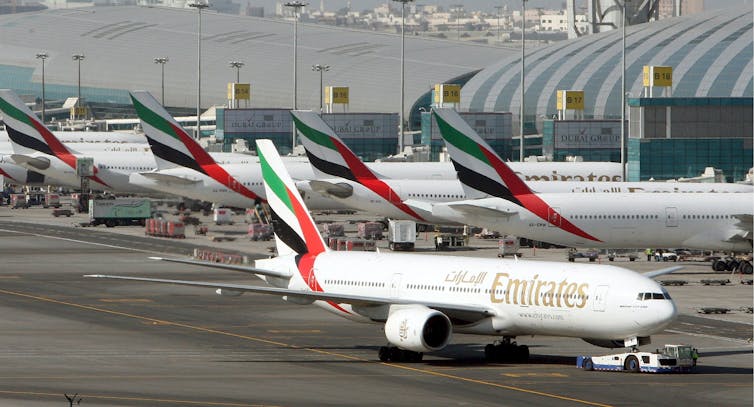 The Middle Eastern success model
Despite the worrying numbers worldwide, Middle Eastern airlines seem to have found the winning formula. They have experienced unprecedented growth at an annual rate of nearly 20% over the past few years. Dubai airport is rapidly closing the gap on London's Heathrow in its number of passengers and its new airport, planned to open in the early 2020s, will make Dubai the biggest airport in the world.
The success of UAE airlines is simply staggering. Since its second year of operation, Emirates (wholly owned by Dubai's sovereign-wealth fund) has made a profit every year while doubling in size every three to four years. It recently placed a huge order for 50 Boeing 777 jets.
Etihad (the Abu Dhabi airline set up by royal decree in 2003) has shown its first sign of profit this year, growing its revenue by 36% in the past 12-month period. Last December, it put an order for 12 Boeing jets with options for 25 787 Dreamliner aircrafts.
By contrast, Air France-KLM's net debt widened to €6.5 billion last year and British Airways report a £164m loss in 2010.
The success of airlines from the Gulf is partly due to their geographical location, becoming a hub between West and East. However, it's not the only reason. Emirates (which basically provides the blueprint for Qatar Airways and Etihad) had early support from Dubai which encouraged other countries to open routes to the Gulf.
It reviewed its immigration laws making it easier for visitors to pass through. Its pilots and engineers are paid at globally competitive rates but most cabin crew and other staff are recruited on low pay.
The airlines also cashes in on a highly profitable cargo market with revenue strongly helping the airlines' bottom line. The success of Etihad is also partly due to Australian James Hogan who worked at a British Airline and Gulf Air before being hired by Abu Dhabi's government to run Etihad.
Surprisingly airlines from the Gulf actually pay more for fuel at their home base due to the lack of refining capacity in the region. Their employees do not pay tax but those savings are largely offset through staff programs providing schools, health care and accommodation.
The Gulf airlines have certainly been blessed with an ideal geographical location but they remain well-oiled and highly efficient businesses defying the overall trend of the industry.
Should the government get more involved?
In a 2008 report, Borenstein points out that government policy has had a greater influence than market forces on airline operations in almost all markets over the past six decades.
Following World War I, strong national air carriers were promoted across the world through government subsidies. Deregulation of the airline industry began in the mid-1970s and led to privatisation of state-owned domestic "flag carriers".
Most countries still consider domestic airline operations as part of the national identity and governments implemented restrictive bilateral agreements limiting foreign ownership of domestic airlines as well as mergers across borders.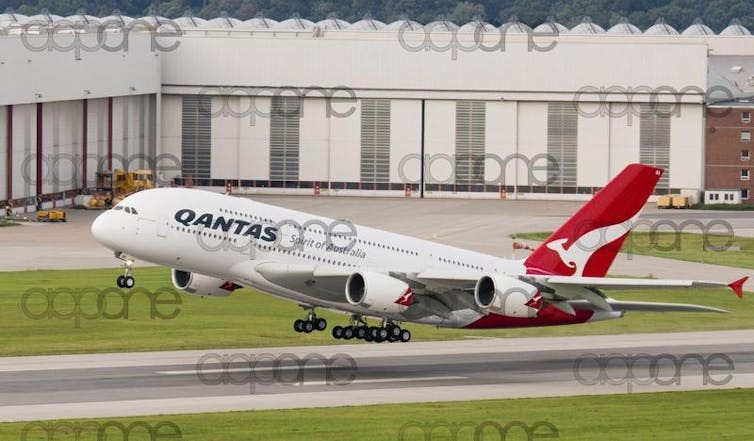 The Qantas shutdown last year showed us that many Australians hold a strong emotional bond to what they consider to be their "national carrier". This raises questions about whether the Federal Government should be more involved in businesses strongly associated with national identity. Unions involved with Qantas argue that the company has a corporate responsibility as the national carrier to not offshore jobs.
With only a handful of airlines operating in Australia, large distances between capital cities, and Qantas still holding monopoly of a number of routes, the flying kangaroo is essentially part of the backbone of the economy – with the power to literally stop a nation.
In a similar vein, The Economist recently discussed the emerging trend of "state capitalism" whereby the state is heavily involved in the operations of some parts of its business sector.
For instance, state-backed companies account for 80% of the value of China's stock market and 62% of Russia's. In the airline industry, variants of this model can be found with Singapore Airlines and in the Gulf airlines previously discussed (Emirates, Etihad and Qatar Airways).
President Barack Obama acknowledges the unfair advantage that some companies do get through government support and similarly, Western politicians are starting to complain that state-capitalist powers rig the system in favour of their own companies.
However, as The Economist rightly points out, when government favours one lot of companies, the others suffer - which makes it an unsustainable model over the long term as it asphyxiates innovation and competition.
What now?
Despite the grim outlook of the industry, demand to use airways has been steadily increasing since the 1970s. The rapid growth in Asia will translate to an anticipated need of around 9,370 new aircraft over the next 20 years, according to Airbus forecast.
Boeing just took the biggest commercial aviation order in its history with a delivery of 230 planes (worth a combined $22.4 billion) to Indonesian carrier Lion Air. Boeing also believes that demand in the Asia-Pacific region will grow more than in any other part of the world over the next two decades.
In terms of airline performance, Borenstein argues that much of the instability in carriers comes from experimentation with flight scheduling, pricing, loyalty programs and so on. Lessons are bound to be learned and new strategies emerge.
Some sectors of the Australian economy are going through some rough changes at the moment, especially in automotive and aerospace. Jobs may be lost but valuable skills remain and can potentially be transferred to other industries.
Australia has to stop itself from going "French" as it becomes increasingly pessimistic about its future despite the fact that all the signs lead to economic expansion and growth in the long term.