By now, most people will have heard of the social media disaster which even provided its own hashtag: #QantasLuxury. Ironically, this was everything but a luxury for Qantas.
What it did illustrate was a marketing department that was totally out of touch with what the company was doing and what it really needs to do to overcome the PR disaster that was the grounding of the Qantas fleet on October 29.
So, how did the story unfold?
At 9:00am on the yesterday morning, the "social media team" at Qantas, as part of an ongoing "social media campaign", released details of a competition on Twitter: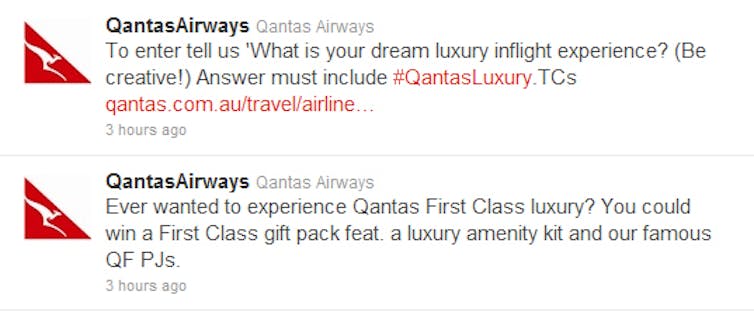 They had run campaigns like this before. The prize? Well, as you can see from the photo at the top of this article, hardly something that would launch a Twitter frenzy of positive sentiment. The most notable part of the prize were the pyjamas …
What they got – instead of a few tweets of marketing fodder – was a deluge of sometimes caustic, but at best sarcastic, vitriol reflecting more on the ongoing labour relations battles with the unions and the grounding of the fleet than the quality of the service.
Another interesting observation is that once a Twitter trend starts, it is self-feeding: supporting tweets appear that are self-referential, about the trend itself.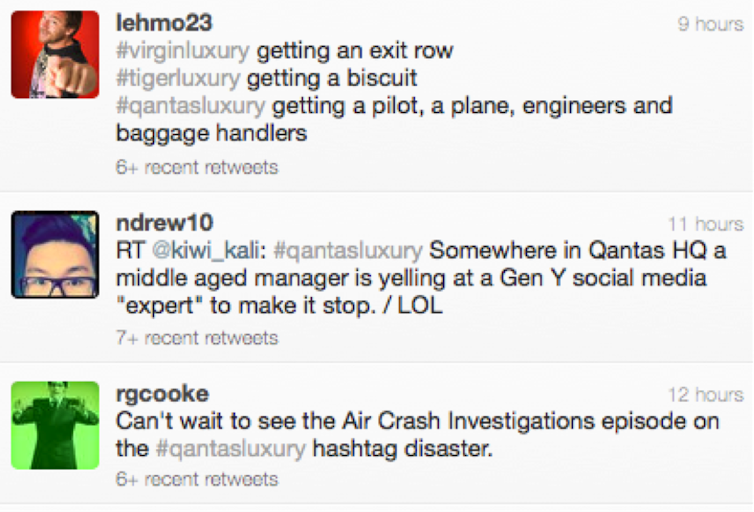 The negative commentary took an even bigger dive when a parody of Downfall – a film depicting the last days of Adolf Hitler – was posted on YouTube, as seen below.
The problem for Qantas was that the parody was very well written and pretty much summed up the sentiment of the public, and probably of CEO Alan Joyce himself.
An analysis of approximately 2000 tweets gives a graphic illustration of the way the Twitter trend maintained the sentiment over the course of the day.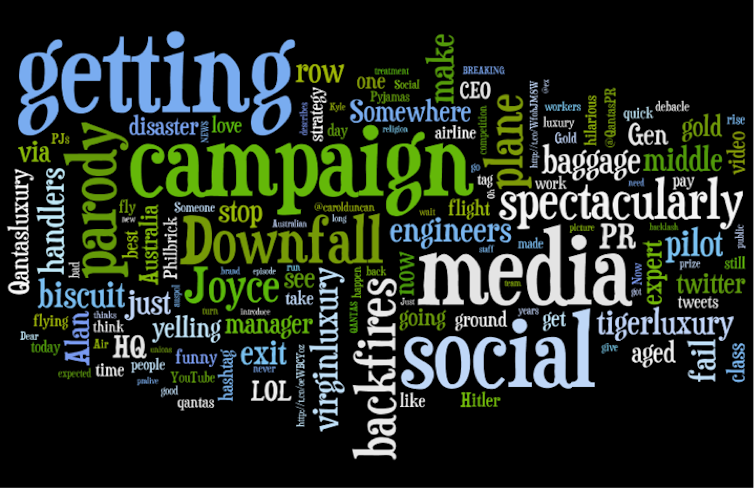 Fortunately for Qantas, as the east coast of Australia went to bed the tweets died down. It will be interesting to see if this changes today (Wednesday) but the sentiment has been vented.

On the positive side, Qantas has now received some fairly unambiguous market data about how the public feels (and it was free). It seems clear the Qantas "social media team" are astoundingly amateurish and probably reflects the low priority that Qantas puts on this.
A statement that Qantas had recently hired social media staff to monitor social media for sentiment about Qantas was denied on Twitter.
As Hitler says on the QantasLuxury Downfall parody: "With any luck someone will post a new funny cat video", otherwise he will "ground the whole internet".