When Clive Palmer's Queensland Nickel sacked 237 workers and went into voluntary administration it cited low nickel prices.
Queensland Nickel managing director Clive Mensink told the ABC it's business as usual for the company.
"QNI plays an important role in north Queensland's economy and I believe that will remain the case in the future once restructuring is completed in this volatile commodity environment."
The current low price of nickel is US$8,500 a tonne – not far from an all-time low in historical terms – and added competition from newer more efficient mines have both contributed to the recent collapse.
More than 80% of nickel production is used in alloys and about 65% of world nickel output is used in the manufacture of stainless steel.
Queensland Nickel's Yabulu refinery has a complex history of nearly 40 years which is critical in understanding its current predicament and any potential future – especially given that the mega-boom prices of several years ago seem to be a painful relic of history.
In global mining, the nickel industry is renowned for extreme boom-bust cycles – and the wild ride for nickel prices during the height of the recent mining boom was something to behold.
The peak of the previous big nickel boom in the early 1970s led nickel to be equated with a licence to print money. Some companies, such as Western Mining Corporation (WMC) - now part of BHP Billiton - made it into long-term production and profitability, but many others were less successful and promised more hope than fat profits.
This chart of the real and nominal price of nickel (including world production from 1900 to 2013), shows the story from 1975, including two massive peaks in 1988 and 2007.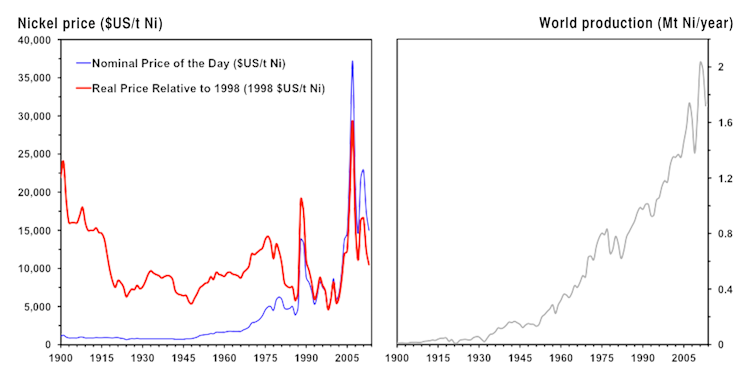 Throughout most of the 20th century, global nickel production was dominated by Canada and increasingly Russia, although Australia, Indonesia, New Caledonia and the Philippines have also carved out important niches in recent decades.
Although nickel resources are widespread around the world, they are found in either sulfide or laterite (oxide) type mineral deposits.
Nickel laterite deposits were discovered in 1957 in central Queensland in the Greenvale region, 175 km west of Townsville. It was not until the great 1960s/70s nickel boom that development began, with mining at Greenvale but the associated Yabulu refinery being developed just north of Townsville.
The original joint venture was between US-owned Freeport Minerals Company and Metals Exploration Ltd from Australia, with the project operated as Queensland Nickel Pty Ltd (QNPL).
Yabulu continued to process Greenvale ore, but by the late 1980s profitability was becoming very difficult to maintain. This led Yabulu to import laterite ores from New Caledonia and Indonesia from 1989. The final ore from Greenvale and its junior cousin Brolga was processed in 1995 – totalling some 31.3 million tonnes of ore that produced 327,400 tonnes of nickel and 14,600 tonnes of cobalt. After 1995 Yabulu became entirely dependent on imported laterite ore.
In 1992, QNPL floated on the stock exchange as Queensland Nickel International Ltd (or QNI), and was acquired by Billiton plc in 1997, now BHP Billiton. In 2004, BHP approved a US$350 million expansion of Yabulu to link to the new US $1.05 billion Ravensthorpe laterite project in Western Australia (See page 23 of BHP's 2004 annual report). The plan was for Ravensthorpe to produce a mixed hydroxide product which the expanded Yabulu would then refine to nickel and cobalt (page 23), as well as continuing to process imported ores.
By the time it opened in 2008, Ravensthorpe's costs had blown out to US$2.08 billion (page 35), while Yabulu had cost US$556 million (page 33). This was in part due to booming prices for commodities such as oil (diesel) and iron ore (steel), as well as higher labour costs. To the shock of many, BHP suddenly closed Ravensthorpe indefinitely in January 2009, citing the collapse in nickel prices – although there was wide speculation about the technical performance of the mine's new laterite ore processing technology.
BHP sold Yabulu to Clive Palmer in July 2009 under "confidential" terms before selling Ravensthorpe to growing Canadian miner First Quantum Minerals in December 2009 for US$340 million.
However, there is no mention in First Quantum Minerals' corporate records that they sell any Ravensthorpe output to Yabulu.
QNI stated in May 2013 that they have now imported a milestone 75 million tonnes of laterite ore from the western Pacific - more than double the original Greenvale-Brolga resource.
However, the current nickel price and market environment means that Yabulu is a legacy from a different era. The way it processes nickel clearly works, but the refinery appears to remain a very expensive producer.
Being definitive on the issues facing Yabulu is difficult given that Clive Palmer's companies are privately held and do not publish annual or quarterly reports detailing production and financial performance in the same way that BHP Billiton, FQM and all publicly listed companies are required to do.
Furthermore, several recently built nickel laterite projects around the world appear to be more competitive than Yabulu (e.g. Murrin Murrin in Western Australia, Ambatovy in Madagascar, Coral Bay in the Philippines or Goro in New Caledonia) – but without actual technical and financial data for Yabulu we cannot accurately compare these projects to the troubled refinery.
The global nickel industry will never again build a refinery like Yabulu - only four other such plants were completed at Nicaro (closed in 2012) and Punta Gorda in Cuba, Tocantans in Brazil and Nonoc in the Philippines (which is long closed). In contrast, the capital investment is long sunk at Yabulu and the refinery process used there simply appears to be too energy and chemical intensive (aka expensive) relative to newer projects.
A public account of such technical and financial aspects would go a long way in addressing legitimate public concern at the financial state of QNI and Yabulu - especially the 106 million tonnes of tailings and its long-term environmental safety.