On July 19 2015, an unarmed African-American motorist, Samuel Dubose, was stopped for a missing front license plate by 25-year-old Ray Tensing, an officer with the University of Cincinnati Police Department (UCPD). The outcome was Tensing's fatal shooting of Dubose and the indictment of Tensing for murder.
Tensing pleaded not guilty and was released on US$1 million bond. He's expected back in court August 19.
Video of the traffic stop has attracted over two million views, and put the entire field of campus policing under scrutiny.
As one who has studied campus policing over two decades (including publishing a 20-year comparative analysis) and served as a campus chief of police at universities in Nevada and Kansas, I have witnessed firsthand the professionalization of campus police and the factors that encouraged it.
What we know about Tensing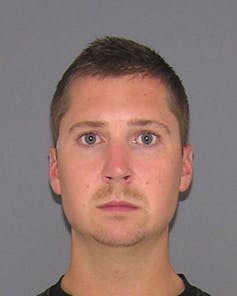 At the time of the shooting, Tensing had been a university police officer for only about a year. He was about a half-mile off campus. That isn't unusual; campus police officers are often granted off-campus jurisdiction so they can help keep an eye on dorms, sorority and fraternity houses, and offices and classrooms located off campus.
A news report stated that 114 of his 146 traffic citations (78%) were issued to black motorists. By comparison, approximately half of Cincinnati's population identifies as African American, and UC officers overall gave 62% of their tickets to African Americans. However, the east campus of UC abuts the Avondale neighborhood, where about 93% of the population identifies as black or African American alone or in combination with one or more other races. The crime rate in the neighborhood is 208% higher than the national average.
After reviewing the video from the officer's body camera, county prosecutor Joseph Deters called the shooting unwarranted. Deters added that "He should never have been a police officer."
While we have more to learn about Tensing, it is possible to say that his screening, training and the equipment he was issued weren't all that different from the other 32,000 campus police officers in the United States.
The local campus: A changed environment
Today's campuses are generally safe, low-crime settings where one is unlikely to be victimized. A national survey of four-year colleges and universities found 45 violent crimes reported per 100,000 students. This compares with the overall violent crime rate in the US of 386 per 100,000 residents.
Nonetheless, campus police now feel they must be prepared for violent crime. A sense of unease has derived from the deadliest mass campus shooting in US history at Virginia Tech, where 33 students were killed and 15 wounded in April 2008. The Federal Bureau of Investigation found 39 other such college, university and high school active-shooter incidents occurred in the US from 2000 to 2013, including 27 in public schools and 12 in colleges and universities, resulting in 117 individuals killed and 120 wounded.
In the last few years, many state legislatures began considering legislation allowing people to carry concealed weapons on campuses. At least 19 states did so in 2013, and 14 states introduced such legislation in 2014.
Authority, training and duties
Although the public often believes campus police are merely "door-shakers" – responsible only for checking on buildings and other property – with no powers of arrest, state statutes authorize campus officers to be armed at 91% of public campuses. Generally, they possess the same arrest powers as those given other state and local law enforcement officers. They are recruited, trained, certified and supervised in much the same way.
Most "sworn" – or gun-carrying – campus officers undergo a rigorous screening and hiring process. According to the Bureau of Justice Screening, screening methods used for more than three-fourths of sworn officers include medical exams, drug tests and psychological evaluations. The agency reports that more than half of sworn campus officers undergo credit history checks, physical agility tests, personality inventories, and written aptitude tests.
As with their county and city peers, the typical academy training requirement for sworn campus officers is about four months. The University of Cincinnati's academy training requirements – as well as for all of Ohio's campus officers – is the same as required for all other police officers in the state.
This suggests Tensing was not any less trained than a Cincinnati police officer with a similar amount of experience. He was also performing a duty that should have been routine for him. The University of Cincinnati campus police – like 99% of their peers at other universities – routinely perform jobs like directing and controlling traffic.
UC cops well-equipped
After the video of Samuel Dubose's shooting was released, citizens in Cincinnati and beyond began calling for more police to begin wearing body cameras.
The UCPD was actually at the forefront in this regard. The UCPD began requiring its officers to wear digital cameras two months the fatal police shooting of Michael Brown in Ferguson, Missouri in August 2014.
In this regard, the campus police were actually ahead of the Cincinnati Police Department – even though a body-camera test was successful enough in 2014 that a report supporting their use was issued in December 2014.
Regarding other types of equipment used, nearly all campus police officers in the United States are authorized to use a sidearm (94%), chemical or pepper spray (94%) and a baton (93%).
Since 9/11, it is not uncommon for campus police to deploy motorcycle patrols, K-9 units (police dogs), and even a mobile command post vehicle for critical incidents. About four in 10 agencies authorize their sworn officers to use a conducted energy device such as a Taser.
Colleges and universities are multifaceted entities, often having tens of thousands of students, faculty and staff members. They can also serve as the centerpiece of their community's intellectual, cultural and social life. It's not unusual to have crowds in the tens of thousands on campus for sporting or cultural events.
Over the past several decades, campus police have professionalized to provide the full range of services that city and county police would find difficult – if not impossible – to provide. And they have prepared for unlikely events like mass shootings.