November 20 marked the end of the Atlantic hurricane season, but for the Caribbean, it's only the beginning of a painful recovery process.
In early September, Hurricane Irma largely destroyed Barbuda and several neighboring Lesser Antilles islands. Two weeks later, Maria took a final fatal stab at Barbuda and entirely knocked out Puerto Rico.
According to The Economist, damage from Irma alone tallies up to US$13 billion. Totals for the entire 2017 hurricane season remain unclear, but Puerto Rico Gov. Roberto Rosello's recent request for $94.4 billion in aid gives some sense of Maria's toll.
No matter the final price tag, recovery is sure to be unpayable in a region where 30 percent of people live in poverty and the per capita gross domestic product averages under $9,000 a year, versus $57,000 in the United States.
And while France, Holland and the United Kingdom have come to the assistance of their territories in the region, independent Caribbean nations like Dominica, Antigua and Barbuda, and Cuba have no such obvious sponsors. Their economies shattered by storms – and, in some cases, shackled by debt – some Caribbean nations fear they may never recover.
But behind the scenes, numerous international players are actually racing to rebuild the Caribbean, from tech companies and wealthy individuals to far-flung countries.
'Send Tesla'
Big corporations see an opportunity in the Caribbean's recovery. Tesla, in particular, seems to have a vision for how the region could rebuild in a more renewable and resilient way.
As an energy and environment researcher, I'm certain that renewables would make Caribbean islands better able to withstand future storm impacts. Whether Tesla can achieve that is another question.
The California-based electric-car company has committed to sending to the island hundreds of its Powerwall battery systems, which could be paired with solar panels to get the electric grid up and running again.
For the millions of Puerto Ricans whose power has been out for over two months, this may come as welcome news. And though some experts have questioned how much it would really help, Tesla did manage to turn the lights on at the San Juan Children's Hospital back in October.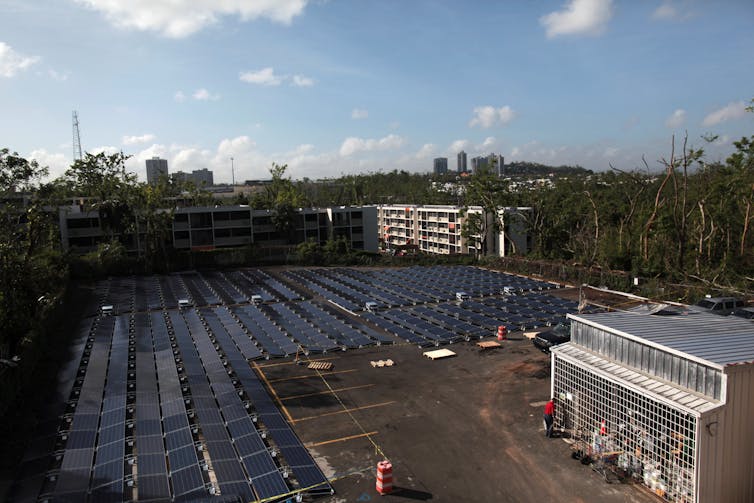 Puerto Rico isn't the only Caribbean country with an inadequate energy grid. Across the region, outmoded system designs that rely on a few plants for power production make complete blackouts much higher than grid systems that have an even distribution of power generation.
So even before Irma, Tesla had long seen the Caribbean as a nexus for its energy revolution, with talk of using electric-vehicle batteries to store renewable energy. The idea is that vehicles can charge during the day when the sun is high and winds are stronger, and then owners can sell excess electricity back to the grid when demand is high but supplies are much lower.
Tesla's desire to power the Caribbean reflects a global energy race as tech companies – among them Samsung and LG – expand their international reach.
The benevolent among us
The British business magnate Sir Richard Branson, who owns a 30-hectare private island in the British Virgin Islands, has also long advocated that the Caribbean should shift to clean energy.
The 2017 hurricane season catalyzed this ambition. After Irma, Branson suggested that rich countries fund a "Caribbean Marshall Plan" to help islands move beyond fossil fuels toward low-carbon renewable energy sources like solar and wind.
Hurricane Irma left the solar-powered system on his Necker Island, located roughly nine miles from the ravaged Tortola, relatively intact.
Branson isn't the only international celebrity with a personal stake in rebuilding the Caribbean region. The actor Robert De Niro has also sought to pitch in.
In September, he said he was "saddened to learn of the devastation in Barbuda," and called on financial institutions and governments to band together and rebuild the demolished island, where De Niro had hoped to build a $200 million resort.
Two months later, Barbuda remains uninhabitable, with nearly its entire population having evacuated to neighboring Antigua and elsewhere. Locals wonder whether Barbuda will ever be home to anyone again, much less the paradise tourist destination De Niro once envisioned.
The 'soft' grip of China
For China, the crisis in the Caribbean is an opportunity to expand its influence in an area where it already has deep historic and economic ties.
China's influence in the Caribbean dates back to Cuba's 1959 revolution, when communism bound the two nations. Back then, China ignored the U.S. economic embargo to help Cuba after a 1963 hurricane.
This economic superpower also came to the assistance of Grenada in 2004, after more than 90 percent of the island was destroyed by Hurricane Ivan. The 351 housing units China promised to build for those left homeless by the storm opened in late 2012.
Today, China is reported to have offered aid to Cuba after Hurricane Irma. It has also committed $5 million for the United Nations Development Program to assist the Caribbean's storm recovery.
China's interest in the Caribbean goes beyond disaster aid. During his 2013 visit to Trinidad and Tobago, President Xi Jinping reportedly promised Caribbean nations a total of $3 billion in loans.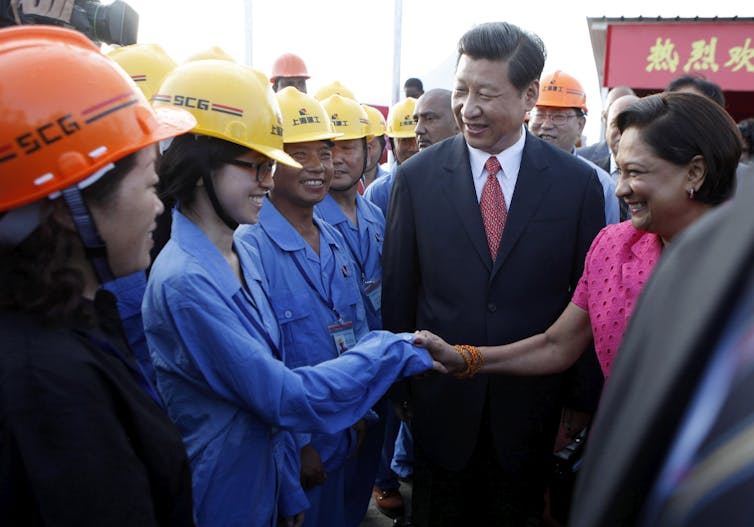 His country has also financed infrastructure and industrial projects across the region. In Jamaica, Chinese state money built the $600 million, 42-mile "Beijing Highway" connecting Kingston to the tourist hub of Ocho Rios. China has also invested $3 billion in Jamaican alumina plants.
This brand of economic diplomacy, which Beijing has also deployed in Africa and Pakistan, for instance, powerfully strengthens China's international influence. The U.S. knows that, and is keeping a close eye on Chinese incursions into its maritime backyard.
Weighing the costs
Caribbean governments must now weigh the pros and cons of these different offers. On the one hand, these countries are so devastated that they simply cannot recover without help.
On the other, I'd suggest it's risky to cede control over your territory by allowing foreign agents to finance rebuilding. China's project funding in African has been dubbed "neocolonialism," because while the country studiously avoids political meddling, its money shapes national development to reflect Chinese interests.
Inaction, however, is not an option. A dozen Caribbean countries were hit hard by hurricanes this year, and climate change promises to keep bringing rising seas and stronger, more frequent storms.
Rebuilding smarter is thus a priority for Caribbean nations, all of which signed the Paris Agreement. That 2015 accord pushes wealthier industrialized nations to commit more money to building resilience, but Europe has shown little willingness to comply with that provision and the U.S is abandoning the entire deal.
Are China, Tesla and Robert De Niro the answer? If the Caribbean can't save itself, who will?