Of all the revelations made about the "enhanced interrogation methods" used by the CIA on detainees in the aftermath of 9/11, the use of waterboarding and rectal feeding have garnered the most attention. In the case of the latter in particular, this was the first time many people had even heard of such a thing.
Initially used in response to prisoner hunger strikes, the Senate Select Committee on Intelligence found this allegedly "necessary" and "legitimate" medical practice – also referred to as a "nutrient enema" – was also used by the CIA as a form of torture and control.
According to the committee report "at least five CIA detainees were subjected to "rectal rehydration" or rectal feeding without documented medical necessity". The report identifies a chief of Interrogations referring to medically unnecessary rectal feeding and hydration as illustrative of the interrogator's "total control over the detainee".
Alongside the psychological effects of this torture, physical injuries were sustained by at least one detainee as a result of rectal feeding. The detainee was "diagnosed with chronic hemorrhoids, an anal fissure, and symptomatic rectal prolapse".
Some of the report's findings are reminiscent of the US-led torture, humiliation and abuse that went on at the Abu Ghraib prison in Iraq. There, prisoners were stripped naked, forced into submissive and degrading positions – such as bending over while pulling their buttocks apart – and threatened with anal rape. In one case, a prisoner had what appeared to be a broom handle inserted into his rectum.
Both the Abu Ghraib revelations and those of the Senate committee demonstrate that the threat, simulation of, or actual penetration of male prisoners has been central to the torture and interrogation practices of the American military and intelligence services.
Unspoken intentions
Of course, the penetration of women has been long been a horrific aspect of warfare. Such atrocities have been well documented and action is beginning to be taken at the international level. Indeed, the US government claims it "will continue to stand strong against these forms of inhumanity".
By comparison, there has been very little attention given to the penetration of men during war, conflict or internment. One might argue that the key difference here is that the raping of women is acknowledged as a sexual crime: rape is a form of sexual domination and its methods of control operate on a sexual register.
At no point in the Senate committee's report do the words "sex", "sexual" or "sexualised" feature in relation to the treatment of the prisoners themselves. Sexual abuse and sexual assault is mentioned in the report twice, both times they refer to a threat made to a prisoner that "his mother would be brought before him and sexually abused".
But dominating detainees through rectal feeding and rehydration is sexual. It relates heavily to a stereotyped vision of homosexuality. The "spectre" of homosexual sex pervades discussions of the penetrated male anus.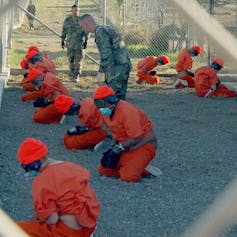 Think of the ways in which men talk about being dominated, humiliated, punished or controlled in western culture. The culture of sexualised domination in the prison system is an example. In jails, domination, hierarchy and punishment is performed through anal penetration. Then there are jokes in sitcoms or other TV shows that revolve around prostate examinations. This mundane medical examination is "tainted" by a latent sexual intent for comic effect – jesting: "I hope the doctor took you out for dinner first," for example.
Owning up
The fact that the Senate committee failed to see rectal torture as a sexualised form of abuse points towards several interconnected issues. It suggests an unwillingness to implicate the CIA in a programme of systematic rape and to identify CIA operatives as rapists.
It serves to hide male-on-male sexualised violence and detaches these acts from the legal, political and human rights debates that are raging – the very debates that might help prisoners seek compensation or legal redress.
What's more, the refusal to recognise the sexualised violence meted out to male detainees demonstrates a deep-seated ambivalence towards both male homosexuality and male rape. To acknowledge rectal torture as sexual would not only implicate CIA interrogators as sex abusers, it would also serve to "queer" this world-famous intelligence organisation, destabilising its sense of patriarchal authority.
Male rape (like all rape) is about power but as well as tainting the victim, who is "queered" by such an act, the perpetrator is tainted too. They have engaged in, and even instigated, a queer sex act.
This is not to suggest that homosexual sex is about power, or is coercive or is rape. But in a culture that continues to stigmatise and marginalise homosexual identity, anal rape represents both a gross violation of power and a violation that cannot be spoken about for fear of its power turning in upon the aggressor.
While the Senate committee's report never explores exactly why rectal feeding and hydration methods would be seen as a method of exerting control over detainees, Western culture's preoccupation with sexualising the male anus suggests that this domination is indeed a sexualised act.
Such revelations come at a time when society is, allegedly, more accepting of lesbian, gay and bisexual people. Yet the revelations made in this report show that homosexuality remains a symbol of degradation.
The very worst thing that can be done to a male prisoner, it seems, is to penetrate him anally. The power of such a violation continues to reside not only in the act itself, but also in our inability to acknowledge it for the sexual act that it is.