Australia's broadcasting regulations are under question again following the announcement last week that a regional broadcaster has launched legal action against live streaming online by a rival metro broadcaster, with which it has a programming deal.
WIN television's owner, Bruce Gordon, argues the Nine Network's 9Now service violates an agreement with the metro broadcaster by live-streaming its channels into regional areas in which WIN holds commercial TV broadcast licences.
Nine's streaming service allows anyone in Australia access to the station's broadcast via any device with an internet connection. The definition of "broadcast" will be a key argument within the case and whether live-streaming is the same as the traditional broadcast of television stations.
The aim of the legal action is to prevent the Nine's live stream from being accessed within regional areas where the WIN network's broadcast is available.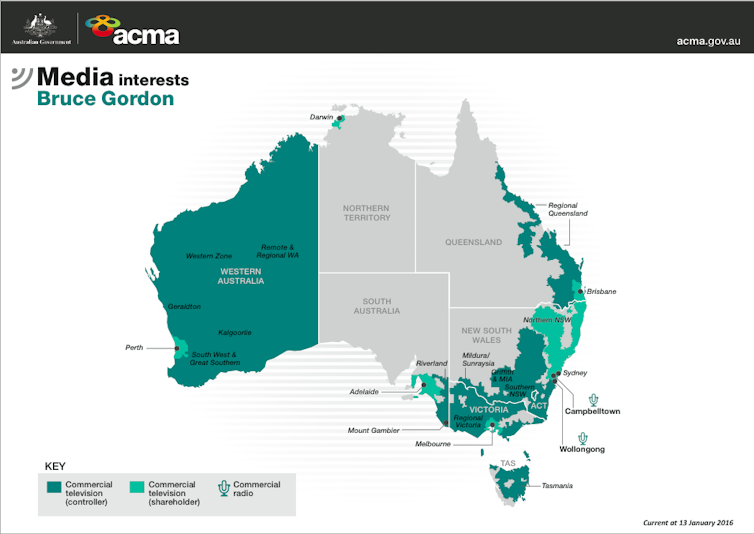 Essentially Gordon is hoping to geoblock Nine's stream, similar to the debate associated with Netflix since the US-based Video on Demand (VoD) service went global.
But this increase in live streaming and VoD online continues to raise questions over the future of linear broadcast television in Australia.
Australian live streaming services
Nine's streaming service was launched at the beginning of February this year. But Nine was not the first Australian free-to-air (FTA) station to start live streaming its broadcasts.
The Seven Network's live stream, Plus 7, launched late last year. Seven also used the tennis and its 7Tennis app as a way to entice the Australian audience to use the live stream services.
The Ten Network is the only commercial broadcaster to not provide a full live stream. Although the station has a limited live stream service that includes programmes such as The Bold and the Beautiful, TEN Eyewitness News First at Five and I'm a Celebrity Get Me Out of Here!.
Winners and losers
Gordon is the first to launch legal action over the streaming services by metro based commercial FTA broadcasters. It was made very clear last year that regional broadcaster were less than supportive of the Seven Network's Plus 7 launch.
Seven launched the new service by asking viewers: what if you could take your TV anywhere?
But if you can take your TV everywhere, then there are issues associated with media ownership. Regional broadcasters currently don't have live-streaming services, meaning any viewer who watches a live commercial television stream would be watching the metro-based service.
For the regional broadcasters, this means they are losing out on any advertising revenue they receive with their traditional broadcast business model. For the viewer, it means they will not receive the any local regional content, such as local news.
The regional broadcasters are fighting back and have launched a campaign called Save Our Voices, arguing the media laws are "stuck in the last century".
Media ownership laws outdated?
There have been a number of changes in the television industry within Australia in the past few years. The current media ownership laws say no commercial television license holder can broadcast to more than 75% of the Australian population.
Currently the three commercial networks have the following population reach:
Seven 73.81%
Nine 73.55%
Ten 66.70%.
In addition there are also rules on the cross ownership of media, including television and radio broadcasting.
The snapshot below shows the interlinking across the media ownership in Australia. What's absent is the ownership of the Australian VoD services, Presto and Stan, in which Foxtel, Fairfax, Seven and Nine have interests.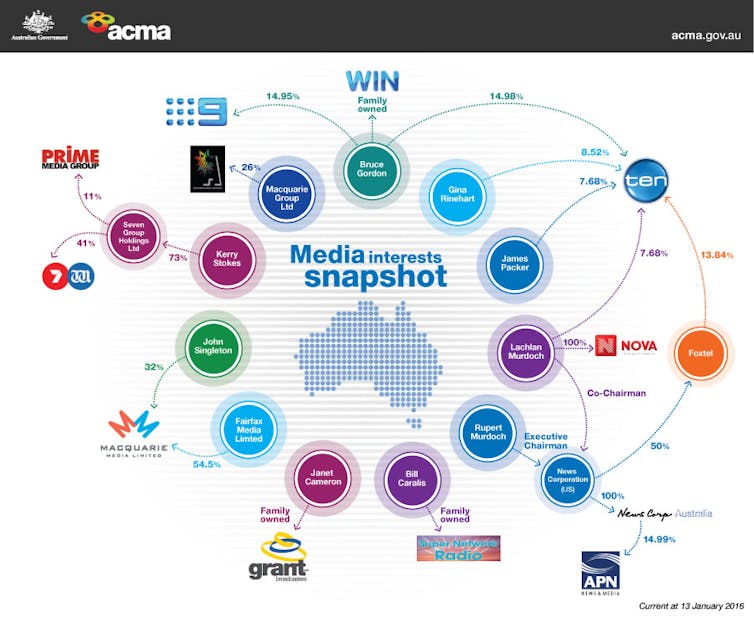 It is clear that these ownership laws are outdated and do not factor in the immense changes that have occurred recently in the television industry. Television stations now not only broadcast linear content to a television set, but also use the internet as a method allowing streaming to internet connected devices.
All Australian television stations now have catch-up services, including the ABC's iView and SBS's On Demand.
That means all stations now have access to a potential audience beyond the broadcast restriction of no more 75% of the Australian population.
I would suggest the ownership laws need to be reviewed in light of these developments. Not only is the ownership an issue, but also the platforms that are incorporated into the ownership laws.
Live streaming of sport
In addition to the policy factor, there are questions associated with the live stream of FTA broadcasts and the impact this has on recent sport media rights deals.
Both the AFL and the NRL have completed billion dollar media deals, with the digital rights encompassed as part of these rights.
How will the live streaming by Seven and Nine impact these deals? Seven is involved with AFL deal and Nine with NRL. Nine will soon start discussions with Cricket Australia as the media rights will soon expire. Will the new live streaming service by the FTA broadcasters play a part in these discussions?
Telstra successfully sued Optus over a copyright breach for both the NRL and AFL in 2012. So there is evidence of live streaming being an issue in association to media right deals, particularly sport.
Australian television will continue to change
The local commercial broadcasters involved in VoD services are battling with the global Netflix to gain subscriptions. Ten is also the only one of the three metro commercial FTA broadcasters not to have involvement with a VoD service.
This is a market that is yet to get any easier. I have said before that I believe we would see more reality and sport on commercial television as a way to focus on a service not provided by the new VoD services.
But now even the reality programmes are about to have another spin in Australia with the launch of Hayu, a new VoD service specially focused on reality TV. The NBCUniversal service will have many of the titles which are available Foxtel and on Nine's 9Life.
In addition, Disney is planning to launch a VoD service in Australia, possibly in a deal with a local telecommunications company. This could impact on Foxtel, which currently has four dedicated channels containing Disney content.
It is clear the Australian television industry, including the VoD services, is continuing to change at a far greater rate than we have ever seen. Policy changes will not be able to keep up pace with this rate of change.
The live streaming services by metro broadcasters have again brought Australian media ownership laws into focus. If television stations can now stream online, therefore effective reaching all Australians (with internet access), then the media ownership reach rule is redundant.
But what impact will this have on regional broadcasters, their content and regional audiences? We may find out some answers when WIN's case against Nine reaches the NSW Supreme Court, due in April.