Looking at the violence that broke out in North Belfast on July 13, you could be forgiven for thinking you'd taken a quantum leap back in time by about 20 years. But the sad reality is that violence over parades is as much a part of the "new" Northern Ireland as Game of Thrones.
A 16-year old girl was injured in the fighting that broke out in Belfast, along with nine police officers, who were hit with bottles and bricks as they sought to prevent an Orange Order march from straying into a banned area.
This particular stretch of the Crumlin Road in North Belfast has been synonymous with parade-related violence in recent years. The Orange Order has persistently sought to march along the route to and from the annual Twelfth celebrations, much to the chagrin of the Nationalist residents of Ardoyne.
Successive Parades Commission determinations to either allow or ban the parade from proceeding along this stretch of the road provoke strong political criticism from various quarters and, as has been seen, violent discontent from a destructive minority. This year violence erupted because the parade was prohibited but in previous years it has erupted because it was not prohibited.
A month of strife
More than 20 years after the initial ceasefires, the issue of parading still looms large every July and at various other intervals in between. You can set your calendar by it. Some years it may be more prevalent and charged than others but every July there is violence or ill-will. Sometimes it will come in sporadic, isolated incidents, and sometimes it will be co-ordinated and sustained as was the case with the carnage that characterised the infamous Drumcree dispute on the Garvaghy Road in Portadown. In the worst cases like Drumcree it can last for weeks.
Parading is intertwined with culture, identity, rights, tradition and, of course, the causes of generations of conflict. So while the vast majority of parades pass off without incident, a small number are highly contentious and have the capacity to wreak havoc.
For Unionists, parading is seen as a legitimate and traditional expression of culture. For Nationalists, they are a triumphalist coat trailing exercise grounded in innate sectarianism and intolerance.
Disputes over parading at certain flash points, like the kind seen in North Belfast this time, took root around the same time as the ceasefires began to appear on the political horizon. As overt violence was being phased out for the most part, the extension of "war by other means" became discernible. And parading became the perfect battleground.
The importance of parading is amplified in Northern Ireland because it is a society rooted in the principles of mandatory power sharing and consociationalism – a complex political system adopted in divided societies to ensure adequate representation for diverse ethno-nationalist groups. It brings out the limits to compromise and getting a green light from the Parades Commission can be seen as a "win" for "us" at the expense of "them".
To complicate matters further, huge demographic changes in Belfast mean that traditional parading routes are now home to significant numbers of people from the "other side". These routes are no longer spaces that one group can call its own.
Meta-conflict
The issue of parading acts as a valve through which dissatisfaction and disillusionment with the bigger political picture in Northern Ireland can be violently vented.
Unionists who are cynical of the new political order riot because they think their right to cultural expression has been taken away to appease the other side. And when parades are pushed through areas against the wishes of local residents, Nationalists react violently too. They argue that allowing the marches to take place reminds them of the times of the Orange state, when the police were used to enforce the dominance of their enemies.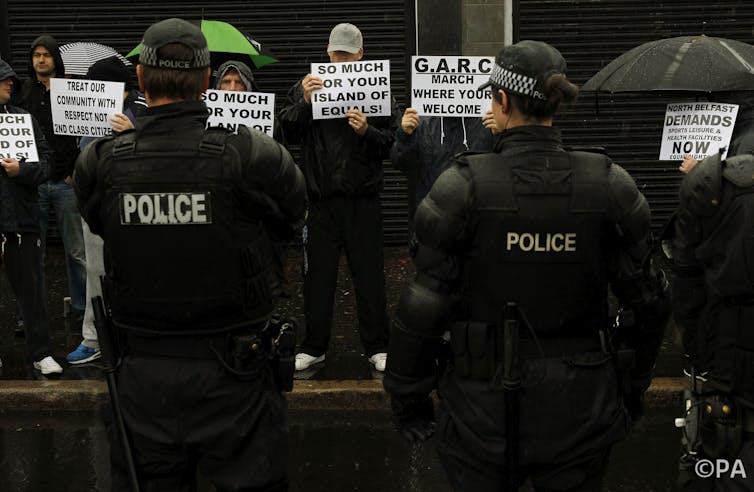 That's not to deny that some even just embrace rioting as a recreational pastime and won't miss an opportunity to get their kick. Flash points like the Orange march in North Belfast provide just such a venue for this kind of behaviour.
Parading is very similar to the "dealing with the past" spectre hanging over Northern Ireland – everyone knows it exists, everyone knows it needs addressing as a matter of urgency but political agreement on the matter remains elusive.
The issue mirrors disagreement that is grounded in the meta-conflict that continues in Northern Ireland over who is to blame for the death and destruction that results from the actual conflict.
Unfortunately, the dispute over parading looks set to repeat itself until an overarching and inclusive approach to solving the issue at its most base level is adopted. This is not easy given that any approach must balance competing rights and interests. However to be inclusive and have weight on the ground, it must not be used as a political bargaining chip.
There must be genuine dialogue between those at grassroots level on both sides of the argument, where a willingness to be heard must be matched by a willingness to listen. Essentially, the only people who can resolve the dispute are those at the centre of it and whose everyday lives are affected by it.