In an election year with such drama surrounding the US presidential campaign, less attention has been paid to the US Senate and House of Representatives elections. But whoever wins, their presidency will be shaped by the relationship with Congress – and that depends heavily on which party runs its two houses.
The US political system tends to produce "divided government" in which the White House and Congress are controlled by opposing parties. This has reached a new extreme during the Obama years, which have been characterised by intense gridlock. Coupled with the highly polarised nature of the current party system, this era of divided government has seen the legislative process fraught with protracted episodes of partisan brinkmanship.
Thanks to a legislative redistricting map that's tilted in their favour, the Republicans stand a good chance of keeping their majority in the House of Representatives. But the Senate, which gets to confirm a president's executive and judicial nominees, is another matter.
The Senate's 100 seats are currently host to 54 Republicans, 44 Democrats, and 2 Independents who caucus with the Democrats. Roughly a third of the seats come up for election every two years; of the 34 on the ballot in 2016, only seven to nine are actually considered competitive.
This arithmetic means that if either party wins most of the competitive races, it will also control a majority – and all but one of the competitive races are currently occupied by Republicans. So how can we gauge their chances of retaining control?
Up against it
A lot could come down to the presidential result. When a presidential candidate does well, their party can usually count on gaining ground in the Senate. In this respect, the 2016 election until recently looked more or less typical, with each party's Senate prospects rising and falling along with their presidential chances. But Trump's recent near-collapse in the polls so far doesn't seem to have substantially shifted his party colleagues' numbers. Even if Trump does go down in flames on November 8, there are plenty of factors that can insulate Senate candidates from a similar fate.
The quality of individual candidates matters, whether measured in terms of experience or name recognition. Incumbency is another bonus – like all office-holders, sitting senators are generally more practised campaigners and are better-resourced than their challengers.
Unfortunately for the Republicans, most of this year's competitive races have attracted high-quality Democratic challengers – and some of the GOP's incumbents are particularly vulnerable thanks to political conditions in their states.
This is true in Illinois, a state that strongly favours the Democrats, and where the conditions that allowed the Republicans' Mark Kirk to win his seat in 2010 have faded. He is now expected to lose his seat to Tammy Duckworth, a Democratic congresswoman.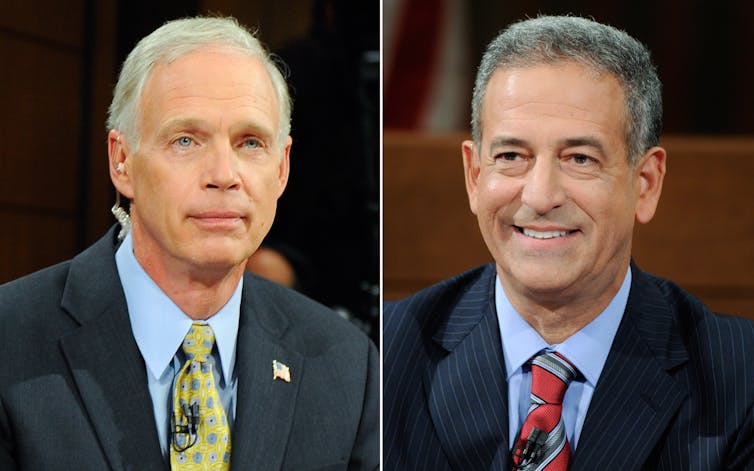 In other races, the state is more generally competitive but the senatorial challenger particularly strong. That's what's happening in Wisconsin, where highly respected former senator Russ Feingold was successfully recruited to run against Ron Johnson, the Republican who ousted him in 2010.
In Indiana, meanwhile, the Republicans are struggling to keep a seat vacated by incumbent Dan Coats. Even though the state is usually reliable for the party in a presidential election, Coats's prospective successor faces a difficult challenge against another popular former senator, Evan Bayh, who retired from the Senate in 2011 but decided to mount a comeback this year.
Splitting the difference
Overshadowing all this is Donald Trump, who, at least until a recent tightening in the polls in the last few days, has been widely predicted to lose the presidential race. This is not necessarily bad news for the party's Senate chances; if he performs poorly, Republican candidates could still benefit from "ticket splitting" – the practice of voting for a different party in the presidential and congressional races.
There are signs that this phenomenon is much less common than in the past, but in this year's unique political context, some favourable conditions for this behaviour do exist.
Trump won the nomination against the will of virtually the entire Republican establishment – and his views deviate greatly from Republican orthodoxy. The party is far from unified behind him; a number of prominent Republican officials refuse to support his candidacy and Trump has been in a months-long and very public fight with the most senior elected Republican, Paul Ryan.
With all these factors in place, and the personal nature of many of Trump's challenges, it is not unreasonable to expect rather more ticket-splitting than usual. Several Republican candidates, such as Kelly Ayotte in New Hampshire and Joe Heck in Nevada, have explicitly distanced themselves from Trump in hopes of hanging onto otherwise disillusioned Republican voters.
However, this could also simply depress turnout among Republican voters alienated or disgusted by Trump, who may fail to turn out for their party's congressional races rather than vote for Clinton or a third-party candidate.
With Clinton still topping the polls both nationally and in the key swing states, incentives for ticket-splitting could also be enhanced slightly by the perception of a noncompetitive presidential race. There is some evidence that there are voters that use their Senate vote to vote for to "balance" control of the Congress against the likely president's party. If Clinton is still heavily favoured to win come election day, a small number of sophisticated voters may be more likely to vote Republican in Senate races. In some of this year's races, Republicans have explicitly implored voters to use this tactic.
Overall, the likely make-up of the Senate is far from decided. Most of this year's vulnerable incumbents were installed by the 2010 midterm elections, which were a huge success for the Republicans – and a year ago it looked as if conditions could slightly favour them in 2016. But Trump's unexpected and unprecedented campaign has changed the climate.
Democrats may have a slight edge in some projections at the time of writing – but the complex ramifications of the uniquely lurid and still-volatile presidential race mean that there's still all to play for.