Bogans are here, there and everywhere; the word is a cover for any concept you can imagine. That Nathan Tinkler – the former mining magnate, once considered Australia's youngest ever billionaire – made his name as the "boganaire" suggests a complete disconnect of the bogan from his/her/its origins as the working-class white male, the late 20th-early 21st century version of the "ocker".
A boganaire is Australia's present-day version of a Beverley Hillbilly; she or he doesn't deserve his or her riches, and can't hold onto money, or spend as wisely as you or I. But at the same time, the notion of the boganaire – the bogan billionaire – is every bit as ridiculous as the aerofridge or the catrapeze.
The two ideas do not mix, as the still (to some) slightly amusing notion of the "cashed-up bogan" demonstrates. Bogans are meant to be poor.
To add to the dichotomies, just consider the name of Nathan Tinkler. It could almost be a Dickensian appellation, except that the reality of the man is almost entirely at odds with the twee ineffectuality conjured up by the polite first and almost comic second name.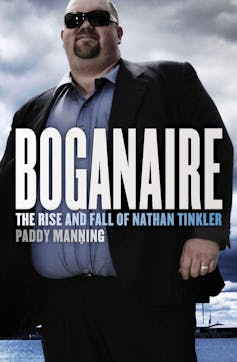 Tinkler is the young Australian who, notoriously – and extraordinarily offhandedly, as outlined by the journalist Paddy Manning in Boganaire – made a fortune one day and proceeded to lose it in various ways ever after.
Now, at 36, Tinkler might be considered a has-been, except for the fact that the "rise" part of the rise and fall was so extraordinary, it seems foolish to consider writing him off.
Boganaire's title is redolent with the suggestion that Tinkler is the latest lumpen manifestation of the lucky country. Like Kylie Mole, notoriously one of Australian pop culture's earliest "bogans", Tinkler does not see himself as a bogan at all (at least, he reportedly didn't want the "bogan c***s" of the Australian Muscle Car club joining his Supercar Club; maybe it wasn't the boganness that bothered him).
But it has to be said that in Manning's book – prepared with no assistance from its subject whatsoever – Tinkler comes through as a shadow figure. Manning has access to interviews Tinkler granted when he was riding high, before racehorses, fast motor vehicles and sundry other indulgences drained his riches.
There are also various examples of Tinkler's pouty, sarcastic text messages and emails and his offhand comments about former business partners. But what we're really looking at with Tinkler is a man who took some chances, won big, then took some more and failed on his initial promise. Perhaps this is the key to his "boganness" (such as it is); he was never really going to escape his roots.
Tinkler is, let's face it, small fry next to Clive Palmer and Gina Rinehart, two other larger-than-life figures who dominate our sparsely-populated billionaire landscape.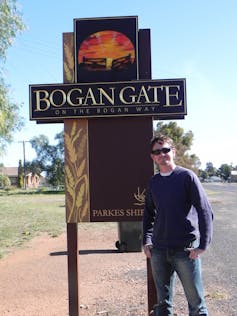 Rinehart's terrible poetry and family squabbles, and Palmer's incomprehensible passion for theme parks, loser ships, TV twerking and Bjelke-Petersen-style rambling – among other traits – suggest both these individuals could qualify for a branding with the "b" word; apart from anything else, their tastes are lowbrow or, at least, nowhere near as billion-dollar as they are themselves.
Perhaps the saving grace of all three individuals, in a nation such as ours which still thinks it's egalitarian, is that they have not attempted to use their money to help them seem more cultured than anyone else – perhaps they even aspire to seem more ordinary.
If any of the Australian public still cling to the idea that there's anything "bogan" – as fraudulent and ridiculous as that word may be – about Tinkler, it's those who he owes money, particularly the little people.
"Initially at least, most people had wanted Tinkler to succeed," writes Manning. "He was the kind of guy Australians love to love" with his "tradie-to-billionaire tale".
But an electrical contractor, for instance, who Tinkler supposedly owes A$20,000 to, was "gobsmacked … I thought someone like himself, on his rise to the top … would remember where he came from".
Manning ripostes that Tinkler remembers, but "couldn't care less". Amidst a thousand delusions and deceptions, that's probably Tinkler's greatest crime: he doesn't know his place.
Boganaire: The Rise and Fall of Nathan Tinkler by Paddy Manning is published by Black Inc.
Are you an academic or researcher? Would you like to write reviews for The Conversation? Contact the Arts + Culture editor.