Adam Cullen, Australian artist and winner of the 2000 Archibald Prize, died just over two years ago at the age of 46. He spent the last three years of his life working with a young writer, Erik Jensen – now editor of The Saturday Paper – on a biography for the renowned international art publisher Thames & Hudson – for a proposed book contract that, it turned out, didn't actually exist.
Nevertheless, Jensen became witness to the decline and death of Adam Cullen, and the book that eventuated, Acute Misfortune: The Life and Death of Adam Cullen, published by Black Inc, is not the biography Cullen might have imagined. Instead, it's an intelligent and frank memoir from close quarters of the disintegration of the artist's life, cracking open the mythology Cullen had created around his artistic persona.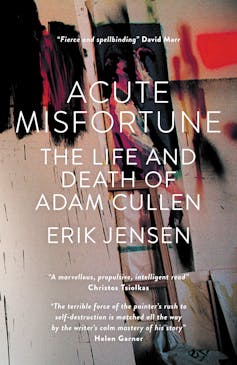 I should point out here that I knew Cullen. I was never a close friend, but for a while we moved within the same circles. I wrote reviews and published a research paper on his work, and in the course of my investigations visited him in his studio in Annandale a number of times, inevitably leading to a few at The Stag on Parramatta Road.
As someone who knew him, I found the portrayal of Cullen by Jensen grippingly uncanny – the nervous vulnerability, the questionable tales, the bitter insecurities, the "full of soul" trip Dale Frank mentions in the Prologue, and particularly the yearning for rejection.
In the midst of a conversation, Cullen would deliver a confounding statement that seemed carefully conceived to derail discussion completely. Many of Jensen's episodes in this regard are oddly familiar.
Cullen was indeed a complex character, perhaps mostly because that's the way he had decided it would be. He possessed a natural likeability, even an awkward politeness. As Jensen puts it:
People loved Adam. It was his voice they remembered most, and then his eyes.
He seemed to work hard at being difficult to be around. It was central to the mythology Cullen built around himself, which, quite aside from his artworks, was his magnum opus.
Jensen acutely understands that much of the complexity of Cullen's character was to be found in his utterances, and that his more outlandish actions were often about the playing-out of his words. Jensen's recounting of Cullen's rants and declarative statements on himself, seemingly reflecting some broader philosophy on life, are entertaining and revealing. Jensen's nuanced portrayal of Cullen mostly coheres the artist's words with the author's frank yet sympathetic reflections on them.
Jensen doesn't buy the Cullen myth unquestioningly. He recounts many of the artist's half-truths and outright lies – mostly innocuous untruths, seemingly motivated by a desire to add greater complexity to perceptions of Cullen's persona: a brother, a surfer who was popular with the ladies, who had died young of a heroin overdose; playing trumpet for a punk band; writing his Masters dissertation in an afternoon with a six-pack of beer.
In its approach, Jensen's book actively avoids straightforward narrative. This is not a biography and Jensen doesn't give us a story; rather, Acute Misfortune is a series of vignettes that each sketch out another facet of Cullen's character, and embellish some of those already covered.
The chapters are generally thematic, bookended by Cullen's funeral at the beginning and, just before the predictably tragic conclusion, his trial for firearms offences, in the last year of his life.
The timeframes are not linear, skipping back and forth between a relatively healthy, ailing, dying and dead Cullen. Nevertheless, Jensen tracks Cullen's decline through the course of the book with an emotional depth that is never sentimental.
Cullen's firearms trial acts as the climax to the story – enacting a kind of social death that pre-empts his actual death. The last thematic chapter before the trial addresses Cullen's sexuality, and this is the most revealing chapter of the book. Not wishing to create a spoiler here, the chapter does provide some context to the undertones of misogyny and machismo often found in Cullen's paintings.
In other chapters, Jensen leaves us more openly to draw our own conclusions – a case in point is one story concerning Cullen's father, Kevin, and Cullen's sister-in-law, Katie, an exotic dancer ("very exotic, if you know what I mean"). The story is left teasingly unresolved, which in turn provides context and an autobiographical dimension to Cullen's painting She Must Have Known.
In general, Jensen is not overly generous in his discussions of Cullen's work, and at times cuttingly deadpan in appraisal of particular works, like his series of "dead" portraits for the Archibald Prize. But in some respects, Cullen's work is secondary and it is difficult to think of Cullen's work not as his direct and self-conscious extension of his artist persona.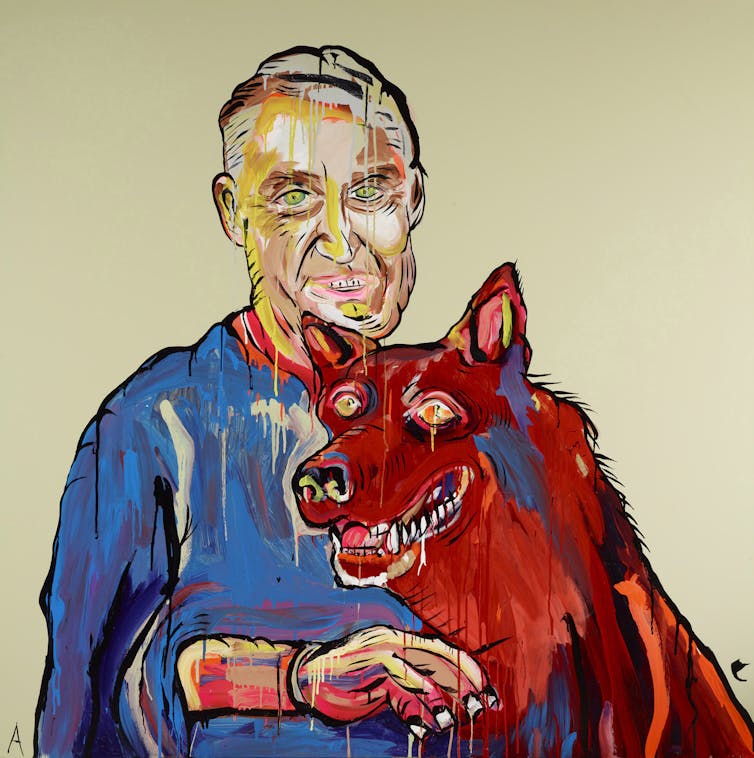 Rather than conjuring the trite cliché of the troubled artist seeking redemption through creativity, Jensen figures Cullen as a happy suburban kid whose principal trauma was the very ordinariness of his upbringing. In his closing comments, Jensen hits the target he has circled for ten chapters:
Adam did not suffer a formative tragedy. His childhood was a happy one.

He wished it had not been. He spent his life rebelling against an upbringing less complicated than he had hoped it would be, less interesting.
This conclusion is framed-up at the very beginning, in the Prologue, with an exchange of emails with the artist Dale Frank, a close friend of Cullen. This Prologue helps set the parameters for Jensen's approach, but also positions Cullen as "a man whose lifetime of bravado exhausted him and alienated those around him."
Friends did drift away, ultimately making real the "outsider" status Cullen had once sought. Jensen's final portrait of Cullen – desperately lonely and slowly dying – is painful to read.
In one of Jensen's early chapters, he quotes Cullen as saying, "Everyone loves a car crash, but they stare at a safe distance. I get up close." The true tragedy of Cullen's life is that there was no car crash in beachside suburban Collaroy, so he created his own. Once he'd accomplished the myth he'd set out achieve, there was nothing left for Adam Cullen, or of him.