This article is part of the Revolutions and Counter Revolutions series, curated by Democracy Futures as a joint global initiative between the Sydney Democracy Network and The Conversation. The project aims to stimulate fresh thinking about the many challenges facing democracies in the 21st century.
---
Buried at the end of the most important Chinese political speech in a decade, President Xi Jinping's 66-page address to the 19th party congress in November 2017, was one short line: "The Chinese Dream is a dream about history, the present, and the future." Tired after 71 ovations over three-and-a-half hours, the audience may have missed this sentence. Yet it illuminates how history underpins President Xi's "Chinese Dream" of national rejuvenation.
History plays an increasingly important legitimising role in China. As historian Antonia Finnane writes:
Every country has its national myths, most of which are grounded in or derived from history; but in China, history alone is the bedrock. The People's Republic doesn't have a religion, and it doesn't have a constitution – or at least, not one that counts. It no longer even has a revolutionary ideology. It just has history, lots of it.
For the Chinese Dream to be achieved, it is imperative – as the president himself has spelled out – to ensure people "have correct views on history". Certain episodes – the Chinese resistance to the Japanese in the 1930s and the second world war – can be remembered. Others, like the brutal 1989 crackdown in the streets leading up to Tiananmen Square in Beijing, which has just been removed from the new secondary school history curriculum in Hong Kong, must be forgotten.
The enforcement of forgetting
The French historian Ernest Renan said:
Forgetting … is a crucial factor in the creation of the nation.
In contemporary China, it's put into practice with surgical skill. Specific memories of events deemed sensitive by the state are not just forgotten, they are winnowed out and selectively deleted. The Communist Party has succeeded in hacking the collective memory.
National amnesia has become what Chinese writer Yan Lianke calls a "state-sponsored sport". And as Beijing's global influence rises, its controlling instincts – to tame, to corral, to shape, to prune, to expurgate history and historical memory – are increasingly being exported to the world.
The first move was an attempt in August 2017 to bully Cambridge University Press into removing online access in China to 300 articles from the China Quarterly journal. These were pieces on topics deemed sensitive, such as the Cultural Revolution and the Tiananmen crackdown.
The publisher at first bowed to Chinese demands and only reversed its position after public backlash. But statements by the Journal of Asian Studies, Critical Asian Studies and Springer Nature indicate that this case is part of a larger campaign.
Chinese censorship has also made inroads into Western publishing houses. For instance, Springer Nature, which publishes Nature and Scientific American, deleted around 1,000 articles from its Chinese website, citing "local distribution laws". In doing so, Western academic presses end up serving the CCP's purpose by propagating only state-mandated "correct views of history" inside China, as if no alternatives exist.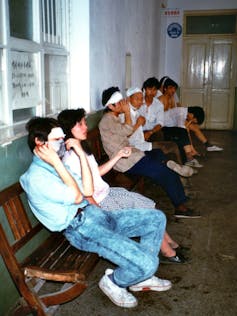 China is also censoring its own archives, as work by Glenn Tiffert has forensically uncovered. His comparison of electronic and paper versions of China's legal journals found that in one journal 87% of the page count had been excised.
At home, Beijing's tightening grip on history deigns not only what can be remembered, but also the manner in which it can be marked. In the case of the events of June 4 in Tiananmen Square, small-scale commemorations that once flew beneath the radar are now regularly punished, often through vague charges such as "picking quarrels and stirring up trouble".
Every year, Chinese activist Chen Yunfei had paid his respects at the grave of Wu Guofeng, a 20-year-old student who was shot and bayoneted to death by troops in Beijing on June 4, 1989. In March 2017, Chen was sentenced to four years in jail for this simple act of remembrance.
Chen's lawyer Sui Muiqing told me:
June Fourth is a red line for the authorities that cannot be crossed. This was a very important reason. It was a catalyst for his arrest.
Last year, at least 16 people were detained for public acts of commemoration. Four other activists face up to 15 years in prison after being indicted for "inciting subversion of state power" for selling liquor with a label referencing June 4 and Tank Man.
The paradox, of course, is that the harder the Communist Party works to erase the memory of June 4, the deeper its obsession with Tiananmen's legacy becomes. As Madeleine Thien wrote:
One could say that no one remembers the Tiananmen massacre more faithfully, or with greater attentiveness, than the Chinese government.
The crime of rejecting the revolution
An old term that came to prominence in the white terror after Tiananmen is also back in vogue: historical nihilism, or "rejecting the revolution and denying the historical inevitability of socialism". In April this year, a law was passed that bans the slander of Communist Party heroes and revolutionary martyrs. Last week, prosecutors used this new law for the first time, against a man in Jiangsu province who used social media to criticise a fireman who died during a rescue operation.
A precursor of these new laws went to trial in 2016 when writer Hong Zhenkuai questioned elements of the patriotic war story, "The Five Heroes of Langya Mountain". This recounts the self-sacrifice of a group of Chinese soldiers who threw themselves from a cliff to avoid capture. Hong questioned whether two of the soldiers may have simply slipped and fallen by mistake.
Hong was found guilty of libel and forced to make a public apology after the court ruled that he had damaged the solders' "heroic image and spiritual value". The court argued that Hong should not have disputed the validity of the well-known story precisely because it "constituted part of the collective memory of the Chinese nation".
Many mainland historians and activists warn that the charge of historical nihilism could be used to muzzle historical research, using the threat of lawsuits to shut down discussion and ensure that the authorities' view of history remains the only one.
"They want to use falsified history as propagated by the authorities to replace real history for the people," Sui Muqing said. "They want to erase real historical events that happened. That's what so-called 'historical nihilism' means."
Even literary works are being targeted as guilty of historical nihilism. The Chinese government has denounced Soft Burial, a novel by Fang Fang about the excesses of the 1950s land reform movement, as a "poisonous weed" and banned its sale. Fang Fang explains the title, writing:
When people die and their bodies are buried under the earth without the protection of coffins, this burial is called a 'soft burial'; as for the living, when they seal off their past, cut off their roots, reject their memories, either consciously or subconsciously, their lives are soft buried in time. Once they are in a soft burial, their lives will be disconnected in amnesia.
In today's China, exhuming or even publicly remembering history – even events that happened within our lifetime, such as those of 1989 – is increasingly costly. Soft burial has become not just a reality, but a state of self-preservation.
"In the future, historical research will be impossible," warned Hong in an open letter. He had previously worked as the chief editor of Yanhuang Chunqiu, a gutsy magazine that addresses Communist Party history. "If you point out the contradictions or holes in what they say, they can use the law to proclaim that you are guilty."
President Xi has even published a book titled History: the Best Textbook. Yet only one version of history is acceptable: the Communist Party's own.
The global spread of China's amnesia
With China's rise, it now finds itself in a position to amplify its version of history to a global audience. Following the 2017 meeting in Mar-a-Lago between Xi Jinping and US President Donald Trump, Trump described his conversation to The Wall Street Journal:
He then went into the history of China and Korea. Not North Korea, Korea. And you know, you're talking about thousands of years … and many wars. And Korea actually used to be part of China.
Such a distorted reading is in line with a growing body of nationalist thought in China.
Increasingly, Beijing is marshalling its own version of history to support its territorial claims overseas. This is the case, for instance, of the Nine-Dash Line, which China says gives it a historical claim to virtually the entire South China Sea. China has refused to accept the Hague-based international tribunal's ruling that this claim has no legal basis. Disgraced Australian politician Sam Dastyari even echoed the "thousands of years of history" line to back China's refusal to abide by these rulings.
Recently, a map dating from 1951 has been uncovered. It is being used by researchers to propose new boundaries, though it is not clear whether Beijing could adopt them.
China has also invoked history to legitimise its massive One Belt One Road international infrastructure scheme, despite critics claiming that its premise relies on mythologised history.
The Chinese Communist Party is actively trying to export its version of the past beyond its borders. But these examples should serve as a warning. If Beijing is given a free pass on history, the international ramifications could come back to bite us in the years ahead.
---
Lousia Lim is the author of The People's Republic of Amnesia: Tiananmen Revisited (OUP 2014).