Rhodri Morgan, the first First Minister of Wales, who passed away on May 17, will be sorely missed not only by his family and friends but also, if the truth be told, by the whole Welsh nation.
He was a remarkable man, whose political pedigree included ancestors who were "daughters of Rebecca" – agrarian protesters in Wales in the 19th century – and whose family covered the spectrum of radical politics in Wales, some being Labour, others Plaid Cymru, a father who was both. He was both an intellectual and a sports fanatic, a bohemian and someone who understood the proletariat as if he were a part of it. He was both a maverick and a loyalist – and towered Colossus-like over the Welsh political scene for two decades and more.
He was the second son of two academics, who met while students at Swansea University (his father was professor of Welsh and his brother became a professor of history). He often joked that without Swansea University he would not have been, though he himself was educated at Oxford and Harvard.
The bones of his life are well known: local government, then the European Commission's man in Wales, a maverick, entertaining feisty and radical MP for Cardiff West from 1987 to 2001.
He failed to become leader of Welsh Labour, and First Secretary of Wales, as it was then, twice – once coming second to Ron Davies, the so-called architect of devolution, and once losing to Alun Michael, who was seen as Blair's puppet, parachuted from UK ministerial duties to keep the Welsh in check.
Morgan's assumption of the leadership third time around was accompanied by palpable joy among the Welsh population, almost irrespective of their politics. He was the Arthurian leader come to claim his birthright. He had arrived at his pinnacle.
He was a dreamer of dreams but he was also a practical politician. The "One Wales" coalition with Plaid was his finest hour. He played his part in holding together a cabinet and coalition which was a magnified reflection of himself, both Plaid and Labour.
He lived to become, Mandela-like, the father of a nation, and he died having done more than any Labour politician to build a nation. Morgan transformed the immediate post-devolution National Assembly for Wales from "Glamorgan County Council on stilts" into a proper fledgling legislature.
Early on, Morgan established clear red water between "real Labour" as he saw it in Wales, and the Blairism of English Labour. He presided over increasing powers for the Assembly, such as the ability to legislate without permission from Westminster.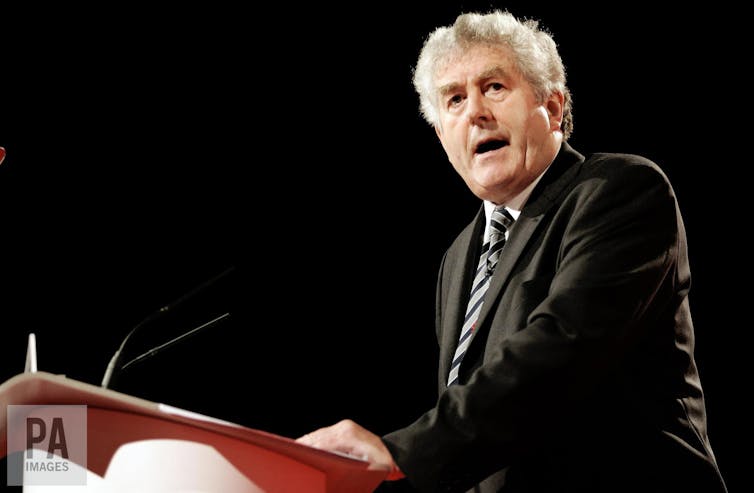 On the way, he both endeared himself to and infuriated political bedfellows – once referring to the Liberal Democracts and Plaid Cymru as the "inedible and the unpalatable" – and those outside this ambit. When I was a special adviser to him between 2007 and 2010, there was a segment of Welsh labour who regarded him as politically suspect – a closet nationalist who, by entering a coalition deal with Plaid Cymru had, in the words of the loquacious Pontypridd MP Kim Howells, "brought nationalists to the gates of power". Some Plaid legislators and many Plaid members, on the other hand, suspected that he might at an opportune moment leave them high and dry.
I know from working on Morgan's political biography, that his period working with a coalition cabinet and sharing the reins with Ieuan Wyn Jones was deeply satisfying to him on a number of levels. Particularly because, as he put it, if when he died a post-mortem were to be performed, they would find he was half the red of Labour and half the green of Plaid.
But this is only part of the story because alongside this hybridity, there was also – when the chips were down, when push came to shove – a Labour loyalist struggling to come out. Maverick he may have been, clear red water he might have favoured, but on one of the many complex levels of his being, Labour was his family (even English Labour) and you don't dump family.
Morgan shaped modern Wales to a very large extent. He was the touchstone of devolutionary politics in the Labour Party: he transformed it from its prehistory of "nat bashing" into a party that, at times, could be soft nationalist. He staked his political capital on distinguishing Labour in Wales from English Labour – which may prove very important for them now.
He demonstrated in his own politics the national consciousness that is at the heart of nationalism. He rewrote social democracy in Wales – socialism with a Welsh stripe, he called it.
Rhodri Morgan was a one off.
Farewell Rhodri. The love of a nation goes with you.