Apple founder Steve Jobs, one of the technology industry's most influential figures, has died after a battle with cancer, at 56.
In a brief statement, the company announced his death without giving a specific cause:
"We are deeply saddened to announce that Steve Jobs passed away today.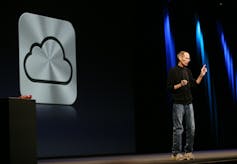 "Steve's brilliance, passion and energy were the source of countless innovations that enrich and improve all of our lives. The world is immeasurably better because of Steve."
Jobs underwent a liver transplant in 2009 and had battled cancer since 2004.
He officially resigned as Apple's CEO in August.
The Conversation has collected some reflections on Jobs's legacy.
---
Rod Tucker, Director of the Institute for a Broadband-Enabled Society (IBES) at University of Melbourne
Steve Jobs's brilliance was in his understanding of the paramount importance of the interface between the human and the machine.
Apple's success has always been linked to the fact its computers and devices are a delight to use, and somehow always seem to know what you want.
---
Joshua Gans, Professor of Strategic Management at University of Toronto
I live in a world of economics where we tend to doubt the power of the individual. To be sure, there are individuals who are in positions of power and who can inflict damage on the world.
But in the world of business, these tend to wash out. Leaders may come and go but very little of substantive economic value changes.
Steve Jobs was and had become, in so many ways, the exception that proves the rule. Take him out of the world and one can imagine what we might be without. From the personal computer to the iPhone to a revolution in animated movies, one gets a sense that these parts of our lives – both technologically and culturally – would not be with us.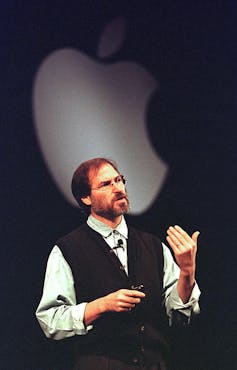 But if I'm being honest rather than emotional (which is terribly hard as I write this), we would have had most of these innovations (eventually). However, alongside it we would have had considerably more frustration. Steve Jobs made our lives easier by sheer willpower.
This is as true for myself as a loyal Apple customer as it is for everyone else. PCs were made better as were Android phones all because Jobs insisted that the consumer came first.
I recall this passion from a video of Jobs talking to a MacWorld audience just before he returned as Apple CEO. Right then he told his audience of developers that they shouldn't have to struggle to write programs for the Mac.
It should be easier. And that if he had his way, his phone would be able to do email properly. You can see Jobs as the very frustrated consumer that he set his life's work to save both himself and the rest of us from.
He was our representative agent in the technological world. And what a fine example he turned out to be. There is no one there to fill that void. The rest of us are mere atoms.
---
David Glance, Director of the Centre for Software Practice at University of Western Australia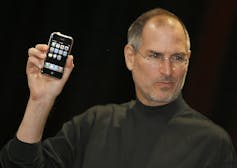 It's a very sad announcement. The significance is not just for Apple. Steve Jobs was one of the central people in terms of the whole technology revolution from PCs through to mobile phones.
In terms of the most influential people in the past 30 or 40 years, I would say he was in that list.
You can't underestimate his legacy.
---
Professor Sanjay Chawla, Head of the School of Information Technologies, University of Sydney
Steve Jobs is singularly responsible for taking computing to the masses. First with the introduction of the MacIntosh in 1984, he completely revolutionised how people viewed the computer – from a cold number crunching machine to something "personal".
Then, in 2007, with the introduction of the iPhone, computing became even more personal. The underlying message that came through Steve Jobs' innovations was that computing is as much about art, culture and aesthetics as science and engineering.
---
Daniel Golding, PhD candidate and sessional lecturer at University of Melbourne
At the end of a tutorial this morning, two students of mine opened a MacBook Pro and brought up the homepage of Apple. Steve Jobs had died.
Somewhat more shocked than I thought I might be, I walked back to my office, following the news on my iPhone. I wasn't aware until I sat down to write this that every device that has told me about Job's death was also a product of his vision.
Many will remember Jobs solely as the auteur of Apple, but it was his brief time at videogame company Atari in the 1970s that also lingers in my mind.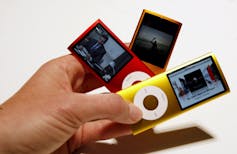 Jobs was then a shaggy-haired hippie saving money for a trip to India, and was assigned the task of creating a prototype of the game that was to become Breakout. Along with his friend and Apple co-founder, Steve Wozniak, Jobs created a lean and memorable game that foregrounded his skills as a designer.
Breakout's strength was not originality, but a brilliant leanness of form and style. Surrounded, as he was then, by talented people, Jobs clearly had a talent for direction, quality, and business.
Given a $5,000 bonus, Jobs reportedly only passed on $350 to Wozniak, the co-creator of the game. He was ruthless and brilliant to the last.
---
Remy Davison, Associate Director, Monash European and EU Centre
Disclosure: Remy Davison owns one share in Apple.
Jobs's death has left a tremendous void, not only at Apple, but also in the entire technology industry.
When Jobs resigned as Apple's CEO in August this year, few believed he would relinquish control of the company he founded in 1976 with Steve Wozniak. After all, Jobs would remain as chairman of the board, and within the industry it was largely believed that Jobs would continue to be the power behind the throne now occupied by former Chief Operating Officer, Timothy Cook.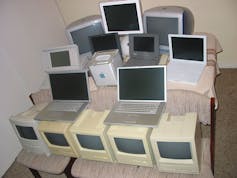 For the past 14 years, Jobs's star had been in the ascendant, following his return to Apple in 1997. Ejected from Apple in a boardroom coup in 1985, Jobs founded NeXT, a company that produced elegant computers that nobody bought. But he also proved a shrewd investor, buying animation studio Pixar, which went on to produce Disney's biggest movies of the last decade.
Jobs ultimately went on to sell Pixar to Disney in 2006, in exchange for the largest individual shareholding in Disney. In doing so, Jobs forced out his erstwhile rival, Michael Eisner, and wound up controlling the company.
From this point, Jobs began to split his duties between Apple and Disney, a move complicated by his contraction of a rare form of pancreatic cancer. Both Jobs and Apple maintained publicly that the disease was not life-threatening. Even when Jobs underwent a liver transplant in 2009 and began to take medical leave from the company, Wall Street did not punish the Cupertino, California company, as Apple continued to release hit after hit: the iPod; the iPhone and the iPad.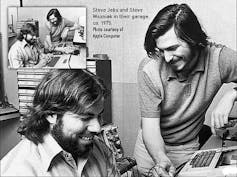 Jobs and Wozniak started in the 1970s by screwing together circuit boards in a garage. Jobs ended his tenure leading the world's most valuable company, with a current market cap of more than $US350 billion.
Yesterday, CEO Tim Cook released the iPhone 4S, a product greeted with tepid enthusiasm by the market. Apple's market dominance in several sectors, its $76 billion in cash and short-term investments and zero debt mean it is cushioned from a prospective double-dip world recession, even if the company does have to burn cash for a while.
The bottom line is that Apple cannot replace Jobs's vision, his ability to predict the future of the information age, nor his showmanship, long on display at Apple's product launches. If Apple does not demonstrate – and soon – that there is life after Steve Jobs, Wall Street will be merciless in meting out punishment.
---
Professor David Abramson, Associate Director of the Monash e-Research Centre, Monash University
Jobs made a huge contribution to the state of computer science and to the world in general. You only have to observe the influence of Apple on daily life to realise just how significant it has been. Professionals use Apple. Grandparents use Apple. Kids use Apple. It is totally pervasive.
From a professional point of view, I began using some of the earliest Apple computers in the 1980s, but then shifted to Microsoft-based systems for about 10 years – before returning to almost exclusively Apple-based personal platforms (some of the larger computational resources I use are not based on Apple equipment, and adoption in this area has been limited).
The return to using Apple equipment was no accident and was largely a result of Jobs's influence. I now have reliable personal computing that affects almost every aspect of my work and private life.
I simply couldn't imagine my life without this level of technological support.
---
Jayne Ion, Web Developer, Faculty of Science, University of Sydney
Many will say Steve Jobs was a visionary – he did give us what we wanted before we knew what it was, after all. And he was a visionary, but he was so much more – organ donor activist, CEO of the Decade (Fortune Magazine, 2007), user-based design guru, philanthropist, tech oracle, and today has achieved a Twitter Fail Whale message as the Twitterati made for the digital airwaves to mourn his passing.
I believe the world is a more interesting and user friendly place for having had it's time with Steve Jobs, albeit too brief.
---
John Vaz, Course Director Master of Applied Finance at Monash University
Although owned as a trade name by IBM, it is Steve Jobs with Steve Wozniak who can be credited with creating the first real personal computer.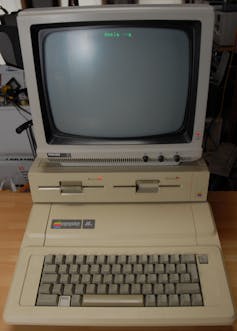 Jobs made computers usable for ordinary, non-technical people and in a sense that was scary to IT professionals. Jobs was the smartest and most insightful CEO ever known. More than that, he was a passionate believer in bringing computing to the masses. This started with the first Apple computer.
Quality for Jobs was defined in terms of the user experience. This meant he drove Apple's industrial design so that the products looked great but were also technically excellent but not necessarily the best.
He understood corporate employees were also consumers and it was providing the best consumer experience that resulted in Apple as a provider of products to most to the Fortune 500 companies in the world.
He also understood that innovation was about enhancing yet simplifying the user interface. The MAC was born in 1984. When Apple's board disagreed with some of the direction Jobs was giving he was pushed out of Apple in the early 1990s.
Jobs was brought back to Apple on a trivial nominal salary when the company was close to bankruptcy later in the 1990s.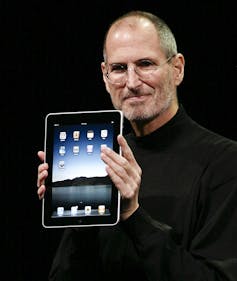 Yes he had some failures – oddly enough because the technology wasn't up to it, such as was the case with the Apple Newton (the first personal pad with a pen).
Jobs took Apple into the music market creating the total experience by having a service and a product (the iPod).
This experience provided apple with the understanding in this market to bring out the iPhone in a declining smart phone market.
The three families of products, namely iPod, iPhone and iPad have one thing in common: a total user experience with great looking and products that meet the needs of most consumers without technical sales points.
It is Jobs's visionary consumer-driven approach that took the share price from single digits to well over $300. More importantly, he made a major contribution to society by enabling a whole range of new ways of doing things.
---
Roly Sussex, Professor of Applied Language Studies at University of Queensland, and Alan Cody, Senior eResearch Fellow at University of Queensland
Sometimes individuals emerge in society at a time ripe for change. These individuals seem to be in harmony with those changes and, critically, both accelerate and enrich those changes through vision, persistence in the face of societal inertia coupled with a unique ability to engage with a wide spectrum of that society.
Steve Jobs was such an individual. With no regular "qualifications", he showed what an earth-shaking effect a clever intellectual can have when that cleverness is combined with vision, lateral thinking, business acumen and determination. His genius was to assemble ideas and things in innovative ways, imagine the way people would use them before they had even thought about it, reinvent the whole thing, and then to wrap it up in products people wanted.
Jobs was a superlative synthesiser. Some of his earliest studies were in typography. And this impacted the life of one of us [RS] in a fundamental way. I [RS] used to teach Russian at the University of Melbourne. In those days DOS could not display non-Roman scripts on the screen with Roman. Russian was a huge problem. Then came the Fat Mac, with a whole garden full of character sets.
Steve Jobs was uncannily good at synthesis like this. And more particularly with the fusion of personal and subsequently mobile computing devices. This, with the emergence of the web, provided the perfect potpourri for (i)nnovative thinking - iPod, iMac, iPhone, iTunes, iPad, iCloud. And so iSteve – vale and well-played.
---
Danny Samson, Department of Management and Marketing, University of Melbourne
I first took notice of Steve Jobs in the early 1980s when I was living in the USA and Apple, under his leadership, "dared to be different".
He set a vision then to change the world of computing, to challenge the status quo, dominated at that time by IBM and later by Microsoft, and he had the vision, passion and inspirational communication skills to see it through.
We who study leadership and management or who practise profesional management and leadership have much to learn from Jobs and his achievements. These lessons include "lead from the front", which he always did, and "have the courage of your convictions".
He was also inspirational in being able to balance the needs of many stakeholders, and in doing so, led a company from nowhere to industry leadership status, not once but twice.
Jobs was able to cleverly assess challenges and set strategy and vision, then implement those strategies hard, which is a rare combination.
---
Cameron Rose, Department of Multimedia and Digital Arts, Faculty of Art and Design, Monash University
Steve Jobs was a college drop-out who began his computer company in his parent's garage in 1976. His brilliance was not really technical, but in his ability to combine a number of innovations together into products that not only had great usability, but also inspired devotion to the Apple brand.
It was his philosophy that the user should not learn how to use his products, but that the products had such immediacy that the user would already know how to use the product without instructions.
His first great success was with the release of the Apple Mac in 1984. Though the Apple Mac was not the first computer to use a mouse or graphic user interface (GUI), the all in one design almost looked like a little face and this friendly appearance opened up personal computing to a whole new audience (Microsoft computers still used a command-line interface).
Apart from the early to mid 90s, when Jobs was absent from Apple, this philosophy remains true for all Apple products. His return to Apple as CEO resulted in the iMac released in a range of jelly-bean colours (and the beginning of the i-Something naming protocol).
Since then the product range from iPod to iPad have all strived to put the user at the centre of design. The products should be as easy to pick up and use as if it were a pencil or pen.
They should be completely task oriented, so the design of the device does not get in the way of its function. The final design is the result of rigorous user testing and application of guidelines including the "80% rule" which considers that if 80% of your target audience is satisfied, this should be enough to keep the design simple for most to use.
---
Professor Albert Y. Zomaya, Chair Professor of High Performance Computing and Networking, School of Information Technologies, University of Sydney
Steve Jobs left an indelible mark on the profession of computing. His journey as a visionary, entrepreneur and astute business leader inspired many people in academia and industry. He had a deep understanding of the technology combined with a canny ability of predicting market shifts. I am sure his memory will live with us for a long time and inspire future researchers and entrepreneurs. He will surely be missed.
---
Dr Mark Gregory, Senior Lecturer, School of Electrical and Computer Engineering, RMIT University
Mr Steve Jobs was a visionary leader of Apple Inc. for more than 25 years and possessed extraordinary skill in technology innovation.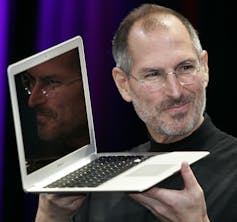 He will be remembered for the Apple and Macintosh computers, his time at Pixar Animation Studios (Toy Story) and the iPod, iPhone and iPad among a raft of other technology success stories.
As a young engineer in the early 80s, I took possession of an Apple computer and my future was shaped by what I was able to do and learn with this computer. From that time, my life and the lives of many others have been positively affected by Steve Jobs.
---
Stuart Cunningham, Director ARC Centre of Excellence for Creative Industries and Innovation
Steve Jobs, as with the Apple empire, was often accused of being too innovative – it's far easier to be a fast, or not so fast, follower and let the bleeding-edge work to be done by others. This was what Clayton Christensen called the innovator's dilemma.
Apple almost bottomed out without Jobs, but with his second coming it grew to its present status as the one company that has, thus far, worked out how to make the transition from "analogue dollars" to "digital cents" in the creative economy.
In doing this, it has laid down a significant challenge to the mass media barons – and in doing so, has become a bullying baron itself.
---
Bruce Arnold, Lecturer in Law at University of Canberra
IT entrepreneurs come and go … most end up as footnotes in dissertations and (with luck) as a plaque on a "named" building on campus and a substantial endowment.
Some are remembered both for marvellous technical achievement and problematical philosophies or pseudo-scientific enthusiasms.
Jobs will live on because he had style (an important attribute in a world of black T-shirted kiddies with over-large egos and money to match) and because he was an exponent of user-centric personal computing.
Ultimately, the end-user should drive IT, and this was certainly Jobs's philosophy.
---
Trixie Barretto, Website Content Officer, Faculty of Science, University of Sydney
Steve Jobs wanted to change the world and he did. He was a true visionary and will be remembered for the way he inspired a generation. RIP Steve and thank you for creating so many amazing tools that have positively shaped the way I work, live and create.
Related article: Steve Jobs transformed our lives, and now he's dead this changes everything
Has Steve Jobs had an impact on your life? Leave your comments below.