The appointment of Virginia Rometty as the first female chief executive of IBM represents a significant step forward for women in the world of business.
But while Rometty's elevation makes her one of the most powerful business figures in the world, there remains much work to be done to ensure that women are represented on all levels of corporate governance – and in particular, boards of directors.
It is often said that in order to gain a board position in the private sector, a candidate needs to have previous directorship and executive experience.
Consequently, the low number of women on company boards is said to be due to issues with merit. Similar arguments were made when affirmative action was introduced in Australia many decades ago.
The federal governments's Equal Opportunity for Women in the Workplace Agency refutes this notion and advocates for an approach that measures the potential contribution of women on boards.
With 50% of university graduates being women, we should ask: why are they not gaining experience on boards?
It seems that structural discrimination is limiting women's opportunities, and a proactive strategy from the federal government would assist in breaking down this barrier.
Finance Minister Penny Wong used the annual Women in Banking and Finance Forum in September to call for an increase in women on boards. She said the government could assist by appointing women to the boards of government institutions.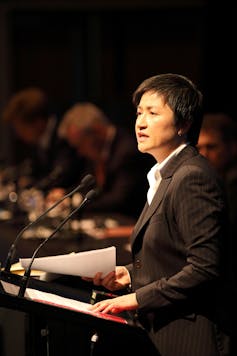 "We [government] can look beyond the need for prior board experience and look to the skills and capabilities that people can add to a board. We can match potential with opportunity," she said.
The federal government has committed to have 40% of Commonwealth agency board positions occupied by women by 2015.
But it is worth noting that the government has already provided more opportunity than the private sector, with women currently holding 33.2% of public sector board positions and 13% in the private sector positions.
According to the Australian Institute of Company Directors, 68 of Australia's top 200 publicly listed companies have no women on their boards. Even though appointments of women on boards has increased in 2010-11, there is still a long way to go.
"This is a nation with a long standing commitment to equality … and yet there must be reasons women are not getting through the ranks," Wong said. "How do we say to young women 'gender will not be an impediment'?"
Lessons can be learnt from the Norwegian experience. Norway's legislation providing for 40% of board positions to be held by women has produced dramatic change, according to a study conducted by the Friedrich Ebert Stiftung research foundation.
Authors Aagoth Storvik and Mari Teigen, from the Institute for Social Research in Oslo, argue that without both the compulsory quotas and the accompanying sanctions for non-compliance, it would be almost impossible to increase the number of female board members.
The legal framework provided the fillip to change. The report finds that women on boards are usually younger and better educated than their male counterparts, and that their skills are commensurate.
Men, on the other hand, tend to have no other occupation than board membership. The study found that 36% of female board members had a university education lasting six years or more, while only 22% of their male counterparts had a similar level of education.
The authors also argue that if left to their own devices, companies will do little to diversify the gender composition of their boards. When the law in Norway was first implemented, it stated that the sanctions would not come into effect if companies raised the number of female board members to the demanded level.
This did not happen. By 2006, the percentage had only increased to 18%. With sanctions for non-compliance being introduced (including the dissolution of the company), by 2009 the 40% target had been achieved.
Similar policies have been put in place in Spain and Iceland with proposals being discussed in the Netherlands, France, Sweden and Germany. A 2011 independent UK report into the position of women on boards chaired by Lord Davies said:
"Over the past 25 years, the number of women in full-time employment has increased by more than a third and there have been many steps towards gender equality in the workplace, with flexible working and the Equal Pay Act, however, there is still a long way to go."
Currently, 18 of the UK's top 100 publicly listed companies have no female directors at all and nearly half of the top 250 listed companies do not have a woman in the boardroom.
Radical change is needed in the mindset of the business community if we are to implement the scale of change that is needed.
Over 20 years since the passing of the affirmative action legislation encouraging diversity, time has come for a stronger legislated approach.