Kevin Rudd spent $650 million today - $450 million in the afternoon for out-of- hours school care, after $200 million in the morning for the car industry.
Not a bad effort in a campaign where money is supposed to be tight. There was also another $23.6 million in car money - this time towards Toyota's investment - but this was money allocated under the $5.4 billion car plan.
The big dollop of cash for the out-of-hours care is designed as a major attempt to address the cost of living issue, and to contrast Labor's approach with what it claims is Tony Abbott's plan to "cut to the bone". Among his savings, Abbott is committed to scrapping the popular school kids' bonus.
In Rudd's defence, today's largesse is already provided for in last week's economic statement.
Rudd used the phrase cost of living seven times in his introductory comments announcing the school plan, and another nine times in answering questions.
The out-of-hours initiative was just "practical stuff to help families struggling with cost of living pressure… good for cost of living and good for the economy and these difficult economic transitions that lie ahead of us," Rudd said.
"Wherever I go across Australia, what I hear is cost of living pressures and the pressures on family life in general and this is designed to help families with cost of living pressures and to help deal with the time constraints of daily life."
Also on the cost of living theme, on the eve of the Reserve Bank's meeting to consider a cut in interest rates, the government jumped on shadow treasurer Joe Hockey's comment that: "The fact of the matter is, we should not be in a position where interest rates are being cut because the economy should be growing faster."
Rudd described the comment as "an absolute clanger when it comes to cost of living pressures faced by Australian families". What Hockey was saying what that we shouldn't be in a position where interest rates were being cut. "That is a kick in the stomach to Australian families who are all struggling from cost of living pressures.
"Mr Abbott's treasury spokesman says you should have higher interest rates rather than lower interest rates. I think it is an appalling statement".
Hockey also should not be lecturing the Reserve Bank on what it should or should not do. This was "an appalling indictment about how you go about managing a sophisticated $1.5 trillion economy."
The out of hours program would give funding for up to 500 schools so they could offer more flexible hours, including before and after school and during holidays; more places, and new high quality activities including sports, music lessons and "homework clubs".
The money could see schools open as early as 7am and close as late as 7pm, with extra hours also available to help during school holidays. Schools will team up with outside school hours care providers to apply for the extended hours.
Families who benefit from this non-means tested measure would still be eligible for the 50% childcare rebate – which is worth up to $7500 a year.
Rudd defended the government's claim that Tony Abbott was planning $70 billion worth of cuts. Asked to point to where the opposition leader had said that, Rudd said that Hockey had announced that number a long time ago.
"They have never walked away from that," he said, referring to Finance Minister Penny Wong's recent statement detailing measures worth nearly $69.7 billion. These were opposition spending measures "as well as the cuts they have failed to embrace."
"$70 billion is an entirely credible number," Rudd said, again challenging Abbott to have a debate to "explain what the bottom line figure is. What will you cut, what will you spend, what will your bottom line be? There is no scrutiny of this. None whatsoever. This bloke thinks he is a shoo-in to be prime minister of the country."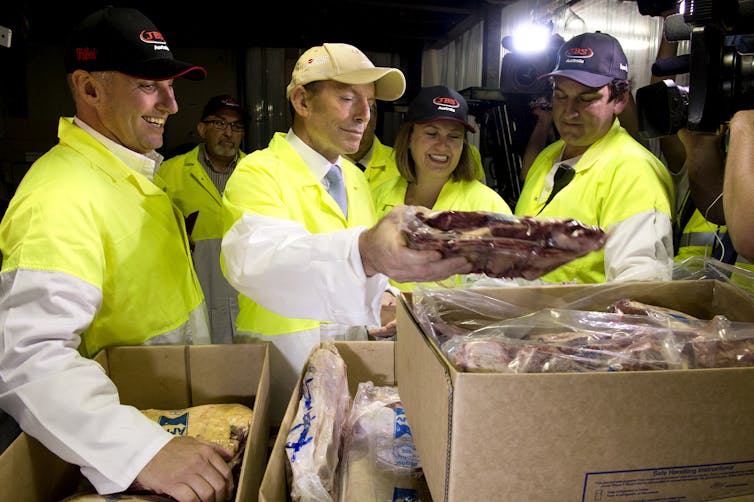 Abbott had a parsimonious if rather bloody day, when he hit the campaign trail at a meat processing plant in Queensland which he said was under direct threat from the carbon tax. (It was perhaps a slightly unfortunate location for pictures when he is being accused of planning to "cut to the bone".)
He said he had written to the head of the Prime Minister's department to say that the first act of an incoming Coalition government would be to prepare the repeal of the carbon tax legislation, repeating a timetable he has previously announced.
When he was challenged over the fact that the firm, JBS, had received $4.4 million from the government to help reduce its emissions and hardly sounded like a business under threat, he said "the fact remains that the carbon tax is a massive hit on this business… as the carbon tax goes up and up and up, the hit gets bigger and bigger and bigger, and rather than get a government grant to deal with a regulatory burden, wouldn't it be better if there'd been a government grant to actually help this business improve its core efficiency?"
Abbott criticised the government for not detailing what the $200 million for the car industry was for. Industry Minister Kim Carr is having discussions with the industry about the spending of the money.
Abbott said it was typical of the government's approach that "they just throw tax payer money around like confetti.
"I want to say to the Australian people, I have more respect for your money than to just write blank cheques to industries which - let's face it - have been very good about using taxpayers money but haven't always been that good at maintaining production and jobs despite the use of taxpayers money."
He said the government had given a lot of money to the motor industry and said it was going to create jobs, "when in fact within weeks and months of those announcements jobs have been shed."
It was "scandalous" that the government couldn't detail what the $200 million was for. "That $200 million is conscience money for the $1.8 billion hit they have just put on the industry [with the crackdown on the fringe benefits tax]. It amounts to a band aid on a bullet wound."
He reiterated a Coalition government would not go ahead with the FBT change.
"I think that if the motor industry has to choose between the government, which is offering a nebulous $200 million, and the Coalition which is going to take $1.8 billion in unjustifiable tax increases off you - surely the opposition is offering a better deal."
LATEST POLLING: Essential Research has the Coalition leading Labor 51-49%.