When Russian opposition leader Alexei Navalny announced his candidacy for the 2018 presidential election, he was seemingly blocked from running for office. But then, in early March, he posted an hour-long investigation into Prime Minister Dmitry Medevedev's wealth on YouTube. Using drone footage and Medvedev's own Instagram account, the video alleged that Medvedev used a complicated scheme to channel billions of roubles into mansions and a yacht.
Once the video went live, Navalny called for nationwide anti-corruption protests on March 26 – and they ultimately drew an estimated 60,000 participants in more than 80 cities. More than 1,000 protesters were arrested in Moscow, including Navalny and his entire staff; Navalny himself was fined 20,000 roubles (£280) and sentenced to 15 days in jail.
Nonetheless, the opposition will take heart from what happened. While most attention was focused on what happened in Moscow and St Petersburg, what really energised Russia's opposition was the turnout and demographic of the protests across the country. Comparisons with the country's "For Fair Elections" protests of 2011-2012 are inevitable – and the differences are striking.
The 2011-12 protests were largely focused on Moscow and St Petersburg, with only scattered regional protests. By contrast, half of the estimated 60,000 participants in the most recent demonstrations were located outside of Moscow. In Vladivostok, organisers only planned for about 100 protesters and were surprised when 1,000 appeared, and similar scenes unfolded in cities around the country, from Yekaterinburg to Novosibirsk to Irkutsk.
Pro-regime critics will of course point out that the crowds who turned up still represent a tiny portion of these cities' populations. And it seems that where protests were effective, local organisers succeeded in blending broader anti-corruption and social justice issues with local grievances. In St Petersburg, organisers built upon brewing discontent over plans to transfer control of St Isaac's cathedral to the Russian Orthodox church; in Perm, anger at plans to build a skyscraper in a historic part of the city fed the protesters' umbrage.
But regardless of how they did it, the regional demonstrations and their organisers have changed the game.
The young ones
To put this in perspective, the "For Fair Elections" movement started with just a few thousand participants in December 2011 and took several weeks to grow to the size of demonstration that was seen on March 26. And more than that, the protesters themselves were something different. Many of those taking to the streets hailed from what's known as "Putin's generation" – those born around the time that Putin took power in 2000. Many will be too young to have participated in or even remember the 2011-2012 protests, and will therefore never have voted.
This suggests that despite the Kremlin's control of resources and media coverage, the opposition has staying power. But it nonetheless can't rely on Russians who'll still be too young to vote in the 2018 elections – and the role of the youth is arguably less a benefit to the opposition than a problem for the government.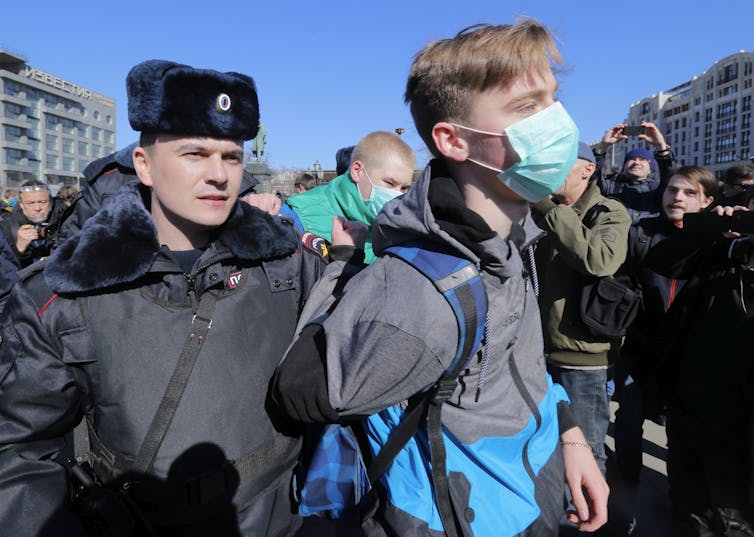 Since 2001, the Kremlin has pushed patriotic education in schools and universities, spread patriotic messages in mass media and entertainment, and drummed up popular support with its aggressively patriotic foreign policy. Today's youth have experienced only Putinism, and many are dissatisfied – a point made by students in the south-western region Bryansk, who recorded an argument with their teachers and circulated it on social media.
Even if they won't be able to vote in 2018, the sheer number of young people who joined in the anti-corruption protests is still a serious challenge to the regime's legitimacy. And even though many of the demonstrations around the country on March 26 were peaceful, images of youthful protesters being manhandled by Moscow riot police immediately went around the world. Using force against young protesters in particular could turn angry parents and grandparents against the authorities and bring them onto the streets – in effect converting non-voting youth into opposition-minded families.
Now the opposition is targeting Medvedev, Putin can no longer easily get rid of him without appearing to give ground to the opposition. Having put the Kremlin in a bind, Navalny is now promising to lodge a complaint with the European Court of Human Rights for every arrested protester, potentially drawing negative press that the regime can ill-afford as it tries to get Western sanctions lifted.
Of course, none of this has fundamentally changed the domestic reality. Putin will have no difficulty in dispensing with Navalny and stage-managing an election victory for a fourth term in 2018. But even if he is as much in control as he was before the protests, the legitimacy of his rule is still in danger.