Until last year, the Scottish Conservative Party leader Ruth Davidson was a relatively unknown political figure to many within Scotland and certainly to most voters south of the border. During the long debate over independence, she emerged as one of the most passionate champions of Scotland remaining part of the UK.
During this election campaign she has received more recognition, and is increasingly being seen as a rising star within the party. When David Cameron was asked on BBC Radio 4's Woman's Hour whether he saw her as a future leader of the UK Conservatives, he went so far as to reply:
Indeed. I don't put a limit on her ambition. I think she's extremely effective.
The back story
Davidson only joined the Conservative Party in 2009 after leaving her job as a reporter for BBC Scotland to study international development at Glasgow University. She has risen quickly through the party's ranks, giving the party the unique opportunity of associating itself with a lesbian kickboxer. An English literature graduate of Edinburgh University, she also has Territorial Army service on her CV.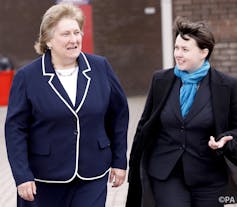 In 2010-2011, she headed the private office of then Scottish party leader Annabel Goldie, organising many of the campaign and media events for the Conservatives in the run-up to the 2010 UK election. She was only elected to Holyrood as an MSP in 2011 through the regional list for Glasgow (a feature of the proportional representation system in Scottish politics that allows candidates to be elected without winning in a particular constituency).
When Goldie resigned as leader shortly after, Davidson put her name forward as a contender to succeed her. This was perhaps her toughest test to date. She was running against three other candidates, including then deputy leader Murdo Fraser, who had served in the Scottish parliament since 2001 and was the frontrunner.
Fraser was a formidable opponent. Associated with the party's right wing, he enjoyed the backing of the majority of Tory MSPs and drew support from many grassroots activists keen to chart a radical new course for Conservatism in Scotland. With the party still having barely recovered from its infamous wipe-out in 1997 (it has since relied on regional lists and not had more than one MP since 2001), Fraser argued that the Tory brand had become toxic. He proposed to disband the party and create a new centre-right party north of the border. Davidson opposed this, arguing that it would be a "distraction" that would "tie the party in knots".
She enjoyed backing from many associated with the party's centrist wing, including Murray Tosh, the deputy presiding officer of the Scottish parliament, and lone Tory MP David Mundell. Mundell was one of the first MPs to back Cameron's leadership bid in 2005, and he would have been a vital channel for Davidson to Downing Street ever since.
When she narrowly defeated Fraser 2,983 votes to 2,417, it was an incredible achievement for someone so new to the Scottish parliament – even if in effect she was the conservative choice for the party, which said much about its unwillingness to consider radical options. In the years that followed, she proved popular among grassroots activists and displayed mettle both during interviews with journalists and in taking on both the Scottish Nationalists and Labour – though it is hard to say whether she has completely won over the Tory MSP group. Her commitment to Conservative Party values often came across as earnest and sincere to many, though I must admit I found her unremarkable.
The indyref
In many ways, the debate over Scottish independence was the making of her. She became one of the most prominent faces of the Better Together campaign, arguing for a No vote in the referendum during numerous television debates with Alex Salmond and Nicola Sturgeon. This worked strongly to her advantage, particularly as the Labour leadership remained preoccupied with divisions in its own electoral base over whether Scotland should remain in the UK. At times she felt like the de facto public face of a unionist cause that often seemed awkward for senior Labour figures to fully support.
Equally, there were times when Davidson's points came across as amateurish and naïve. In one television debate she appeared to draw an analogy between Scotland giving up Trident and the crisis in Ukraine, on the grounds that Ukraine surrendered its nuclear weapons to Russia as the USSR broke up at the end of the Cold War. Implying that a Trident-free independent Scotland might risk Russian invasion rightly came across as absurd and clumsy.
In the UK election campaign, we have seen more of the same strong communication from Davidson but nothing that particularly stands out. The Scottish Tory campaign has looked mediocre, though its job has been made harder by the UK party using the threat of a Labour government backed by the Scottish Nationalists as a means of spreading fear about Scottish influence in Westminster.
The ladder of opportunity?
So could Davidson lead the UK party? In some ways, she represents perfectly David Cameron's aspiration earlier in his leadership to modernise the party. I have always read this as being mainly about extending the party's reach beyond straight, white men (and certainly not about tackling its failure to connect with the lower classes in recent decades).
It would also be attractive that she is not part of the public-school/Oxbridge elite, harking back to the days when grammar-school graduates such as Edward Heath and Margaret Thatcher led the party.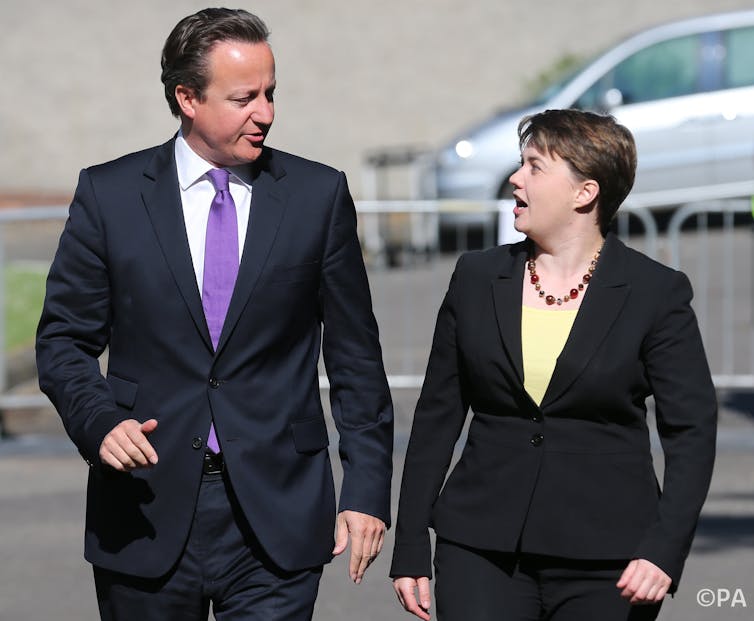 Alas the party is less meritocratic than 20 years ago. Heath and Thatcher would struggle to advance nowadays. You have to come from the right class background, the right educational background or to be a self-made millionaire. The problem for someone like Davidson is partly the lack of possible seats in Scotland (Teddy Taylor and Malcolm Rifkind are among very few who have switched to English seats).
But the party has also retreated into itself and would now struggle to support an outsider. And while it is to the credit of the Scottish Conservatives that they have backed an openly gay leader, whether the Tory grassroots across the UK would do so remains to be seen.
If these obstacles are to be overcome, Davidson would have to deliver at the ballot box. On the one hand, there are not many expectations on her as Scottish leader. Achieving the status quo would do, and proportional representation in Holyrood makes that much easier. But if Davidson wanted the UK party to sit up and take notice, she would need to make first past the post work again in Scotland. Anything less than five MPs, say, and it is hard to see her ambitions reaching much further.