It is now two weeks since the Samarco tailings dam failure in Brazil and speculation is rife as to the resultant costs and liabilities. Indeed, although the Mayor of Mariana declared a state of emergency for the city immediately after the accident, an expanded state of emergency has only this week been announced.
Dam tailings have spread over 440 kilometres, triggering a deluge of economic, social and environmental problems. BHP Billiton and Vale, co-owners of the Samarco joint venture, and their shareholders are now looking for answers.
In Australia commentators differ on the mining giant's response to the disaster. The Australian Financial Review proclaims "BHP has done the right thing in Brazil" while The Age asserts "Brazil mine disaster exposes BHP's failures".
Environmental costs
Brazilian President Dilma Rousseff has described the dam failure as one of the world's biggest environmental disasters. Putting a cost on it is not easy, however, with the trail of destruction spreading as far as the Atlantic Ocean.
Brazil's environmental agency, the Brazilian Institute of Environment and Renewable Natural Resources (IBAMA), has already fined the joint venture R$250 million (A$92 million). A lawyer representing a community association in another state has filed a case demanding 10 billion reais (A$3.69 billion) in compensation for environmental damages.
Deutsche Bank estimates clean-up costs could exceed US$1 billion (A$1.4 billion). But differences between the parties are great as Samarco has so far only pledged to pay US$260 million (A$365 million) in damages as a "preliminary commitment" toward clean-up and compensation.
Notwithstanding assertions the spilt material is non-toxic, Samarco has appointed independent contractors to test soil and water samples from the affected regions. IBAMA is undertaking a similar process. Yet even before these results are known some experts are suggesting it will take the environment more than 50 years to recover.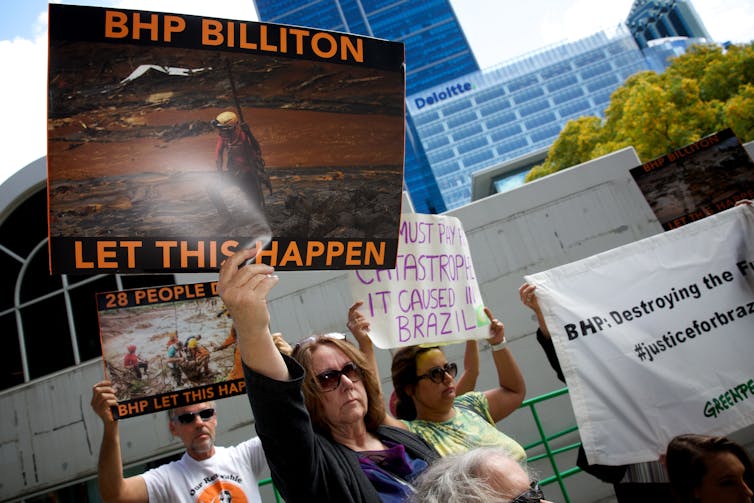 Social costs
Corporate and industry reputations are big losers. It is estimated the disaster has affected 15 million people.
The deaths of 11 workers and community members when the dam burst is the first and foremost cost of concern. Samarco, Vale and BHP have policies where worker and community safety is espoused as the number one value. Their policy lies broken.
The loss of 600 properties and destruction of water supplies to more than 260,000 people in the downstream communities could lead to devastation of livelihoods and disease. The costs to address these for the more than 200 communities affected could be great. The disaster has destroyed crops and killed fish, turtles and other animals important to community survival.
Activists are accusing the companies of "token sympathies" and have suggested they pay billions of dollars in compensation. The only unknown is where and when possible class actions will appear to claim these billions – Brazil, Australia, or both.
BHP has the Ok Tedi experience under its belt and could be better prepared this time for what is to come, but with Vale on board Samarco will officially have responsibilities in Brazil. BHP will be unable to walk away from these and has an opportunity to adopt a business case this time that looks after the vulnerable affected parties.
Greenpeace is actively involved in gathering data and monitoring the situation, while the Krenark Indian tribe has blocked iron ore shipments along a key rail line owned by Samarco hundreds of kilometres downstream. BHP CEO Andrew Mackenzie has committed his company to supporting the regions affected. He has said BHP will continue to "play our part in helping Samarco reconstruct homes, community and spirit".
An external investigation will be conducted, with the results released to the public. For the people of Brazil, actions will speak louder than words.
Economic costs
BHP chairman Jac Nasser told shareholders at this week's BHP Billiton AGM: "This year will go down as one of the most difficult in [BHP's] 130 years." Not only is BHP facing vastly reduced commodity prices, since the disaster investors have heavily sold down BHP shares to the level of ten years ago.
Dividends are of major concern for shareholders. BHP has maintained a progressive dividend policy, but this may not be able to be sustained. It seems clear volatility in the industry will increase over the years ahead.
Part of shareholder concern is the direct cost of rebuilding. BHP has committed A$363 million for this purpose and does not plan to abandon its investment.
The costs associated with sustainability of operations are potentially enormous. It could be argued preventative costs incurred in advance, such as more securely engineered dam sites and warning mechanisms for downstream communities, would have been much lower.