A new exhibition has opened at the National Gallery of Victoria (NGV) on the figure of the Japanese samurai. Bushido: Way of the Samurai explores popular conceptions of the samurai – as well as their lesser known identities. We don't just see warriors in this exhibition, but also patrons of the arts, philosophers and poets.
Who were the samurai?
The samurai warrior class was part of Japanese aristocracy for more than 800 years.
They have long been internationally famous for their fighting skills and code of ethics based on honour, duty and loyalty. Yet the way of the samurai – or bushido – also encompassed a deep appreciation of fine arts and refined culture. Their strongly cultivated ethos became a cultural art form in itself.
It is perhaps the added dimension of their status as cultural elite which has lead to the perennial fascination people have with samurai. And this has established them as iconic historical figures around the globe.
Exhibiting more than 200 objects, the gallery space showcases armaments and military attire, as well as objects relating to the cultural pursuits of the samurai. These include Noh theatre costumes, calligraphic scrolls, lacquer objects and tea utensils.
Some of these rare objects have no record of ever having been previously exhibited to the public, including one of the NGV's central display pieces: an ornate suit of armour from the Edo period (1603-1868).
This is accompanied by touch screen panels that visitors can use to learn more about each component of the armour, from its dramatic horse-hair moustache, to the assemblage methods that hold it together.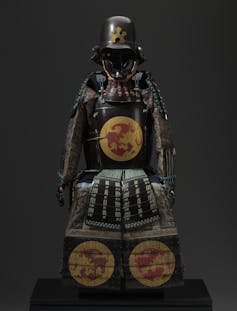 Epic tales of battle are brought to life in the exhibition through large-scale folding screen paintings and woodblock prints. Some are dramatised retellings of historical tales while others depict epic adventures attributed to legendary samurai heroes. Combined, these show us that the myth of the samurai has existed as long as the samurai themselves.
Alongside these depictions of valour are exhibits of their chosen weapons in battle, piecing together an evolution of skill: first bow and arrow, then, with the development of technologies, various forms of swords, and later also guns.
The iconic depiction of samurai generally involves sword fighting, and Japanese swords are appreciated internationally for their high-quality as both weapons and objects of fine art – yet samurai warriors were equally skillful with bow and arrow.
Firearms were introduced in 1543 by Portuguese traders and the technology was quickly adopted in Japan, soon being produced by local metalsmiths. The NGV has included Japanese samurai matchlock guns from its collection, as well as woodblock prints depicting their use by the samurai.
The private samurai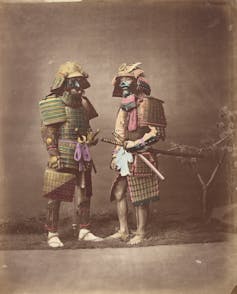 The men themselves can be glimpsed beside these depictions and relics of battle through a small selection of rare photographs in the exhibition. There are also related objects that illustrate their personal philosophies and their influences on society.
As well as Noh theatre robes and masks, there are displays of tea utensils, as the tea ceremony came to be practised by samurai as an art of disciplined subtlety, tranquility and reflection.
The cultural status and influence of the samurai can be seen through objects such as the intricately detailed miniature samurai armour on display in the exhibition. It is an exquisite example of decorative armour, the likes of which can be seen decorating homes and public spaces around Japan each year leading up to the Boy's Day festival (May 5).
These miniature suits of armour represent childhood (and parental) aspirations toward the samurai virtues and are indicative of the iconic place which samurai continue to occupy in Japanese society; a status which is not based solely around their battlefield legends but also their historical roles as community leaders.
During the peaceful Edo period, samurai were no longer needed for war, and instead occupied civil and administrative positions in society.
This is exemplified in the exhibition by an ornately embroidered fireman's cape, dating from the Edo period, when the Tokugawa shogunate established a samurai led fire defence force. The cape is embroidered with two large roosters seated on war drums, a symbol which the NGV explains was believed by the samurai to dispel evil spirits, in the way that the morning dispels darkness.
The intricate details of these artifacts illustrate the refined nature of samurai culture and their high-class status. It also bring to light the mastery of the craftsmen and industries that developed around them.
As figures of cultural refinement, courage, and honour, surrounded by such skilled artisans and still today, personified by such captivating artwork, it is no wonder that samurai continue to fascinate cultures around the world.

Bushido: Way of the Samurai runs until November 4 at the National Gallery of Victoria in Melbourne.