Tasmania's forest industry is experiencing its worst downturn in a decade, prompting a much-needed restructuring. While analysts focus on factors like exchange rates, the key lesson really has to do with corporate scale. The larger the company the greater the impact, for good and bad. Given this equation, large companies need to be held to much tougher accountability, transparency and sustainability requirements than they currently are.
The losses
These are tough times for the Tasmanian forest industry. Almost everywhere one confronts a sea of red ink, failed investments, lost contracts and redundancies. The losses do not discriminate. The private and public sectors are affected as are large and small companies and cities and rural areas.
The once-mighty Gunns Ltd's recent end-of-year accounts illustrate the problem. At the end of August, the company announced a $904M loss for 2011-12. This followed a loss of $356M the year before. The red ink has forced the company to announce that its much-vaunted Bell Bay pulp mill is no longer "probable to proceed". They've expensed the $255M spent to date instead of treating it as an investment.
Gunns is not the only company doing it tough. Forestry Tasmania, a government business enterprise (GBE), is also in trouble. Designed to pay a divided to the state, the company has incurred two years of losses following several years of anaemic returns. Its poor performance has been independently reviewed by URS Forestry, which recommends that the GBE be downsized and restructured to more narrowly focus on commercial operations.
URS predicts that Forestry Tasmania — either in its current or restructured form — will continue to incur losses of around $25 million per annum for the next five years.
The reasons
Given the scale of the crisis, a small industry has emerged to explain it. Simplistic mono-causal accounts abound. Business pundits predictably sheet blame home to "greenies" and the market campaigns conducted in Japan and elsewhere against Gunns, Ta Ann and Forestry Tasmania.
More thoughtful analysts recognise that market campaigns, while effective, are not the sole reason. Structural factors are at work. These include a historically high Australian dollar; a decline in per capita paper demand thanks to computerised workplaces; the superiority of plantation over native hardwood woodchips coupled with a significant increase in plantation woodchip volumes; and the growth of third-party, Forest Stewardship Council, certification.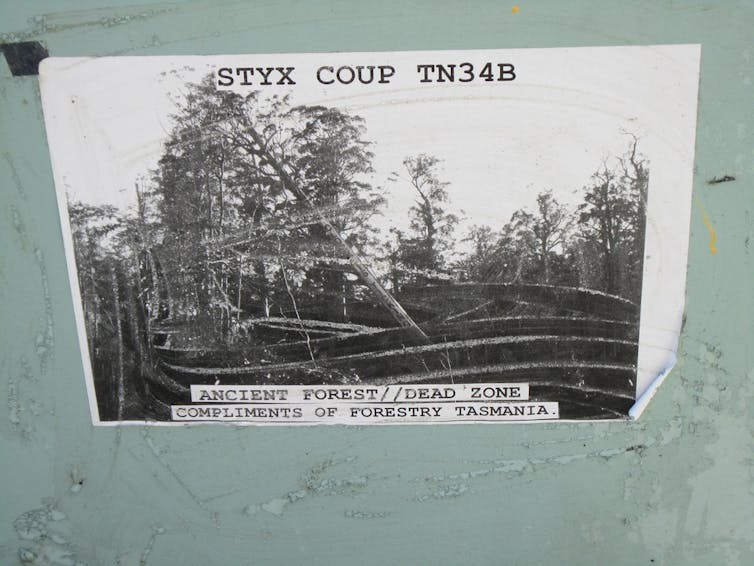 There can be much debate over the relative importance of these factors. But they have collectively placed a greater load on Tasmania's forestry model than it can bear.
There is an instructive ecological political economic lesson about corporate size and scale that needs to be teased out and understood if the state is to avoid lurching from one unsustainable industry structure to another.
The issue of scale
The issue of corporate scale and impact has recently reappeared on the global agenda. Appalled by the ramifications of the collapse of Lehman Brothers that signalled the existence of a global financial crisis, governments suddenly recognise that some businesses were "too big to fail".
News Corporation's phone-hacking scandal in the UK has highlighted the power of big media and its no-holds barred ethics.
Closer to home, many Australians are concerned that mining companies are too big to be responsible. The machinations of mining magnates Gina Rinehart and Clive Palmer have been the subject of much recent public comment.
To these concerns can be added protests over Seafish Tasmania's decision to bring a giant super trawler, the FK Margiris, from Europe to fish Australian waters.
And then there are the pressures confronting farmers from Australia's supermarket duopoly.
In short, corporate scale and size matter: the larger the scale, the greater the power and impact - for good and bad.
Interdependencies
Tasmania's forestry sector offers a salutary lesson in what can go wrong when a company grows too large.
Through the 1990s and into the 2000s, Gunns Ltd expanded its operations with a series of strategic acquisitions. They bought Boral's forest operations (2000), North Forest Products (2001), Auspine (2007) and ITC Timber (2009). Much of the later acquisition was debt-financed.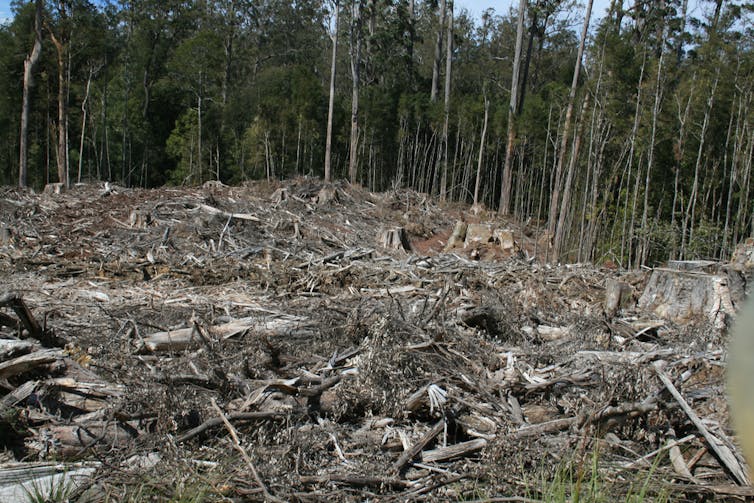 Gunns' growth enabled Forestry Tasmania to expand. More logging plans, more logging roads, and more logging ensued.
With Gunns and FT going gangbusters, contracts were signed with logging contractors to harvest and transport pulpwood for chipping at Triabunna, Bell Bay, and Burnie. As these companies grew their operations, they took on more debt and employed more workers to meet demand.
The great unravelling
When the global financial crisis struck, these interdependencies operated in reverse. Japanese importers, facing a glut of certified plantation fibre, a declining demand for paper, and pressure from environmentalists, confronted an easy choice. By purchasing superior, FSC-certified plantation-based woodchips at little extra cost they could enhance productive efficiency, meet their corporate social responsibility goals, and get the pesky environmentalists off their backs.
Gunns, trapped in a failed business model, decided its own salvation lay in becoming a plantation-based producer of pulp. However, it bungled the effort to obtain planning permission by sidelining the Resource Planning and Development Commission's environmental assessment of the Bell Bay pulp mill. Instead, it sought and obtained special treatment from Government in the shape of a Pulp Mill Assessment Act.
With no social license to build and operate the mill, its efforts to secure a joint-venture partner became increasingly desperate. The project's practical demise occurred when its new-found financial angel, the Richard Chandler Corporation, suddenly announced in March this year it was withdrawing its support.
Gunns is now a zombie company. It lurches from one dire financial announcement to another, leaving a trail of red ink in its wake. It is currently being kept alive by the banks, notably ANZ, which are seeking to recoup as much of the outstanding $526 million debt as possible. The ASX is also doing its bit by liberally interpreting its suspension rules to provide the needed time to "restructure".
Scaling back
The idea that limits cannot be placed on corporate size is of relatively recent vintage and belongs to the era of neo-liberal globalisation. If we look back at economic history, we see numerous instances of large monopolies being broken up before they got into trouble because they were deemed to be not in the public interest.
From an ecological political economy perspective, large businesses are a key public policy issue. Put simply, corporate size matters. The larger the corporation, the more significant its economic, social, environmental and political effects.
While these can be positive, there is no reason to believe they necessarily are or will be. Thus, the larger the corporation, the more transparent, accountable, regulated and sustainable its operations need to be.
This is the hard lesson taught by the Tasmanian forestry debacle.