"Please, sir, I want some more," pleaded Oliver Twist in the fictional workhouse depicted in the 1837 novel by Charles Dickens. The infamous response of Mr Bumble to Oliver's modest request for another plate of gruel has passed into folklore. This is the heritage of the Victorian approach to welfare – a dangerous place for children to grow up in.
The contrast with a recent survey by the National Association of Headteachers (NAHT) could hardly be greater. It shows that schools are providing around £2,000 to £3,000 a year to support children as a result of social, welfare and health budget cuts. Russell Hobby, general secretary of the NAHT, concludes that schools are now acting as "mini welfare states".
So are the schools of the 21st century safe havens or dangerous places for our children? The answer is that they can be either, depending on how we use them. Some of the recent child abuse scandals coming to light are a horrific example of this. But the NAHT survey shows that a series of reforms begun in the early 20th century to support the welfare of children are having a continuing effect – to such an extent that schools are increasingly designed as safe havens to protect children from the dangers of the outside world.
British schools are fundamentally protective in their aims – not yet the mini security states that we see in some countries such as the US, where pupils may be frisked for guns before they can enter.
The welfare reforms began in earnest in the early 20th century under a Liberal government – the introduction of free school meals for the poorest children (1906), medical inspection for school pupils (1907), and a Children's Act (1908). They helped to stimulate a new approach to social welfare that was later expressed in the Beveridge report of 1942 that underpinned the modern welfare state. Hobby's reference to "mini welfare states" is close to the mark, as they once helped to inspire the maxi version.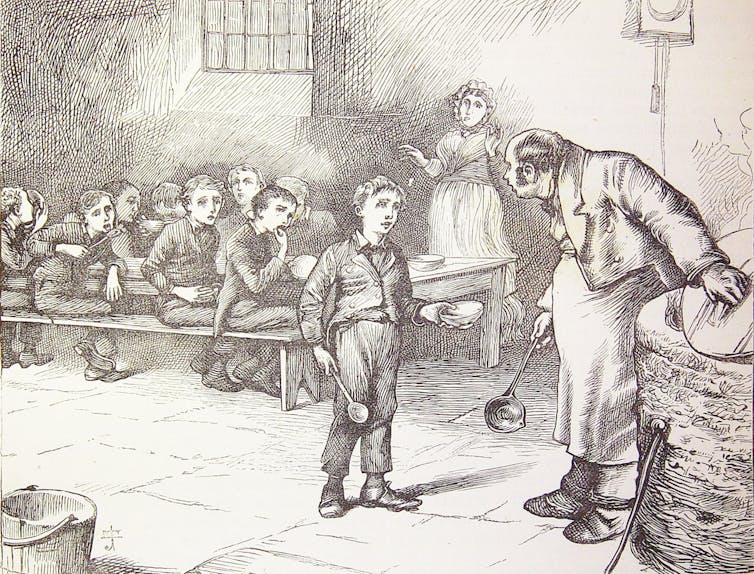 The Dickensian tradition would have schools as very unsafe, alien territory for children, institutions that could only too readily control, punish, exploit and abuse the children in their care. This was not only the case for working class schools. The elite public boarding schools of Victorian times found many ways of forcing their pupils to watch their step, the better to build their character.
Regimented conformity was the start of it, moving on to bullying and flogging. "Such, such were the joys", as George Orwell recalled in an essay about his days at the prep school St Cyprians. Orwell also remembered the squalor and neglect of upper class schools. Personal hygiene was poor, epidemics frequent, hunger widespread, with fear of epidemic diseases such as scarlet fever a constant torment. The school universe of Thomas Hughes's Tom Brown was hardly less dangerous than the world of Oliver Twist.
Lower down the social scale, Victorian day grammar schools were often decaying structures with outdated endowments in which pupils and teachers froze in their classrooms in winter and fried in summer. There was no room here to wash the clothes of pupils who walked for miles in the same attire that they wore during the school day, or to clean the boots of mud picked up along the way.
Unsafe surroundings after World War II
In 20th century schools, in buildings dating from the 19th century, such conditions were often still to be endured on a daily basis. After World War II, the Workers' Educational Association (WEA) reported that over 700 schools had been "blacklisted" two decades before but were still in use.
Many of these schools did not have proper lighting, had inadequate heating, primitive sanitation, no inside water, a single washbasin and towel for scores of children, defective ventilation, with old fashioned furniture unsuited for children, cramped classrooms, small playgrounds, no playing fields and few books. The WEA found the situation was: "So serious that teachers are to be found in desperation supplying the lack as best they can out of their own pockets".
Today, that tradition of the welfare state, long at the centre of the state school system, is still alive and kicking. There will be some who fret about the prospect of the mini-nanny state and the NAHT's new evidence of growing poverty. Yet maybe we can take some comfort in the fact that there remains a space for care, compassion, and a social conscience, and that it exists, despite it all, in our schools.