It was the height of Watergate and the Democratic speaker of the House, Carl Albert, needed advice. With Vice President Spiro Agnew's resignation, and the Nixon presidency imperiled, Albert was suddenly next in line to become president. The vacancy continued for 58 days – between the time that Agnew resigned on Oct. 10, 1973, until Gerald Ford was sworn in as vice president on Dec. 6.
Looking for advice, Albert turned to Ted Sorensen, John F. Kennedy's alter ego and Democratic sage.
Just days after the Saturday Night Massacre on Oct. 20, 1973, when Nixon ordered the firing of independent special prosecutor Archibald Cox, Sorensen sent Albert a 19-page secret memo to help him prepare for the possibility of becoming president. While most of the memo addressed the logistics of setting up a new administration, Sorensen also cautioned Albert, a Democrat, that he shouldn't think about resigning in favor of a Republican vice president.
One doesn't need to be a history buff to grasp the significance of Sorensen's startling advice. It implies Albert was considering resigning so that a presidential succession triggered by the removal of Nixon wouldn't look partisan. From the vantage point of our current political tribalism, it is almost inconceivable that a Democrat would even think of forgoing the presidency in favor of a Republican.
But I believe he did.
I stumbled upon this Watergate back story at a 1996 meeting on presidential disability hosted by the White House physician, Dr. Connie Mariano. I was there as a physician and bioethicist who had written about advance directives, a topic that would be relevant if a president became incapacitated and surrogates had to make medical decisions.
Memories of Watergate shared by former Sen. Birch Bayh, a Democrat from Indiana, were the highlight of the meeting. Bayh, the primary author of the 25th Amendment and an expert on presidential succession, recalled how congressional leaders worried about the appearance of a coup d'état back in 1973 after the Agnew resignation. If Albert became president while the vice presidency was vacant, he would also bring a new party into power.
Bayh memorably phrased it as the presidency going to "the party opposite." To avoid this, Bayh told us that there was a gentleman's agreement in which Albert would resign so that the Democratic House could elect Jerry Ford as speaker. This would keep the presidency under Republican control.
Bayh's anecdote has stayed with me ever since. I am still amazed that few seemed to know about this footnote to history. Albert's willingness to place country over party and personal interest – according to Bayh's account – seemed a story begging for a bigger audience and academic study.
Over the years, I have sought confirmation. A few scattered references inferred that Speaker Albert considered resigning the presidency so a Republican could serve instead, but solid evidence was elusive.
Nonetheless, Albert was on the record that any succession should not be a partisan affair. For example, in his 1990 autobiography, he wrote, "Otherwise sensible people saw a chance to forestall Ford's confirmation, impeach and remove Nixon, and hand the presidency to the next in line, me."
But Albert would have nothing of it. "In an impeachment inquiry, two institutions would be judged, not one," he wrote in his memoir. "We would examine the president, and the American people would examine us. I did not know what we would learn about the president, but I never doubted what the people would learn about their House of Representatives." While insisting that he would not make partisan use of the impeachment process, Albert did not recount any plans about resigning the presidency in favor of a Republican.
Later, in 2011, Sen. Bayh spoke about the temptation to accelerate House impeachment proceedings to create the double vacancy in the presidency and vice presidency to get Speaker Albert, a Democrat, into office. In an interview with John Feerick, dean of Fordham Law School, Bayh recalled, "Temptation, sure. … But anybody that raised that to me knew they'd have to clear me out of the senate first in order to do that, because that wasn't what the 25th Amendment intended. I think, when it got right down to it, I'm sure Speaker Albert said the same thing … He had a respect for the constitutional structure, I think."
Sorensen's secret memo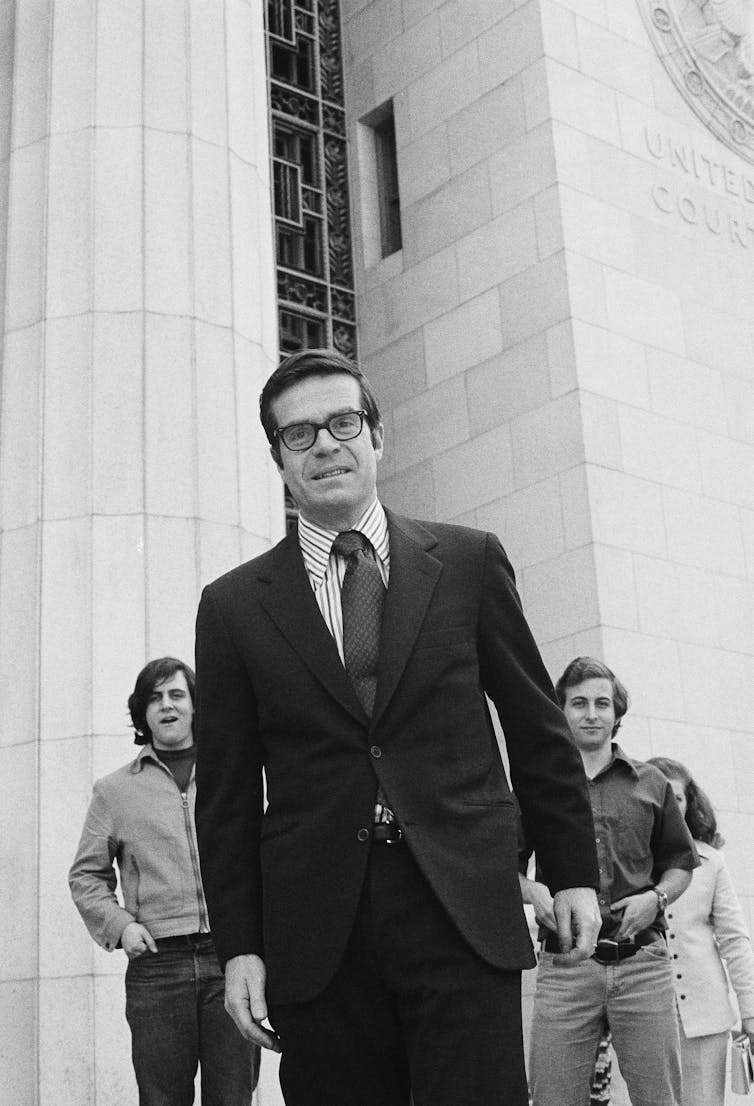 With the press of current events, as another special prosecutor investigates another president, I redoubled my efforts to confirm my recollections and learn more about this unheralded episode. At the very least it was an interesting what-if in American history. And given the current challenges to the rule of law and the possibility of another constitutional crisis, Speaker Albert's example could serve as a moral exemplar for both Democrats and Republicans who soon might have to place the national interest over partisan ones.
Albert passed away in 2000, so it wasn't possible to simply speak to him. Because I had first learned of Albert's plans from Sen. Bayh's comment, I thought I would try and contact him through the Birch Bayh papers at the University of Indiana. The University of Indiana archivists put me in touch with Jason Berman, Bayh's former chief of staff who has remained in contact with his old boss.
In a November 2017 interview, Berman told me that given the senator's age and the state of his health he was not able to reliably respond to my query. To test my recollection, I asked Berman if the phrase "party opposite" sounded like Senator Bayh, he said "it does."
Berman did say that "there was a group of liberal Democrats I cannot identify, who wanted to impeach Richard Nixon right away so Carl Albert could become president." And he confirmed that "there was no way [Albert would] participate." Taking partisan advantage of the Agnew resignation Berman noted "would have been subversive, to create an institutional way to address vacancies."
Berman didn't know if Albert's plans included an intention to resign if elevated to the presidency, but cautioned "… if [there was] a gentleman's agreement, I doubt there would be a paper trail." Helpfully, he recalled the possibility of a secret memo from Ted Sorensen to Speaker Albert that might be housed at the University of Oklahoma.
And there it lay among Albert's papers in the Carl Albert Center archives, seemingly undisturbed since the speaker's death. Joel Jankowsky, who had served as Albert's legislative assistant and later helped to organize the papers at Oklahoma University, told me in a January 2018 interview, "I was the guy to go through all the papers at OU and I don't remember it."
Dated Nov. 8, 1973, and marked "personal and confidential" on Paul Weiss, Rifkind, Wharton & Garrison letterhead, Sorensen wrote Albert, "I admire your recognition of the need for advance planning of this kind … " Sorensen went on to suggest that the memo be destroyed lest it "might be misinterpreted as evidence of an improper motivation on your part for the President's ouster."
Jankowsky told me Albert "put it in the safe and didn't talk to anyone about the memo."
Fortunately for history, the document survived and confirms Bayh's recollection. There is a clear indication that Albert contemplated stepping aside to let Ford become the president. Sorensen opposed this but did endorse a unity government with Ford serving as a Republican vice president under the Democrat Albert.
In a remarkable aside, curiously omitted from a 1982 report in The Washington Post on the memo, Sorensen laid out his objections to an Albert resignation. He cautioned, "NOTE: I question whether it is either necessary or desirable to commit yourself to resigning in favor of a Republican Vice President. That would only heighten the impression of political instability in our government. You are the legitimately chosen successor selected by our most representative body under a long-standing plan adopted by the Legislative Branch."
While Sorensen and Albert disagreed on the propriety of resignation, their positions shared the common objective of strengthening the rule of law. Sorensen argued against resignation because he believed it would undermine Constitutional process. Nonetheless Albert told The Post in 1982 that he was ready and willing to serve if "the circumstances were right."
Following Watergate, Albert seems to have worried that a transfer of power to the "party opposite" would further politicize Nixon's removal. While the tactics of these two Democrats were different, each sought to preserve faith in the stability of our institutions through an orderly and non-politicized presidential succession. Their intentions were not motivated by partisanship but the national interest.
When asked about what the right circumstances might have been for Albert, Jankowsky replied, "I hate to speculate but he felt there was a need for consensus…he was not running away (from the presidency) but not seeking it." Jankowsky told me, "These leaders thought of country first, these are people who believed in bipartisan governance."
And they were not alone.
In 1995, President Ford recalled, "Now I can tell from practical experience that after Vice President Agnew resigned, the Speaker of the House, Carl Albert, was next in line. Carl was a long-time good friend of mine and a very formidable adversary. He couldn't wait to get somebody in as vice president because he did not like the possibility of hanging out there as Speaker of the House and next in line to the presidency. I suspect in the uncompetitive situations of prior years, the same attitude would have been shared by the people standing next in line."
It would be a mistake to view the Sorensen memo with historic sentimentality, simply a relic of a bygone era of bipartisanship. Drafted during the searing schism of Watergate, it has credibility and relevance for our own times. While Speaker Albert never had to make the fateful choice of serving as president, or resigning in favor of a Republican, the fact that he even considered stepping aside is inspiring. His example shows that true patriotism crosses the aisle and is seldom narrowly partisan. Hopefully, this is a lesson that his successors in the Congress will heed. History will be their judge too.