Since we realised we were on the brink of a global extinction crisis in the 1980s, seed banks have emerged as powerful tools to protect species.
Most banks focus on biodiversity, which means a range of different seeds. But what we need is quantity. Right now, we're not getting it.
Seed banks act as an "insurance policy" against extinction.
But ex-situ conservation measures such as seed banks should always be viewed as complementary to the preservation of species and habitats in the natural environment.
Restoration is facing a crisis of scale
There is a growing number of large-scale restoration programs planned or underway across the globe. It is now common for restoration practitioners to be tackling thousands, or even tens of thousands, of hectares of degraded land.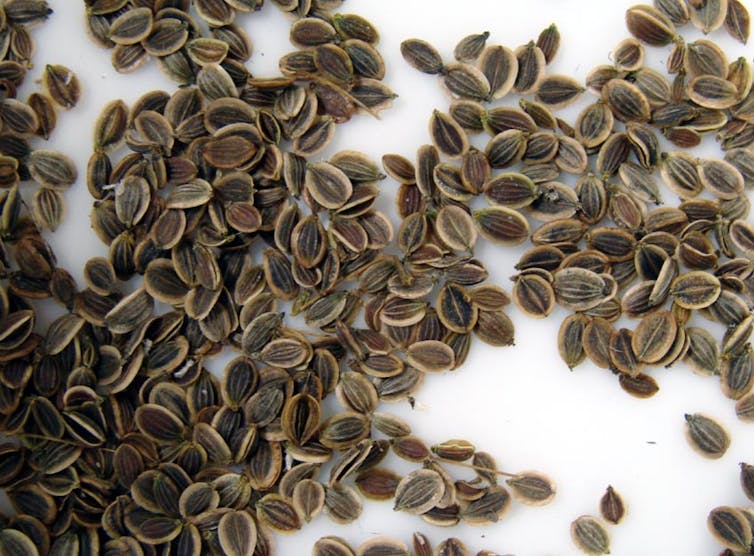 Major international statements have recognised how important it is to restore self-sustaining ecological communities.
This is recognised in the Global Strategy for Plant Conservation 2020, and the Millennium Development Goals.
These agenda now include restored landscapes among their targets, specifying that a minimum of 15% of each ecological region or vegetation type be secured through effective management or restoration.
Restoring landscapes and species is clearly a global undertaking. But restoration is facing a crisis of scale – how are biodiverse plant re-introductions to be achieved?
Seeds are fundamental to this large-scale restoration. They are the only viable means of re-introducing plants at the 100 – 1000 km2 scale.
But the demand for seeds of wild species has emerged as a significant challenge to landscape-scale restoration. Many hundreds of tonnes of seed are required for restoration programs that span tens of thousands of hectares of degraded land.
Current levels of seed wastage compound the problem, with more than 90% of seeds failing to produce an established seedling in most restoration programs.
How seed banks can make a difference
Land degradation is only going to get worse. Seed banks must play a greater role in achieving biodiverse restoration at a much larger scale.
The majority of the world's wild seed banks store seeds in grams, or kilograms. These quantities are not sufficient to produce plants to cover even a few percent of the areas in need of restoration.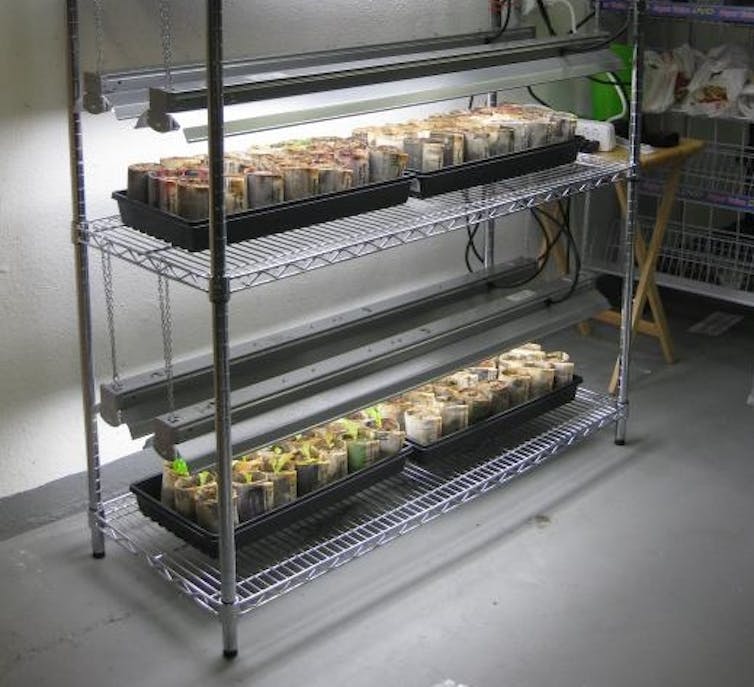 The focus of seed banks storing wild species must expand beyond the capture and preservation of biodiversity. This focus promotes low volume, high diversity seed collections that tend to be locked in "suspended animation" indefinitely, without a clearly-defined end-use.
Seed banks have to get bigger. They must re-tool to operational levels that are capable of sourcing and managing tonnes of seed to support the large scale use of seeds in landscape-scale restoration programs.
This scaling-up will require seed banks to incorporate seed farming of wild species to address the shortfalls in seed supply and to reduce the pressures created by over-collection from wild sources.
Critically, seed banks must also play the primary role in developing the means to reduce seed wastage. They will need to create facilities that act as hubs for knowledge creation and innovation in seed and restoration technology.
They will need to developing effective working relationships with the restoration industry and the commercial seed industry. This way they can deliver their seed ecological knowledge to the "coal-face" of habitat repair.
Community expectations for environmental restoration standards are, rightly, increasing. These factors are placing pressure on land managers to stipulate greater access to, knowledge of, and success in using, diverse plant species for restoration.
Seed banks are well-placed to play a major role in the re-establishment of plant communities.
It is just a matter of scale.