Japanese prime minister Shinzo Abe has received praise from financial markets and economists for "Abenomics", his set of economic stimulus policies which have so far returned positive growth to the long-stagnant Japanese economy. However, the potential remilitarisation of Japan by Abe's conservative Liberal Democratic Party (LDP) government is proving to be far more confrontational.
In recent media statements - most prominently at the annual review of the Self Defense Forces (SDF) this week - Abe reiterated that Japan has to increase its defence preparedness to secure Japan from threats, and to allow it to play a greater role in international security. Abe directly warned that Japan would not allow China to make any changes by force to the territorial status quo of the region.
In doing so, Abe raised the prospect of Chinese drones being shot down over Japanese territory, with China angrily responding that any such action would be an act of war.
This escalation of rhetoric over the disputed Senkaku Islands, claimed as the Diaoyus by China (and Taiwan), continues the near-constant confrontation between maritime security forces of China and Japan in the waters and skies surrounding the disputed islands in the East China Sea. These have increased since the former Democratic Party of Japan government nationalised the islands, purchasing them from private owners in September last year.
Since coming to power in December 2012 - and winning a majority for the LDP in the Upper House in July - Abe has been rolling out a more strident national security agenda. Defence spending is undergoing its largest increase in 22 years, with an emphasis on developing greater capability for carrying out amphibious assaults, overtly aimed at retaking islands captured by hostile powers.
Previous Japanese governments have gradually expanded the use of the SDF, stretching the boundaries of the notionally pacifist Article 9 clause of the US-designed Japanese constitution. Participation in UN peacekeeping began in the 1990s, and in UN-authorised multinational anti-piracy operations since 2008. The LDP under prime minister Junichiro Koizumi committed the SDF to non-combat support roles in the US wars in Afghanistan and Iraq.
Abe has long sought to "normalise" Japan's defence and foreign policy, with the goal of renaming the SDF as the "National Defense Forces". This would allow it to deploy the full military powers of a sovereign state, as permitted under the UN Charter. However, the LDP still does not have the two-thirds majority required in parliament to easily change the constitution, which would also have to be approved by public referendum. Abe nevertheless is proposing to re-interpret the constitution to allow the SDF to participate in "collective self-defence" with its allies, principally the US.
To this end, the tempo and size of joint military exercises alongside the US have already increased. US forces are already deployed in Japan, primarily based in Okinawa, and also further afield. Amphibious landing manoeuvres were held between the SDF and US forces in June this year in California, with more exercises conducted recently on mainland Japan. Trilateral exercises have also been held between the US, Japan and South Korea, aimed at deterring North Korea, the other main security threat faced by Japan.
This more nationalistic policy also appeals to the LDP's conservative support base. This is reflected in more frequent visits by LDP politicians to the controversial Yasukuni war memorial shrine, much to the displeasure of neighbours China and Korea.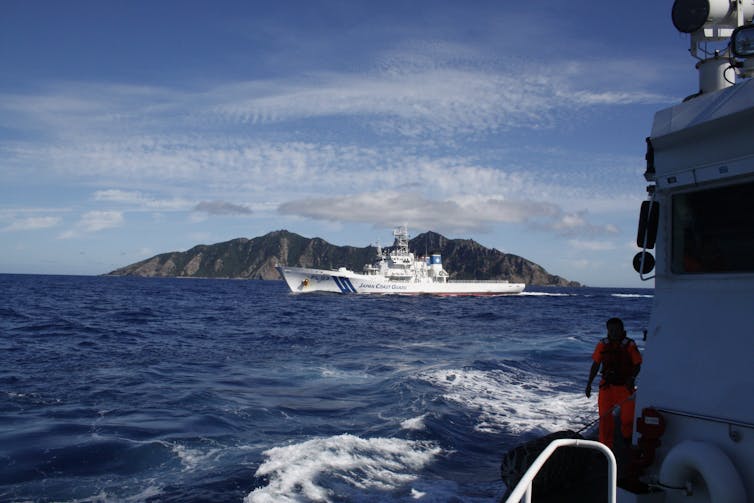 Abe's more robust approach has also been pursued domestically this week, with legislation approved by Cabinet - and being voted on in parliament - to establish a National Security Council, following the US model. This will enable more coordinated responses to national security crises, which will be further developed in Japan's first post-war National Security Strategy, expected to be approved by the Cabinet in December.
Bills are also being enacted to more tightly secure government information, with heavier penalties against leakers from the public service and for journalists who "encourage" or benefit from leaks. The Abe government claims this is necessary to secure intelligence sharing and cooperation with the US and other allies (which could include Australia).
These measures have been criticised by the Japanese Bar Association and media outlets as harming freedom of speech, potentially allowing the government to evade transparency on a wide range of issues it could designate as "state secrets". This could include nuclear safety, as well as diplomacy and national security overall.
The US is welcoming the more assertive Japanese policy as complementary to its "pivot" of military forces to the Pacific, with a new security agreement signed earlier this month allowing US surveillance drones to operate from Japan.
And, of course, Australian prime minister Tony Abbott recently described Japan as Australia's "closest friend in Asia", strengthening security ties through the Trilateral Strategic Dialogue. Abbott and Australian foreign minister Julie Bishop have optimistically expressed their hope that effective diplomacy will maintain peace in the region.
The need for such diplomacy to actually be pursued far more energetically is becoming urgent.