SEVEN BILLION PEOPLE: Today the Earth's population has reached 7 billion.
With so many of us here now, there is no better time to reflect on the world we want and how we can create it.
Some of us are lucky enough to be enjoying longer and healthier lives than our great-grandparents. Many of us though, are far less fortunate. Huge inequalities persist.
What are the challenges that 7 billion people brings?
At current rates of growth, 78 million people are joining the global community each year. As more people join us, the decisions we make as individuals, communities and nations become ever more important.
Climate change means more people are increasingly vulnerable to food insecurity, water shortages and weather-related disasters. This is a massive challenge.
In times like these, we need to keep open hearts and minds. Our wellbeing, like never before, demands we embrace our common humanity, accept our diversity and unite as one family.
Firstly, population is only part of our problem. We have yet to fully engage in sustainable consumption practices.
Both how much and what we consume are relevant. This practice of defining our status and identity through the things we buy and consume really needs to be superseded by more fulfilling and eco-friendly pursuits and practices.
What reduces population growth?
The evidence is clear that reducing poverty and inequality slows population growth.
When a girl in the developing world receives seven or more years of education, she marries four years later and has 2.2 fewer children.
It is true that many of us in Australia are already choosing to have fewer children. This has been made possible by contraception and reflects changing social attitudes and greater opportunities for women's participation in the workforce.
However, some 215 million women in the developing world do not have access to contraception and are not able to exercise their reproductive rights. Development assistance for contraception has stalled at US$400 million a year, 50% below 1995 levels.
The unmet need for contraception results in 82% of all unintended pregnancies.
Australia's aid assistance needs to better provide for women and girls' education and reproductive rights.
More children, and more children without parents
While the long-term aim may be to decrease unwanted births, there are many children in the world today who need parental care.
There are now an estimated 150 million children worldwide without parents. These children's parents might be dead, missing, in prison or simply unable to care for their child or children.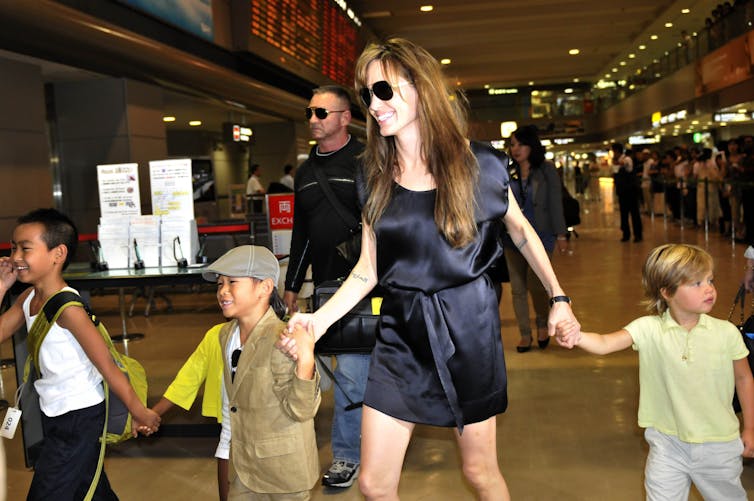 As a result, the number of children in need of adoption is going up. Yet adoption rates in Australia are going down.
A 2005 inquiry into the adoption of children from overseas found that there is a general attitude against intercountry adoption in most jurisdictions in Australia. This ranges from indifference or lack of support to hostility. Understandably, it causes great distress to prospective parents seeking to adopt children from overseas.
The inquiry found that, due to past practices, such as forced adoptions leading to "the stolen generation", Australia has developed an anti-adoption culture.
The decline in adoption might also be explained by the increasing numbers of children being born as a result of new reproductive technology such as IVF.
It is always preferable for a child to be cared for by his or her extended family and/or within his or her community. But this is not always possible.
In all cases, respect for the best interests of the child is a primary consideration. The Hague Convention on Intercountry Adoption reflects this. Australia ratified the convention in August 1998 and implemented the convention in law months later.
The Convention focuses on the need for countries to work to prevent the abduction, sale, or trafficking of children.
Adoption processes in Australia can take from four to ten years. Australia is way down the bottom in terms of the number of adoptions and the time taken for adoption processes.
Adoption isn't second-best
We need to recognise and embrace adoption as the compassionate, rational and sustainable method of family creation that it is.
We might start with the following changes:
1) Streamline adoption processes and minimise waiting and processing times. This might be achieved by allowing properly trained and resourced accredited bodies to take on some of the applicant screening and assessment work.
2) Extend support and respect to prospective parents as they go through the adoption process.
3) Foster a positive culture and accept adoption in Australia more widely.
4) Encourage young couples to form their families through adoption.
5) Provide financial assistance and tax incentives for adoption.
6) Reform adoption processes to include adequate pre- and post-adoptive services.
Being adopted does not need to define a child. Families formed by adoption are linked by law and love.
Of course adoption is a serious undertaking. Many adopted children have special needs – not surprising given the tough lives many children live prior to placement with adoptive parents.
November 6-13 is National Adoption Awareness Week. This is an occasion when we might ask ourselves – what makes a family?
I would define a family as a group of people who are there for each other and love and support each other. Members of families protect and guide each other. They share and experience joy and sorrow together.
The population issue is about people. In a world of 7 billion, we need to be able to count on one another. We need to embrace our common humanity, accept our diversity and unite as one family.
In a world of 7 billion, I believe it is time that we consider our most vulnerable citizens and open our hearts and homes to adoption.
Further reading: