Some women suffering from endometriosis, a disease that causes chronic pelvic pain, have criticised a Sydney University student for choosing to conduct research on the sexual impact of the disease on women's partners.
According to reports, the research question being asked of men by the Masters student is:
Does your partner have endometriosis and does it impact on your sexual wellbeing?
Critics argue it is damaging to women to ask men how their partner's endometriosis affects their sex life; that it prioritises men's sexual pleasure over women's pain.
An opinion piece in the Guardian states there is no logical way any discussion about endometriosis should focus on how it impacts men. The author writes:
Studies like this one make it look like the only way endometriosis will get attention is if we highlight how it hurts men.
As a feminist women's health researcher, my sympathies lie with the women who have suffered from the condition. Endometriosis is a chronic disease where endometrial-type tissue grows outside the uterus. It affects around one in ten women of menstruating age, yet it is under-diagnosed, under-reported, and under-researched.
Many doctors still lack awareness of the condition, or are unsympathetic and offer inadequate support. Even when it is diagnosed, its impact on women's sex lives is rarely addressed. The World Endometriosis Society only acknowledged the sexual consequences of endometriosis in 2014.
But if you were to ask me whether exploring men's perspectives of a woman's disease sets a precedent for male-centric studies into the impacts of endometriosis, I would answer that it doesn't. Sex is generally a couple activity. When a woman experiences sexual difficulties, this can have an impact on her partner.
Talking to both members of a couple is important in order to understand the problem, and provide support.
How endometriosis affects sex for women
Endometriosis can seriously impact a woman's sex life. The majority of women never raise sexual concerns with their doctor or their partner. They suffer in silence, with serious consequences for their mental and physical well-being.
Over 60% of women with endometriosis experience severe deep pain during sexual intercourse. Anticipation of this pain can affect sexual desire, arousal, orgasm and sexual satisfaction.
Many women with endometriosis feel extremely anxious about sex, and avoid any form of penetrative sex altogether. Dysmennorhea – severe period pain associated with endometriosis – can also affect sex. In combination, this can affect how a woman feels about herself resulting in shame, guilt, negative body image and challenges to feminine identity.
Women have reported that sexual difficulties associated with endometriosis have a negative impact on the relationship with their partner. In one study, 67% of women attributed relationship difficulties to endometriosis, and 19% said it was a cause of divorce.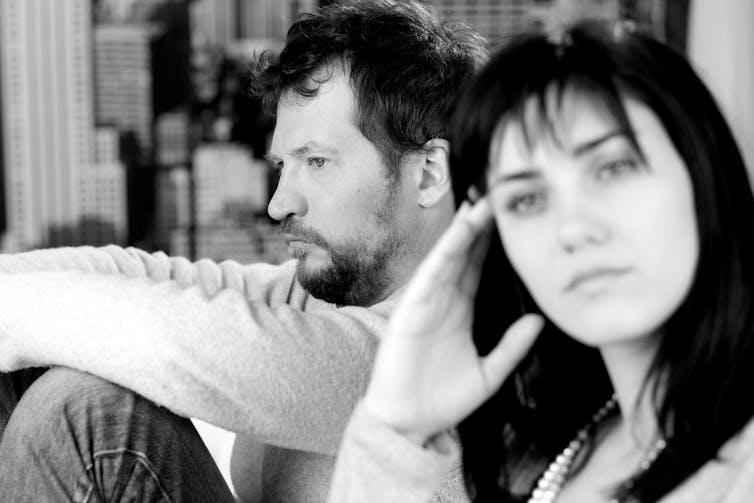 However, previous research has focused on the woman's perspective, with little attention paid to the broader relational context, or the experience of partners.
Partner's perspectives are important
Talking to partners is a common practice in sex research. For example, we conducted a series of studies on sexual difficulties following cancer, involving both the person with cancer and their partner. This included partners of women and men in heterosexual, gay and lesbian relationships.
Partners reported high levels of distress associated with sexual changes following cancer, which the couple were often not talking about. Knowing this helped us develop information and support to address these sexual difficulties aimed at both members of the couple.
We've used a similar approach in our research on premenstrual distress, talking to partners and involving them in psychological support for women. This couple approach was more effective than offering support to the woman on her own.
---
Further reading: Men can help women deal with their PMS
---
There is no previous research on the perspectives and experiences of partners of women with endometriosis, in relation to sexual concerns.
There are reports that male partners of women with vestibulodynia – sexual pain of the vulva – suffer increased prevalence of erectile difficulties and decreased sexual satisfaction. Men can feel anxious about sexual intercourse causing pain and experience psychological distress as a result.
We conducted a study with women who had vestibulodynia and found that male partners were willing to stop having sexual intercourse. But the women continued to do so, because they didn't want to let their partner down.
These accounts were from the woman's perspective. I wish we'd talked to the men too. Continuing to have intercourse when it causes the woman severe pain and bleeding is an experience we need to understand.
The importance of sexual well-being for women
Sexual health is central to a woman's quality of life and psychological well-being. If illness impacts on women's sexual lives, it needs to be recognised by clinicians and researchers, in order to provide information and support.
When women with endometriosis have the nature of their disease recognised they report relief, legitimation, liberation and empowerment. Broad recognition of the sexual effects of endometriosis is also important, for both the woman and her partner.
So I am not enraged by reports of a study examining the sexual impact of endometriosis on male partners. It is long overdue. I hope that the next study includes lesbian couples, who may place less emphasis on penetrative sex, and therefore have different strategies for coping with sexual pain.
Women who suffer from endometriosis need to be taken seriously, and all aspects of their experience, including sexual difficulties, addressed. If the very notion of talking to men has put this issue on the media agenda and drawn attention to sex and endometriosis, that cannot be a bad thing.