Sharm el-Sheikh is a well-known holiday destination. On the southern tip of the Sinai Peninsula in Egypt, it is characterised by its year-round hot weather, long white sandy beaches, luxury hotels and warm blue sea. But with the recent tragedy of the Metrojet Flight 9268 crash, it is worth examining the importance of Sharm el-Sheikh's position on the peninsula and within the Egyptian economy, as well as how it can recover from this terrible event.
The cause of the crash is still unconfirmed. The Egyptian-led international investigation team has announced that it is too soon to jump to conclusions amid high speculation that the crash was a result of a terrorist attack.
Security fears expressed by the international community as well as past events such as the 2011 revolution, which saw a dramatic decline in Sharm el-Sheikh's popularity, have led to worries that the crash could have a severe impact on Egypt's tourism. It has even spawned social media campaigns such as #COME_To_Egypt to try and improve the country's image.
Tourism is one of the three most important pillars of the Egyptian economy, along with income from the Suez Canal and agriculture. In 2014 tourism's total contribution to Egypt's GDP was about 12.8% and the source of 11.6% of total employment.
Egypt's tourism sector has a history of being resilient in face of dire situations. In 2005, a series of explosions targeted the heart of the city of Sharm El-Sheikh. A year later, a similar attack targeted the town of Dahab, another tourist destination about 92km from Sharm el-Sheikh. Both attacks targeted mainly Egyptians. However, the number of tourist arrivals in these years did not seem to suffer very much and increased steadily in following years, as the graph below shows.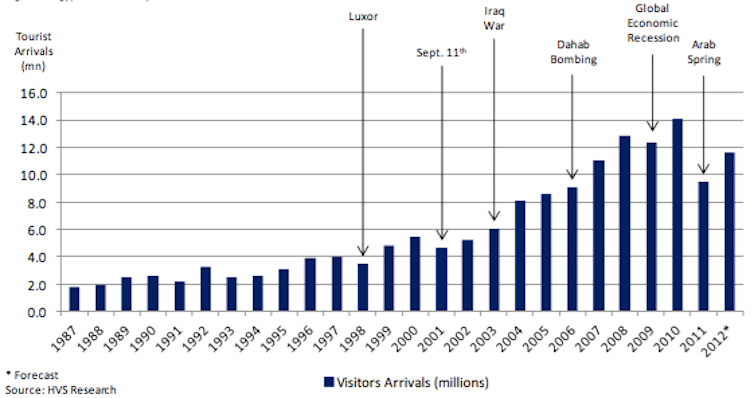 Chequered history
Sharm el-Sheikh developed from a small fishing town, inhabited by Bedouins, into a modern city – and conference hub – buzzing with tourists from all over world, and businessmen looking for investment opportunities. It was only in March this year that it hosted the Egypt Economic Development Conference, which aimed to restore investor trust in the Egyptian economy after recent turmoil.
But the Sinai peninsula has been the ground for a great deal of conflict since the 1950s. It was under Israeli occupancy for 12 years and returned to Egypt after its peace treaty with Israel in 1979. However, it was not until 1982 that Egypt gained full control over the peninsula after the last Israeli soldier withdrew.
The commercial development of Sharm el-Sheikh started when the Israeli government built a settlement in the area called Ofira during their 12-year occupation of Sinai. Unlike Yamit (another Israeli settlement in the northern part of Sinai, which was evacuated and bulldozed after its return to Egypt), Ofira was evacuated but not demolished, so that it could be populated by Egyptians.
Between 1982 and 2000, Sharm el-Sheikh grew rapidly from a town with only three resorts to one with 91. By 2011, it had 180 hotels. This has been a major factor behind the huge increase in conferences and tourism in the region.
Development was significantly driven by the controversial businessman Hussein Salem, known as the "Father of Sharm el-Sheikh". He was one of the first investors in the area and made a fortune building hotels and luxury resorts there, although he has been criticised for not building a single project to serve the local community. Indeed, increased living costs made it difficult for the locals to live in the town, and public projects that were intended to benefit the community were granted to Hussein Salem.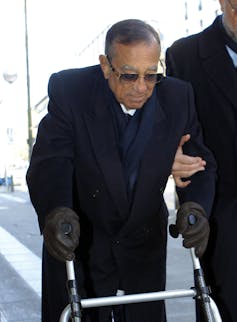 Salem fled Egypt after the 2011 revolution and has since faced trial for various corruption charges. Now the region needs fair investment opportunities for everyone and projects that include and benefit previously marginalised local communities. This will significantly benefit the tourism industry. Previous policies of favouring a small business elite prove to have been a major reason for destabilising the region, by forcing members of marginalised communities to join radical and militant groups.
Another result of the Egyptian revolution is the deteriorating security situation in northern Sinai. Although this is mainly confined to the cities of Arish and Rafah, near the border with Israel, it still harms the tourism industry. Significant efforts are being made to resolve this. Since President Mohamed Morsi was ousted in July 2013, the Egyptian army has launched several security operations in an attempt to gain control of the region.
Although the tourism sector is suffering an immediate blow, the beauty of Egypt's tourist attractions and the government's commitment to tackle the security situation in Egypt, should soon restore confidence in Sharm el-Sheikh as an attractive holiday destination. Let's hope so; it is a crucial component of Egypt's economy.